Emily Lazar (September Mourning) Leads the Way Launching Music and Animation NFT
Emily created and leads September Mourning, a transmedia project spanning music, animation, graphic novels, video, costume design and more. Naturally, she wanted to expand the universe of September Mourning into NFTs, a new realm of creative possibility on the forefront of the digital landscape.
NFTs are unique, limited edition digital pieces of art that the creator signs & authenticates. You can own each one forever like you would a vinyl record or sell it as the NFT appreciates in value on an NFT exchange like Open Sea. The artist gets a residual portion of the sale so you are always supporting them both monetarily and promotionally. Think of the space as a collectible marketplace for the digital world.
Emily is dropping a limited edition of 2 different NFT's on OpenSea, the largest NFT marketplace.
Emily's NFT's combine extreme animation and music from the single "Wake the Dead," with one version giving a slight nod to the Bitcoin and Ethereum meme culture.
Emily has a very limited number of authentic pieces of her art for this launch, which you can view and purchase at  this link .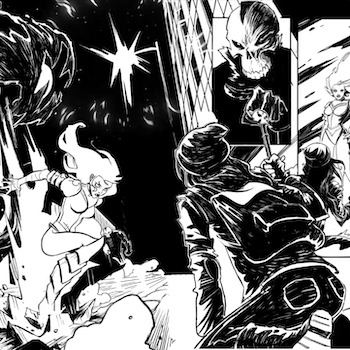 She's excited that, together, her supporters and her can help make her art their own, as they share their newly acquired collectible and help spread her vision.
September Mourning
Linkin Park's Mike Shinoda recently dropped a similar NFT and said:
"The [NFT] I posted will be (must be, by design) 1 of 1," the musician said. "What you own: the file (art?) ... I can't upload that file again. You don't own the 'song' or 'master' or 'copyright,' but you own the file. For example, if I write an original lyric on a piece of paper, I own that lyric. If you buy that piece of paper, you own that paper. And it is one-of-a-kind. In this case, you get a certificate of authenticity via blockchain that you are the sole owner."