The Band Repent - Featured Interview on the The Zach Moonshine Show!
"The Band Repent" joins The Zach Moonshine Show to talk about the new (Single) "WAR"! We take questions from the live chat and play new music from Em Ruínas, Grief Collector, The Age of Ore, Tortured Demon, Black Moon Mother, WhatDrivesTheWeak, Thy Enemy, Blind Divide, Atomic Vulture, Ken Power, Michael E. Fulkerson, Morbid Death, Starscape, Split, Vengeant, and Egor Lappo! We also play some classics by request from Pelvic Meatloaf, Marilyn Manson, Rock N Roll Villain Society, and WTFBRAHH!
1 - Cyriis /Two Minutes In Ruins/Furiosa (The Warrior) - Em Ruínas
2 - The Zach Moonshine Intro
3 - Corridors - Grief Collector
4 - Deadline - The Age of Ore
5 - A Knee To The Face Of Corruption - Tortured Demon
6 - Lost In The Maze - Black Moon Mother
7 - Survive ft. Kyle Medina and Chris Whited - WhatDrivesTheWeak
8 - Crushing Weight - Thy Enemy
9 - Wind Of God REMIX - WTFBRAHH
10 - Defiance - Blind Divide
11 - The Band Repent - Interview featuring War!
12 - SkullCrusher/RAGE - Pelvic Meatloaf
13 - Antichrist Superstar/Irresponsible Hate Anthem/Valentine's Day - Marilyn Manson
14 - Rain - Atomic Vulture
15 - Last Chance - Ken Power
16 - The+Culture+Shock+of+a+Metal+Head - Michael E. Fulkerson
17 - Outlaw Trucker - Rock N Roll Villain Society
18 - To Escape - Morbid Death
19 - Interstellar - Starscape
20 - What Do You Get? - Split
21 - Angel's Battle Cry - Vengeant
22 - The Mask of Kindness - Egor Lappo
Listen to the whole show below on Mixcloud!
Listen to the interview on Spotify!
Listen to the interview on YouTube!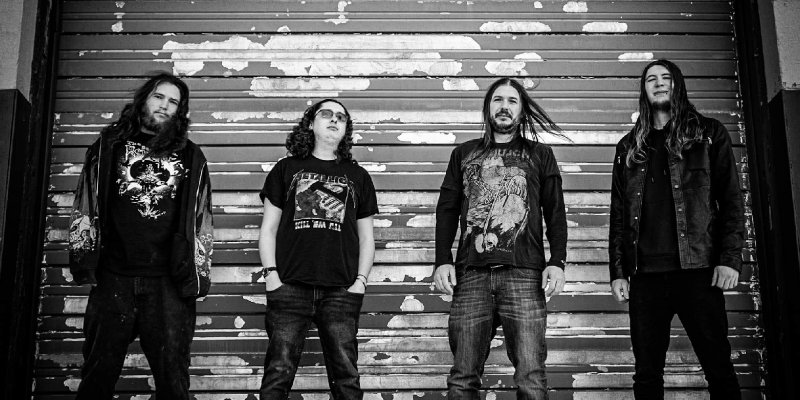 'The Band Repent' is a high energy thrash metal band from Casper , Wyoming . The band was officially formed August 1, 2019 when guitarist/vocalist Jeremy Amack and drummer Shawn Hill held their first practice. A few months later the duo was playing their first show. Next, the pair went straight to the studio and tracked their first single, ' 1,000 Years' . The song was tracked by Marc Felten and mixed/mastered by Kevin George . After the show and the release of their debut song guitarist Steve Thomas joined the band in early December 2019. The band quickly began rehearsal as a three piece and played another show to their biggest crowd yet! Next, after trying out a few bassists, the band recruited Joe Rodriguez in February 2020.
They are now playing as many shows as possible as they write more singles and track their debut EP " WRITTEN IN BLOOD "
The band has grown so fast in such a short period of time with their rapidly expanding social media presence as well as promoting their single ' 1,000 Years' which at the time of this writing has been spun on 60+ radio stations around the world!
With COVID halting several of their shows, the band went into the studio again to track ' WAR' , which released January 23, 2021 to massive fan fare. The band recorded and mixed this song themselves with Aaron Hanson mastering the single.
With an EP coming out in early 2021 ' The Band Repent ' is now focused on touring opportunities, radio station airplay, record label interest, and world wide success.
For fans of OVERT ENEMY, POWERHOUSE, MILITIA
LYRIC VIDEO FOR WAR:
SPOTIFY LINK FOR WAR:
https://open.spotify.com/track/4u66DPtQnGAHAttlku1gnT?si=kYwaTHEtS5ui_2O7cDqbEg
LYRIC VIDEO FOR 1,000 YEARS:
SPOTIFY LINK FOR 1,000 YEARS:
https://open.spotify.com/track/57SjzA6kXTWABjWiDCYSxy?si=ZPaekrukS3OnGvouPiawbQ
GENRE: Thrash Metal
SOCIAL MEDIA OUTLETS:
https://www.facebook.com/thebandrepent/
https://instagram.com/the_band_repent?igshid=1pm018llp196k
https://youtube.com/channel/UCNYfGdXqsdjHZ94X38iqcaw
https://open.spotify.com/artist/7me36FVJVZFdslnLXg8cdj?si=xpr6wJqIRN67ijGQWDupow