25th Mission - "Bitchin" - Featured At Metal2012 ! Check it out here at this link: https://www.youtube.com/playlist?reload=9&list=PLbvIdaa94JhbMVzlEODxpYQBDMA22_Qdn
World War ii Was a time of unprecedented destruction and carnage as Hitler's military juggernaut had overrun Europe. The Soviet Union was fighting desperately against Germany's mechanized onslaught, and England had Barely survived the Nazi aerial bombardment. With an uncertain outcome, the allies fought on land, sea, and in the air against the unrelenting might of the Third Reich.
After Japan's devastating attack on pearl harbor, the United States found herself drawn into yet another world war. The "sleeping giant" had Been awoken, and soon, america was supplying the allies with men, guns, tanks, ships, and planes to halt the unstoppable advance of the Axis powers. Yankee airmen were rushed to England and tasked with the duty of completely annihilating Germany's capacity to wage war. Roads, bridges, factories and cities that supported Hitler's ambitions were subjected to the full capacity of america's destructive capabilities. Death from the air became a fiery, and explosive reality for those on the ground. United states airmen station in England fought a unique war. They lived an existence that an infantry soldier wasn't afforded. Crews lived in relative comfort in permanent barracks. They were well-paid, and enjoyed off-duty privileges such as booze, music, dancing, and the company of admiring English woman, but once inside a taxiing B17 bomber, their service quickly transitioned, and they'd soon be engaging in an air-to-air battle with the Luftwaffe. Their planes became targets of flak and enemy fighters as they desperately tried to complete their bombing runs over Europe and make their way back to their bases.
An airman's term of service wasn't defined in the amount time like other branches of the military. Rather than months or years, their tour was finished once they had completed twenty-five missions. Twenty-five mission's meant they could go home, be with their families, and enjoy the rest of their lives as civilians. Sadly, a crew member could expect, on average, to complete only fourteen missions before being killed, wounded, or shot down...
"25th mission" symbolizes an impossibility, a lie, and a false promise, much like four middle aged guys from Long Island, overtaken by the belief that original music in the style of old Metallica , Judas Priest , Iron Maiden , Black Sabbath , and Manowar could attract listeners and audiences. The days of this style of metal have long since passed, but still, 25thMission persists.
Imagine a delinquent teenager in 1988 on his way to a kegger or a vodka- infused party on railroad tracks or a riverbank; His shoulder bearing a large radio, and a faded jean-jacket is emblazoned with patches of his
favorite bands. the pockets are filled With cassettes such as Kill 'Em All, Piece of Mind, Screaming for Vengeance, Paranoid, Appetite for Destruction, and Zeppelin II .
It is our goal to write and record an album that would've been in that Jacket. We aren't trying to break new ground or Jump on the next band wagon. We seek only to bang out the best metal you've heard in years...
Your disciples of metal, Pat, Mike, Vinny, and James.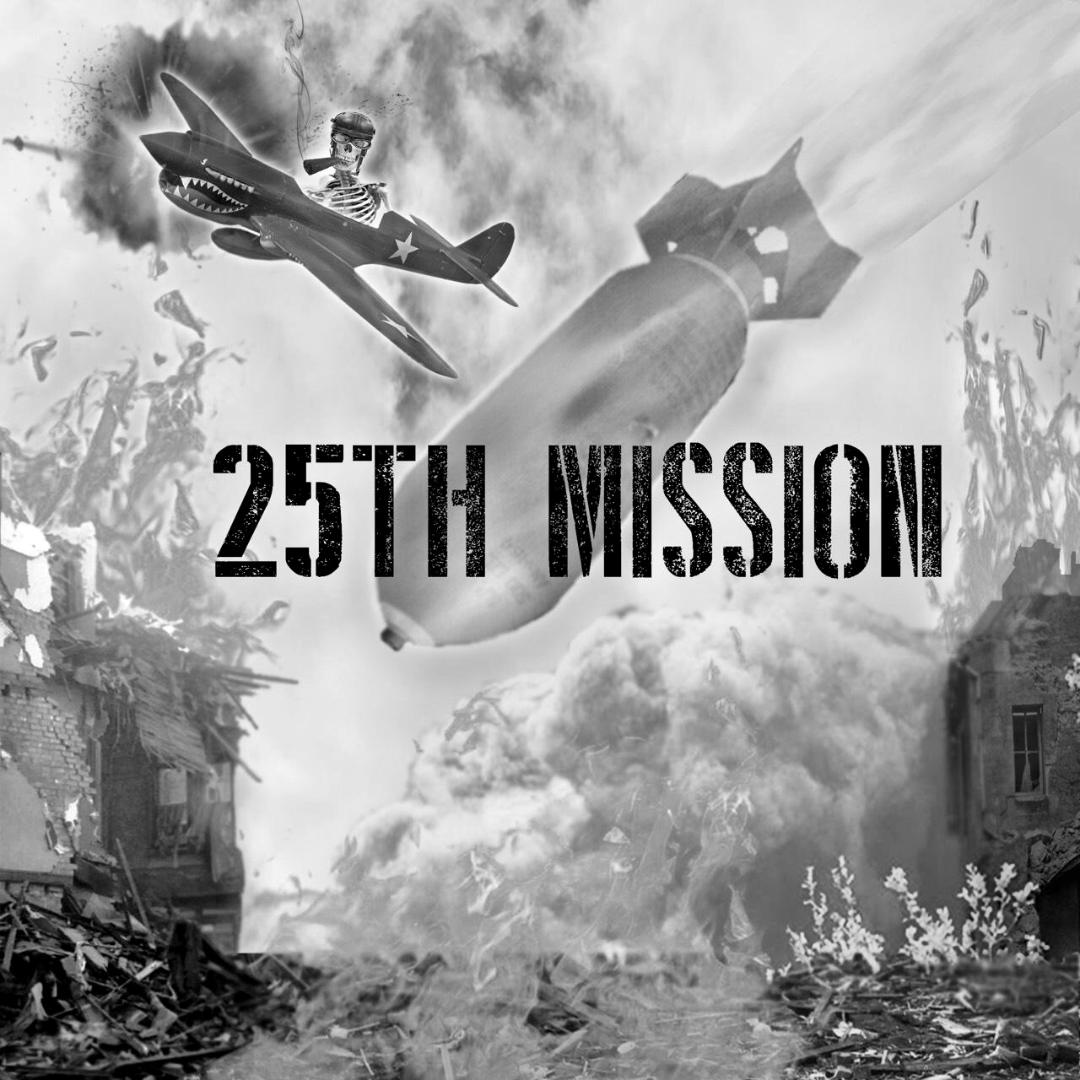 Genre: "Traditional Metal"
Location: Long Island, NY
Releases: Necessary Evil ep 2019
Members:
Mike Deyhle: Vocals
Pat Picarsic: Guitar
Vincent Carollo: Bass
James Baldassano: Drums
Follow them on Social Media
YouTube: https://www.youtube.com/channel/UCbiBY8PIAMrONGXeKDFBv0w
(Full EP)
Facebook: https://www.facebook.com/25thmission/
Instagram: https://www.instagram.com/25thmission/
Music
Bandcamp: https://25thmission.bandcamp.com/
CD Baby: https://store.cdbaby.com/artist/25thMission
Video for 1st single "Bitchin'":
Press
https://aeafanzine.blogspot.com/2019/08/interview-with-25th-mission-by-dave.html
https://metalnoise.net/2019/08/review-necessary-evil-ep-by-25th-mission