New Promo: Protest - The Corruption Code / Abuse Of Power / A Pledge To Terror (Thrash)
Unrelenting, No Bullshit Thrash!
Hailing from the Lonestar state, PROTEST is known for one thing; an unrelenting, no bullshit metal onslaught. The band effortlessly blends it's thrash roots with a modern twist of hardcore and denim shredding old school metal attitude. Formed in 2003, the band has shared the stage with such acts as Superjoint, Kreator, Overkill, Obituary, Prong, Goatwhore, Soulfly, Caverlera Brothers, D.R.I.
Lineup:
Vocalist Dave Woodard (Hellions/PornLab/REO Speed Dealer)
Lead guitarist Jason French (M.O.D.)
Drummer Mike Fury (M.O.D./Indisgust)
Rhythm guitarist Michael Wilson (Chemicaust)
Bassist Ernie Jaramillo (Chemicaust)
The Corruption Code: Released October 30, 2020
Fresh off the heals of the Abuse Of Power EP, PROTEST unleashes their final recordings of 2020, "The Corruption Code", the latest release from PROTEST on Idol Records, is a rallying cry for humanity to wake up to the alarm of corporate run government and its plagues of propaganda. Listeners are pulled into the band's cathartic exorcism releasing the frustration felt by so many as a result of the relentless chaos experienced in modern times.
Track Listing:
1. Eve's Error
2. The Corruption Code
3. Know Your Enemy
4. Useless Weapon
Check out the video for the title track Eve's Error:
Abuse of Power: Released September 11, 2020
Abuse of Power ignites listeners with a sonic rage against police brutality, blind consumption of mass media and megalomania. The newly released video of the title track provides a visual timeline of the historical corruption and oppression that lives on today throughout authority from local law enforcement to their superiors within the federal government.
Track Listing:
1. Weapons of mass consumption
2. Abuse of power
3. Green River
4. Devolution
Check out the video for the title track ABUSE OF POWER:
A Pledge To Terror: Released April 21, 2020
2 song E.P. with songs A Pledge to Terror and Fueled By Hate!
Track Listing:
1. A Pledge to Terror
2. Fueled By Hate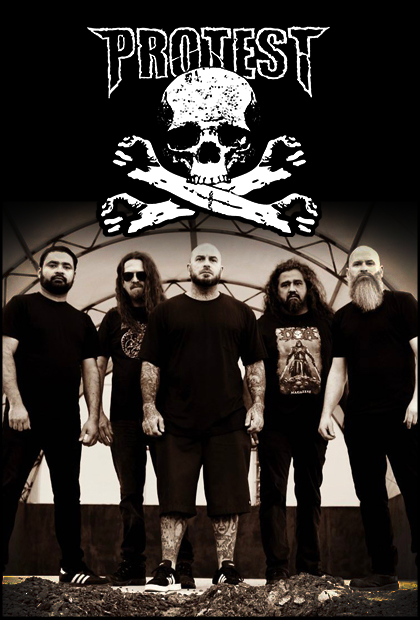 Follow the band at these links:
https://www.youtube.com/user/ProtestMetal
https://open.spotify.com/artist/5EwGkFYCzutNi3TY7xOYWn?si=QZ0D0P-iSBGaiMewbBWv2Q
https://soundcloud.com/protestband
https://music.apple.com/us/artist/protest/3559061
https://www.facebook.com/protestband/
https://www.instagram.com/protestmetal/
https://www.paypal.com/paypalme/protestmetal?fbclid=IwAR1mJwghG-ea-PGISnwrNct3O9SuoXybJRIUmflYr8g4SQ5-eUZjfni_fm0