Blessed By Perversion - Remnants Of Existence - Reviewed By Full Metal Mayhem ! Check it out here at this link: https://lorenzvangore.wixsite.com/fullmetalmayhem/post/blessed-by-perversion
This is their second album. There is also an EP, a single and a split. How did I get to know the band: The name in the email from Metal Devastation Radio was enough to move me to this review. How do I find the disc: A usable disc, which we now listen to: 
DESCENDING TO THE CATACOMBS starts quietly with an acoustic guitar and a quiet synth. After about halfway, an electric guitar is added, but it remains quiet. Unfortunately an intro to skip.
GALLERY OF BONES turns it up a lot. Nice in the lower mid-tempo, grind like a tank and the drums sound like an AK most of the time. In addition, nasty growled vocals. That makes you forget the intro. The text describes a dark variant of an ossuary that is used for dark rituals instead of commemorating the dead. I like it.
ATONEMENT REFUSES picks up the pace a little and remains armored and crushing. But somehow I'm missing something here. The song isn't bad, but it could be better. As if some salt was missing in the soup.
AMONG THE TOMBS OF ABSENT GODS sounds much better straight away. We still stay at mid-pace, getting closer and closer to the frenzy. I especially like the short bass solo in the middle. This is about the ancient gods, whose monuments can still be found everywhere, but who have long since left this world behind.
CAVERNES OF TORTURE even gets a little melodic, although the heaviness is retained. A driving song that immediately stuck in my ear canals. I can't say what exactly the song is about, but the pictures it describes are the stuff nightmares are made of. Gladly more of it.
MONUMENTAL CHAOS ends the album and sounds like the intro in the first bars, could then be a Power Metal song, but then shows all its death-metal severity while it gives us a glimpse into our future. Not an innovative, but always welcome topic, the fall of mankind.
Conclusion: You are welcome to listen to it. Fans of grinding Death Metal will get their money's worth here. There is still room for improvement, but you can still give yourself up. - Full Metal Mayhem
Band Name: Blessed By Perversion
CD title: Remnants Of Existence
Format: Digipack
Band Members: 
Manolis Kouelo - Guitars (rhythm)
Kostas Foutris - Guitars (lead)
Andreas Moschopoulos - Vocals
Vaggelis Nanos - Bass
Vasilis Nanos - Drums
Release Date: December 25 2020
Limitation: 500 Copies digipack CD
Sellings Points: Second Release old school death metal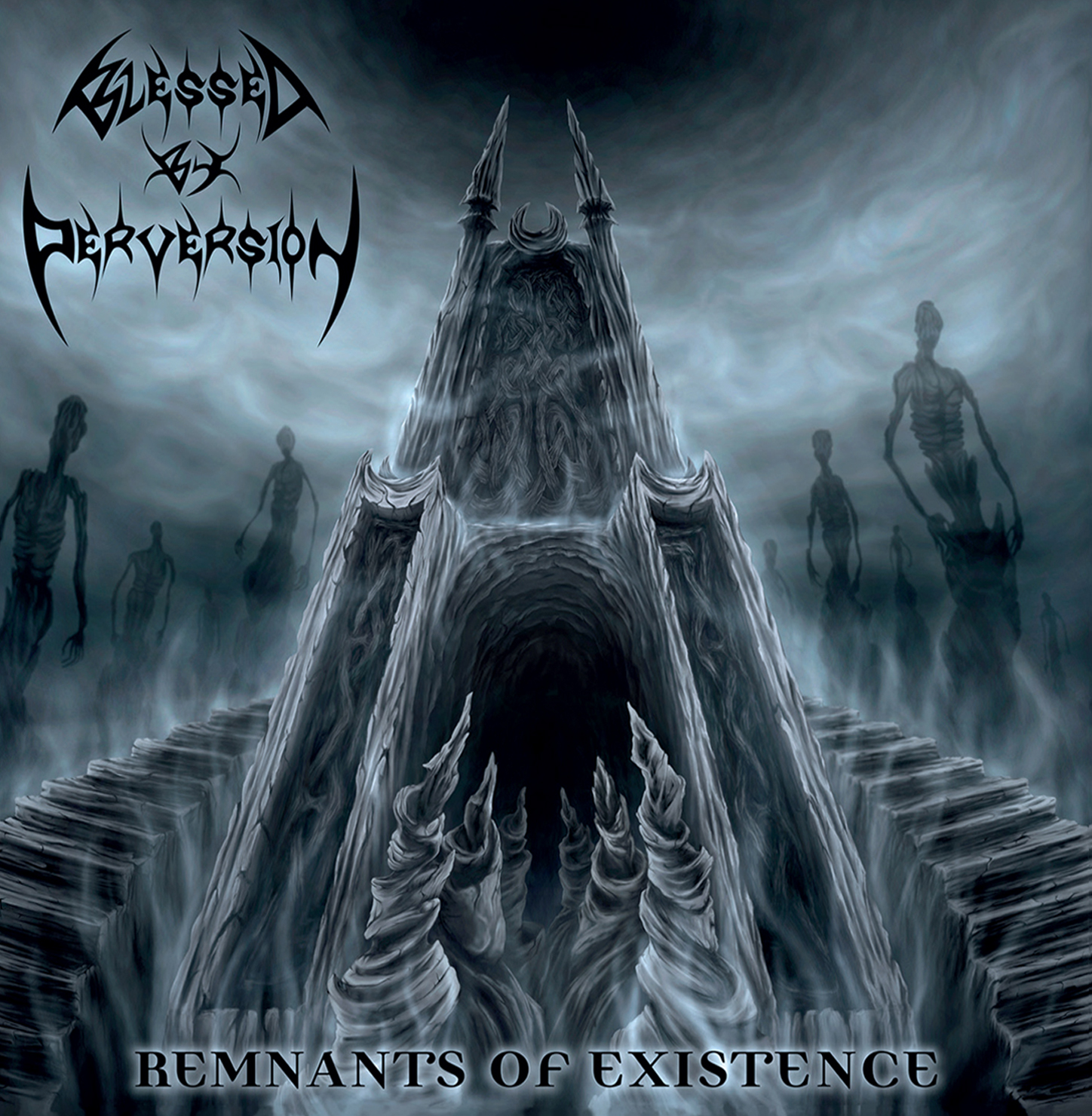 Track list:
1. Descending To The Catacombs
2. Gallery Of Bones 04:18
3. Atonement Refused 04:27
4. Among The Tombs Absent Gods 03:23
5. Caverns Of Torture 05:12
6. Whithin Monumental Chaos 05:56
Blessed By Perversion was created in mid 2010 inspired by death metal and extreme music.
The band released their first EP called ' Destroy the Image of God' in 2012. After many gigs and the addition of a new member, Blessed By Perversion was ready to record their first full length album ' Between Roots And Darkness' . This is an old school feeling death metal album with a lot of melodic parts. The album was released in 2016 via Razed Soul Productions and received great reviews from metal sites and magazines from around the world.
Now with a new drummer and with more consistency than ever, Blessed By Perversion is releasing a new masterpiece of pure death metal with old influences of American ( Deicide, Morbid Angel, Monstrosity ) and European ( Sinister, Obsecration or Soulskinner ) death metal creates " Remnant Of Existence " 6 songs of pure metal of death

Label contact:
https://ironbloodanddeath.bandcamp.com/
https://www.facebook.com/ibdc666
Band contact:
https://blessedbyperversion.bandcamp.com/
https://www.facebook.com/blessedbyperversion/
https://soundcloud.com/blessedbyperversion
https://www.youtube.com/user/BlessedByPerversion