Acherontia Styx - Shadow & Flame - Reviewed By Necromance ! check it out here at this link: http://necromance.eu/acherontia-styx-gbr-shadow-flame/
"Shadow & Flame" is the debut album by the English ACHERONTIA STYX , released by the young London label Dwarrowdelf Records (DINENTHAL, FRACTURED PLANET, DTS OVERDRIVE) last September.
Little more than a year has passed, since their EP "Your Possible Pasts", which contained four songs, although they have had a handful of singles releases, before and after it (perhaps little baggage to have formed since 2007, it seems indicate). Their modern-style melodic death metal certainly has contemporary influences, but it can satisfy the appetites of fans who like the genre in general and are not too purist.
Proof of this, are the registers of their voices (old school guttural classic), as a whole they are always brutal and although at certain times, they combine choppy times with clean guitars, intensity and aggressiveness are a fact. "Pleasures of her Flesh" is his business card, it contains all these commented elements and great changes of pace. The central body of the album, composed of the cuts "Scorned", in which they receive the collaboration, of the Dutch vocalist Linn Liv (PICTURA POESIS / CYANIDE PARADISE), "Eyes of Glass" and "As Above so Below", enjoy which are probably the best moments of this "Shadow & Flame", without forgetting the ending "She Begs for More" either. They also house touches of Groove metal or progressive mixing with the aforementioned melody, in terms of the lyrics,
ACHERONTIA STYX is made up of Grant Crossan on lead vocals (apparently all other members are equally involved in that field), Paul Taylor on bass, Adam Ashbridge on guitars (the latter have handled production duties in addition to much of the compositions) and Jake Burden on drums.
Fifty minutes and ten songs wrapped in a powerful sound, a melodic death metal that can sometimes remind you of bands like THE HAUNTED, ARCH ENEMY, LAMB OF GOD ... If they are among your musical tastes, give this good British quartet a chance. 7/10
For fans of Arch Enemy, Soilwork, Killswitch Engage, At The Gates
Haling from Northern England , Acherontia Styx bring multiple creative influences to the table. Their core sound is steeped in 90s Groove and Death Metal , with individual members bringing a host of external flavors into the mix including PROG, GRIND and FUNK . The result is a melodic and emotional Metal masterpiece laden with catchy hooks, ferocious rhythms and solos that are bordering on genius. The band launch a 3 pronged lyrical attack on the listener, with vocal and writing duties shared between Grant, Jake and Paul, over compositions primarily written by the phenomenal writing team of Adam Ashbridge and Paul Taylor.
For the month of July in 2019, the band destroyed the polls at The Battle Of The Bands on Metal Devastation Radio , gathering 6,738 votes from fans all over the world! Check it out HERE !
Acherontia Styx did an interview with The Thunderhead Show in 2019 which can be listened to HERE!
The follow up to last years acclaimed debut " Your Possible Pasts " has already generated a wealth of stunning press comments and media support following the singles " As Above So Below ", a brutal slice of Old School Death Metal mastery, and " Blackened Serenade ", a highly emotional Melo-Death showcase of the bands depth in talent. The addition of these final tracks to the press folder marks the completion of the album, after production stalled due to recent world events.
Check out this video!
Lineup:
Adam Ashbridge - Lead Guitar, Arrangements and Production  
Grant Crossan - Lead Vocals and Arrangements
Paul Taylor - Lead Vocals, Bass Guitar and Production  
Jake Burden-Stokoe - Lead Vocals and Drums
The album can be purchased at these links!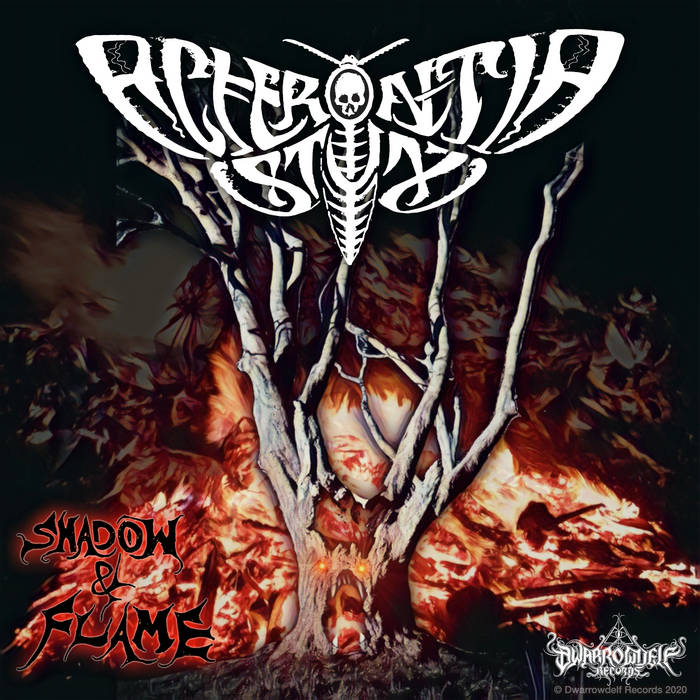 Track List:
1. Pleasures Of Her Flesh 05:04 
2. Evolution 05:18 
3. The Cursed Love 04:49 
4. Scorned (feat. Linn Liv) 05:21 
5. Eyes of Glass 04:54 
6. As Above, So Below 05:40 
7. Dressed In You 04:47 
8. Hurricane of Pains 05:21 
9. Blackened Serenade 05:09 
10. She Begs For More 04:57
Follow them at these links!
https://dwarrowdelfrecords.bandcamp.com/album/shadow-flame
https://open.spotify.com/album/1TPXAykHRehnXUhq7vYSoJ
https://www.youtube.com/channel/UC77g7oZ_ZYxt0jev0oDRhnw
https://www.facebook.com/officialacherontiastyx/