MDPR Clients: Ambassadors Of The Sun - "Orbiting A Dead Star" - Reviewed By Hellfire Magazin! Check it out here at this link: https://www.hellfire-magazin.de/ambassadors-of-the-sun-orbiting-a-dead-star/
Yes, look here! Fredrik Nordin is suddenly back! The man was the singer and guitarist of the first serious European stoner rock band. Dozer was called the and recorded five albums between 2000 and 2008. The last of them - "Beyond Colossal" - can easily be considered one of the best albums of the genre. As the icing on the cake, there was even a guest appearance by the inimitable Clutch singer Neil Fallon. At the same time as Dozer, Nordin and guitarist Tomi Holappa ran the band Greenleaf, which has since developed into one of the most popular stoner rock bands in Europe. Nordin left the music world in 2009 to catch up on his school leaving certificate.
A good decade later, the man is back with Ambassadors of the Sun and the album "Orbiting a Dead Star". Perhaps it has become a little quieter. He still likes to scream, but his sun ambassadors are not quite as powerful as Dozer sometimes came across. But that doesn't really matter, because the songwriting is mostly decent. Admittedly, it has not reached the level that Greenleaf have had since the entry of their really outstanding singer Arvid Jonsson. But anyway there aren't many bands across the genre whose songs are on par with the catchiness of Greenleaf. But if you were happy with Dozer, you will also enjoy "Orbiting a Dead Star". Whereby I exclude the strange, almost Bonjovi-esque ballad "So long". And with the cover design you should have made more effort.
7 out of 10 Hellfire points. - Hellfire Magazin

KATATONIA, DOZER and CHAINWRECK members team up in new band AMBASSADORS OF THE SUN
Ambassadors of the Sun was formed in 2017 by members Fredrik Nordin (vocals, guitar), Mathias Henrysson (guitar), Björn Tauman (bass), Daniel Liljekvist (drums). The members' past credentials and other contemporary commitments include Katatonia, Dozer, Chainwreck, Freaks and Clowns, Disrupted and many more.
Ambassadors of the Sun has been bubbling under the surface in the scenes that line the Dalecarlian music scene in Sweden. Musically, it is from the 60s to the present in one big sweep. The album generously gives you a mix of melodic and sometimes complex and heavy riffs of rock, metal, progressive tones and a distinct melodic sense that puts hooks in the memory bank with a constantly curious look at what awaits behind the next closed door.
On June 8, 2020, the single "From the Shadows" was released, and on July 10, 2020, the debut album "Orbiting a Dead Star" containing nine songs was released.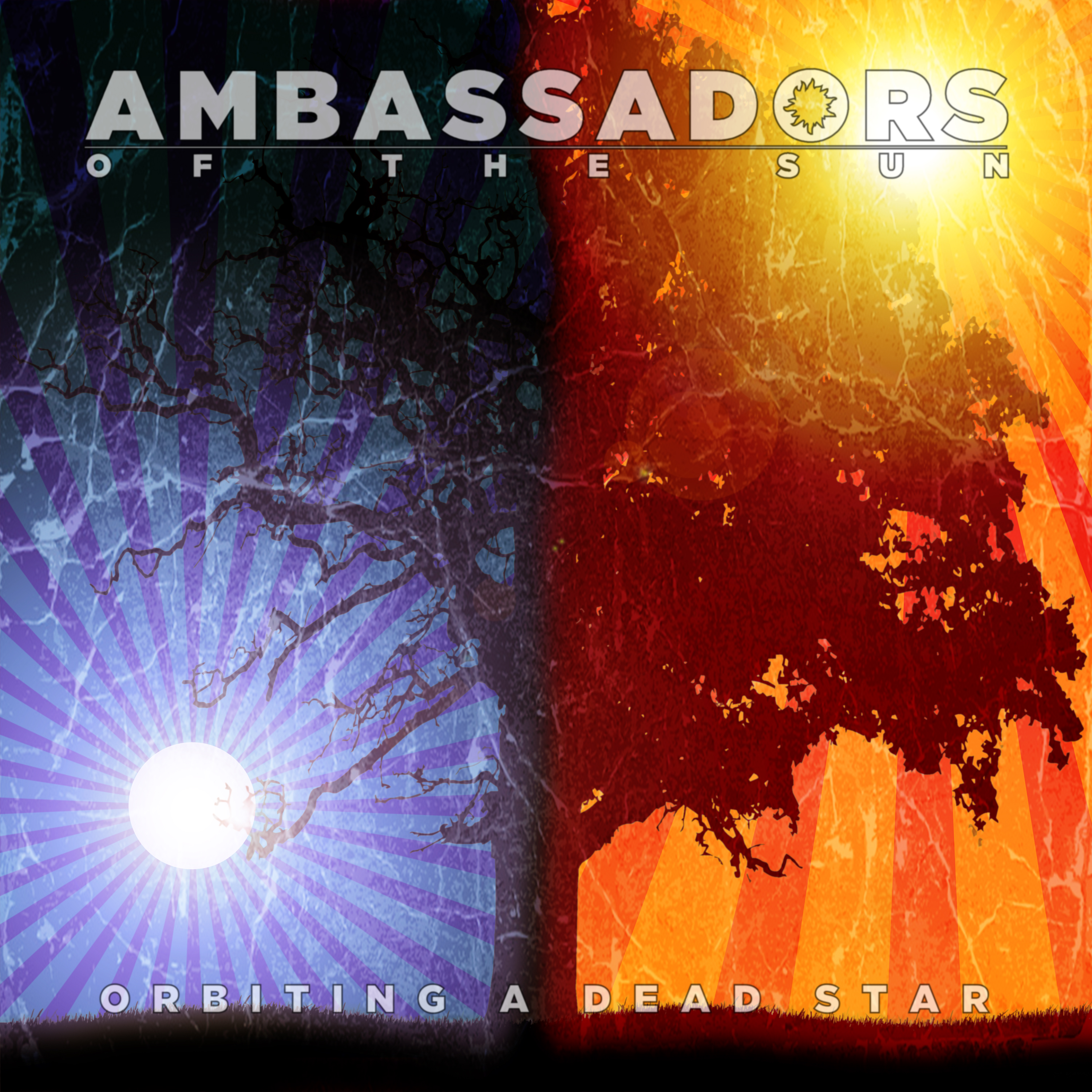 Track listing:
Disciple

Snail

From the Shadows

Cinnabon

So Long

Aches and Pains

1-9

Baretta

The Masochist
Lineup:
Fredrik Nordin (vocals, guitar)
Mathias Henrysson (guitar)
Björn Tauman (bass)
Daniel Liljekvist (drums)
Reviews of "Orbiting a Dead Star"
8/10
Ambassadors of the Sun from Falun are experienced musicians with a background in bands such as Katatonia and Dozer. The experience is heard from the first note. The album begins stately with beautiful polyphonic singing, which promises a lot - and the promise is kept. The first song turns into heavy dark metal that seems to be characterized by anxiety and hopelessness. The world situation gives no reason for positive horizons. But as solar ambassadors, they may not have completely lost hope, as the willful end of "Snail" points out. After all, they seem to want to take on our dying earth star. Grunge is published as a genre that connects the members. Mainly on a melodic level, this reaches the ear, but this is not a retro album. The music is rather forward-looking and experimental, but also humble. This debut album contains an admirable mix of raw weight and well-constructed melodic parts. Often these dimensions flow together in an elegant way. "Cinnabon" is perhaps the best example, well played!
Anders Bartonek / Sweden Rock Magazine
9/10
Damn what an album! A release in this year's top tier. With heavy yet dynamic compositions, Ambassadors of the Sun gives us something out of the ordinary. Everything on the album is there because it is simply needed. Only killers - no fillers! Sweden's new big metal band!
Tony Asplund / Rockbladet.se
9/10
The debut album is a potpourri of impressions. Mix Ghost, In Flames and Opeth, garnish with Kadavar for this year's most important work. Heavy, intelligent and swinging riffs meet the right melodies. The epic Disciple overturns any kiosk. Then add Cinnabon and 1-9 and the next music export becomes a fact.
Fredrik Brolin / Rockbladet.se
8/10
Progressive tones that took their time to be created where the quartet managed to produce their own sound. The 9-minute opener Disciple is particularly phenomenal on a straight through well-composed record where Dozers Fredrik Nordin shows width in his vocal range. I sincerely hope that this does not stop at a side project.
Fredrik Blid / Rockbladet.se
9/10
A band from Dalecarlia in Sweden that did everything right. This is how you break through! Psychedelic rock, stoner and death-metal mix well with a precision-rich musicality and as a listener you just want more and more. A better debut than this must be impossible to achieve. Impressive!
André Millom / Rockbladet.se
9/10
Ambassadors of the Sun is a new supergroup from central Dalecarlia in Sweden. The debut album is a technically melodic creation that is both heavy and beautiful. Heavy riffs are mixed with complex drums, calm parts and full on metal. The verbal is alternately a lullaby or an alarm clock.
Mattias Hedeby / Rockbladet.se
8/10
Dark, mysterious, heavy and well-sounding, is my concise summary. The riff and the melodies are spot on in the powerful soundscape. The band is new, but the quartet really knows their stuff and has long experience in this metal genre. The Masochist and So Long will be added to my playlist. Magically!
Jonas Lööw / Rockbladet.se
Video
Lyric video for the song "From the Shadows"
Links
Website: https://www.ambassadorsofthesun.se/
Youtube: https://www.youtube.com/channel/UCSqzZJsKP3DXpGRmbeLhtkw
Facebook: https://www.facebook.com/ambassadorsofthesun/
Instagram: https://www.instagram.com/ambassadorsofthesun/
Spotify: https://open.spotify.com/album/2kYMHjemdw1UHpJpQkqQJb?si=LcD28nYGS02pcx7yiTSL-A
Soundcloud: https://soundcloud.com/user-141339706
Pre-order Vinyl
https://www.ambassadorsofthesun.se/produkt/orbiting-a-dead-star-vinyl-lp-gatefold/?lang=en