MDPR Clients: Empyrean Fire - Deliverance - Reviewed By Metal Saves! Check it out here at this link: https://www.metalsaves.co.uk/post/empyrean-fire-deliverance-review
As winter takes hold in the Northern Hemisphere, symphonic and atmospheric Balck Metal takes on a different aura, fitting the landscape around us. Portland, Oregon's Empyrean Fire have captured this atmosphere extremely well on their debut release Deliverance 
With all the fury of a Scandinavian pure breed Black Metal band wrapped up in the distinctive American Black Metal format, Empyrean Fire have laid down seven tracks of darkness and doom to accompany the long winter nights in order to introduce themselves. 
The story and inspiration behind the album were born after frontwoman, Tricia Myers, read the classic works of literature "Paradise Lost" and "Paradise Regained."
The record takes John Milton's work, corrupts and twists it into a malevolent version of the biblical tale. The perfect backdrop for the band's sound. Opening with an unsettling, and ritualistic Proclamation the tone is set for the record ahead as it leads straight into the apocalyptic strings and deadly riffs of Gathering Storm. 
Vocally the album expands from haunting cleans and outright evil guttural growls and screams that permiate the record like those of tortured souls deep within some gohtic torture dungeon. The music keeps pace with the well-placed (and not overdone) symphonic elements complimenting the furious guitar and drum layers culminating in a truly Blackened sound with subtle hints of Doom and Death in places. 
By the latter half of the record, we have Corruption as a standout track, simply oozing darkness and untamed, primal aggression, blistering guitar, and blast beats meet a wall of sheer brutality when they clash with the vocals, the result, a well-planned cacophony of ferocity, which is also a sentence that could be used, to sum up, the entire record. 
Following that is the devastating imagery conjured by The Seige which wouldn't be out of place on a Cradle album, both chilling and incredibly heavy at the same time, rhythmic, heavy, and very gloomy, this one is sure to prove popular among live audiences when the time comes, seemingly designed for live performance or a cinematic video. The final track, aptly titled Final Battle brings everything to an Earth-shattering close, truly feeling like the end times have dawned as the battle between light and dark is fought before you.
Overall Deliverance leaves little to be desired, fulfilling all the Black Metal requirements you could ask for and then some. My only ask would be for the record to be extended past the seven-track mark to maybe, a round ten but that's only testament to the strength of the music on display here. Fans of Dimmu Borgir, Cradle of Filth, or Emperor should definitely take the time to check Empyrean Fire out, pre-orders of the album can be placed through Bandcamp in time for the December 26th release. 
RATING 9/10 - Metal Saves

The concept behind "Deliverance" was ruminated upon for years by front woman, Tricia Myers, after reading Milton's "Paradise Lost" and "Paradise Regained."
Deliverance is a sinister take on Milton's work, reshaping it with harrowing twists and malevolent revelations, each chapter a battle in the dragon's ascent to gain command over Hell on Earth. Will you bow down in battle, sunken before the spear?
Pre Order Here! https://empyreanfire666.bandcamp.com/album/deliverance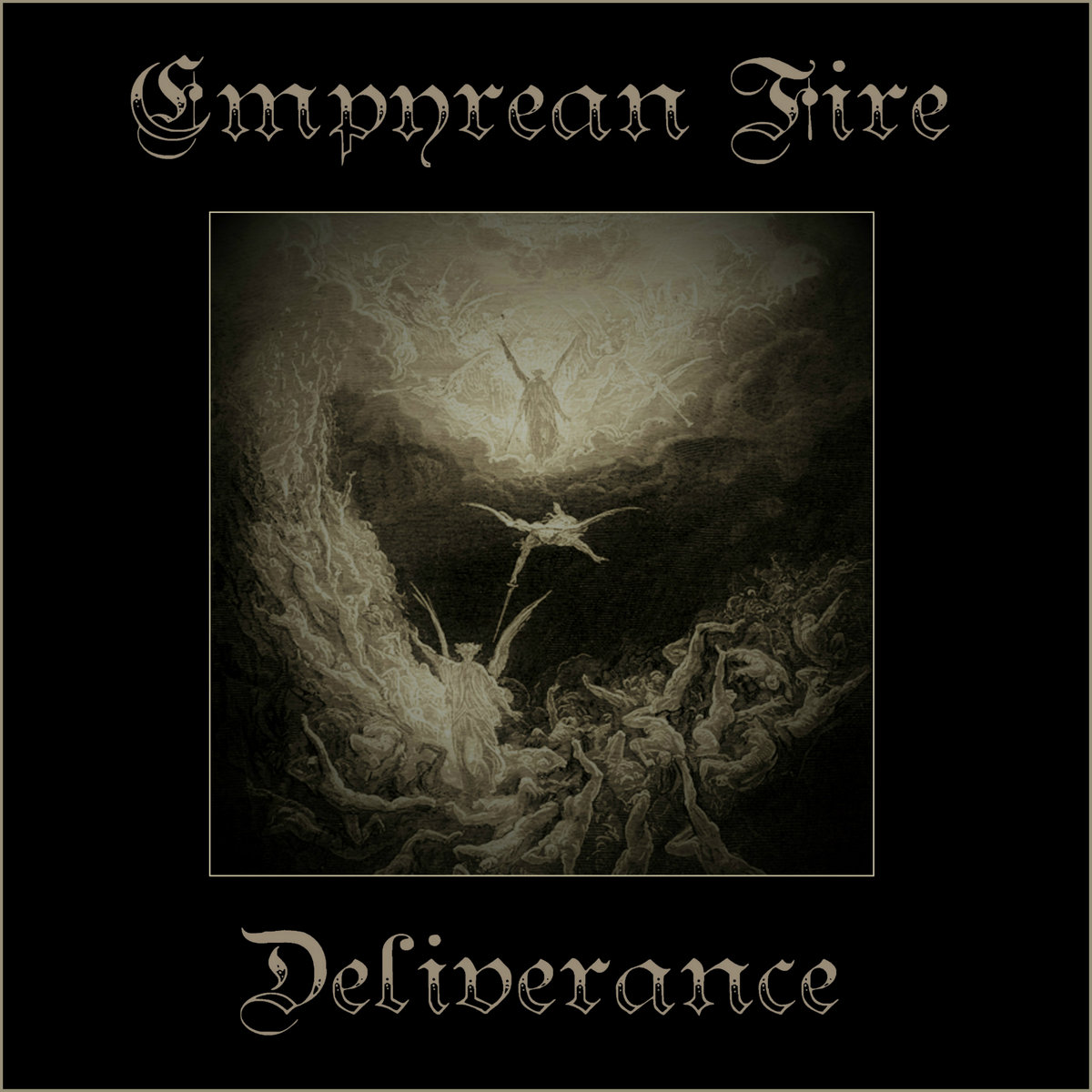 Releases December 26, 2020
1. Proclamation
2. Gathering Storm
3. Descent
4. Perdition
5. Corruption
6. The Siege
7. Final Battle
Tricia Myers - Vocals, Lyrics
Jason Yorke - Vocals, Guitar, Bass, Programming
Brian Rush - Vocals, Synths
Production & Concept by Tricia Myers
Mixed & Mastered by Jason Yorke
Album cover original painting by Gustav Dore'
Empyrean Fire sigil by Viktoria Polikarpova
Band photos by Jesse Lanier
Album layout by Empyrean Fire
Forthcoming Blasts: Michael Thompson
Released by Heavy Gloom Productions
© 2020
Follow the band on Social Media!
https://www.youtube.com/channel/UCya0242W32bKGm4WrC2K4ew
https://www.instagram.com/empyreanfire666/
https://www.facebook.com/empyreanfire666
https://empyreanfire666.bandcamp.com/album/deliverance