Acherontia Styx – "Shadow & Flame" - Reviewed by World Of Metal! Check it out here at this link: https://worldofmetalmag.com/wom-reviews-carnation-skeletal-remains-abyssal-ascendant-torchia-spirit-of-rebellion-agathocles-grog-acherontia-styx-deathroll/
The debut work of the British Acherontia Styx is an interesting fusion of worlds. On the one hand, from the beginning, we clearly have a strong presence of the groove. On the other hand, we have the old school aspect that is well imbued in its genetic code. While this may seem like blasphemy to some of the (traditional) defenders of the faith, the result is nothing to throw away. Some moments may sound generic and somewhat dispersed as far as an identity is concerned, but in general it is a work with its merits, especially in lead melodies and solos. A beginning of discography (in albums) that can foresee shines for the near future. It means keeping a close eye.
Dwarrowdelf Records are delighted to announce the release of the highly anticipated new album:- ACHERONTIA STYX - SHADOW AND FLAME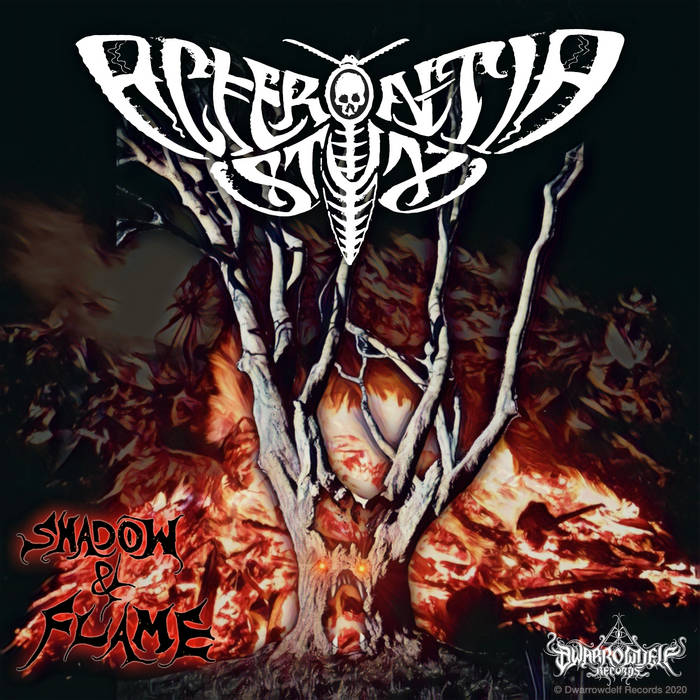 Adam Ashbridge - Lead Guitar, Arrangements and Production

Grant Crossan - Lead Vocals and Arrangements
Paul Taylor - Lead Vocals, Bass Guitar and Production

Jake Burden-Stokoe - Lead Vocals and Drums

Hailing from Northern England, Acherontia Styx brings multiple creative influences to the table. Their core sound is steeped in 90s Groove and Death Metal, with individual members bringing a host of external flavours into the mix, including PROG, GRIND and FUNK. F or fans of Arch Enemy, The Haunted, Soilwork, Killswitch Engage, Lamb Of God.

The band have a huge list of accolades, including Metal Devastation Radio Band Of The Month, Ripper Radio Band Of The Month, Mayhem Radio Song Of The Week and a Radio Wigwam Rock Song Of The Year Nomination. They have also been included on compilations by Metal Coffee, Sick Muzik and a host of local releases, with the album already receiving numerous 5 star reviews from worldwide press and international radio and podcast play.
Check out this Video!
In addition to our previous album press release, we wish to make our supporters aware of the diversity that the band possesses.
Attached are two further tracks for your attention.
EVOLUTION
This brutal slice of OSDM sees drummer Jake Burden take over on main vocals, with bassist Paul providing backing. A relentless onslaught of a song shows the true depth of talent in Acherontia Styx, with Jakes ferocious traditional death growl being equal in impact to those sung by lead vocalist Grant. Paul provides his signature black metal screams as a backing vocal harmony.
HURRICANE OF PAINS
This slow grinding track features a dual vocal attack from lead vocalist Grant Crossan and Bassist Paul Taylor, once again showcasing the depth of talent on offer in the band. Paul trades his signature black metal howl for low guttural vocals that provide a stunning harmony with Grants style.
The album is available on all major streaming and download sites, with a physical release scheduled to coincide with the eventual return of live music performances.
Track List:
1. Pleasures Of Her Flesh 05:04
2. Evolution 05:18
3. The Cursed Love 04:49
4. Scorned (feat. Linn Liv) 05:21
5. Eyes of Glass 04:54
6. As Above, So Below 05:40
7. Dressed In You 04:47
8. Hurricane of Pains 05:21
9. Blackened Serenade 05:09
10. She Begs For More 04:57
Follow them at these links!