HRH have, reluctantly, rescheduled the extremely popular HRH Vikings III festival to December 2021 due to the continued Covid-19 restrictions and the imminent government decision for an English lockdown.  The lineup, however, remains almost intact – but with the incredible Korpiklaani and Aud n replacing Borknagar and Saor respectively.  In addition, HRH Vikings III welcomes back the amazing Atorc by popular demand plus Battle Born, Eoten and Accursed Years.
Grab your tickets from  www.hrhvikings.com
They join Ensiferum, Burning Witches, Thyrfing, Warkings, Metsatoll, Skyforger, Grimner, Konvent, Vanaheim, Gwydion, Kull, Wretched Soul, Valafar and Metal Castle at the O2 Academy in Sheffield on 4th and 5th December 2021 for one of the true highlights of the HRH calendar.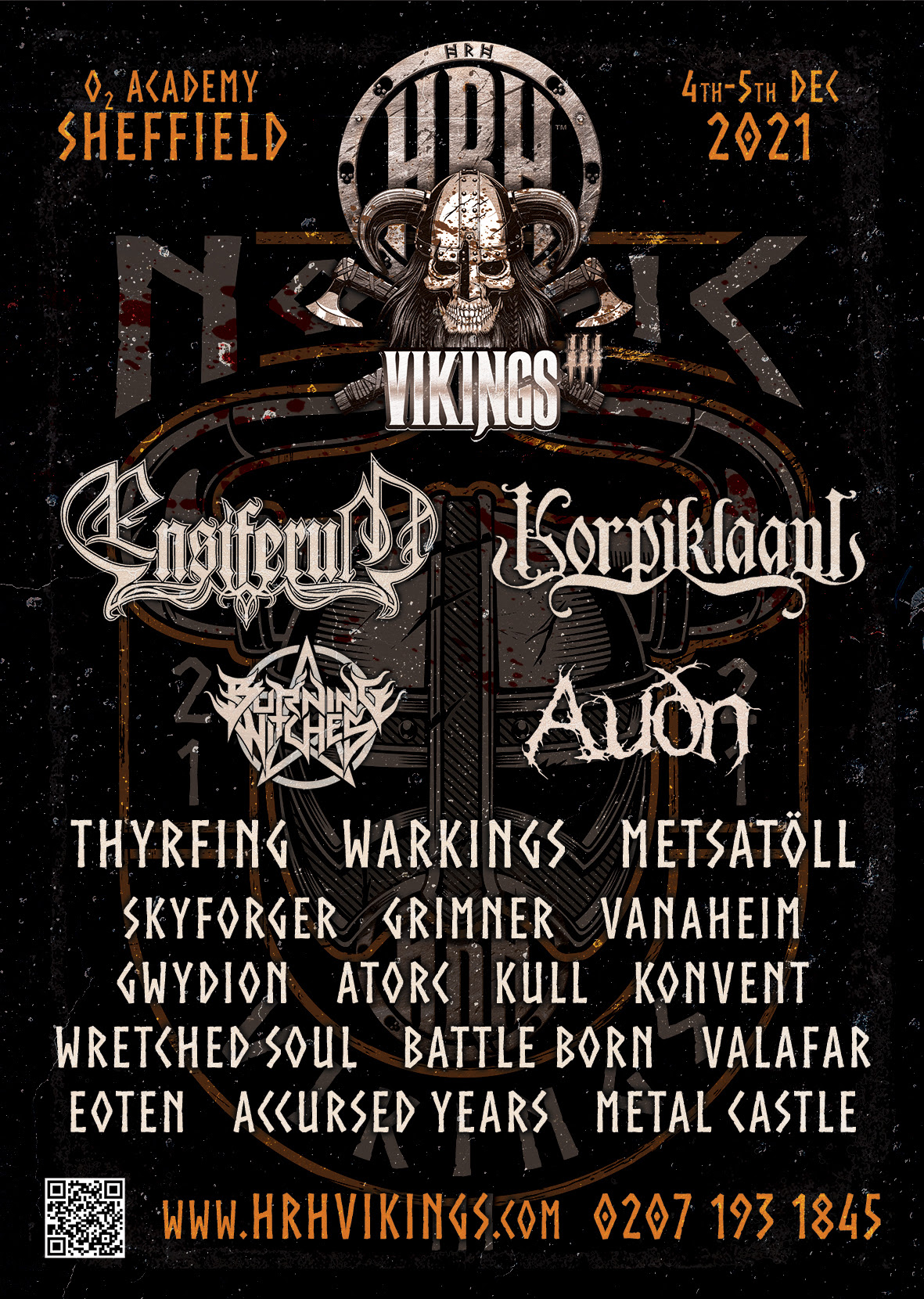 The hugely popular Korpiklaani are unique – their blend of Finnish folk music and heavy metal is like no other. Like traditional folk music that tells tales of joy, heartbreak and stories of old, Korpiklaanibrings new life to these tales adding the high energy of rock'n'roll and heavy metal. What you hear on record is what you hear live; authentic, honest and a lot of fun. Korpiklaani is a natural representation of our journey in this life, bringing music and emotions that can have you dancing all night, to quiet moments of melancholy.
As the country's vibrant black metal scene has proven, Iceland can be a beautiful and sinister place where furious elements rage teaching fear but also inspiring human creativity. Emphasizing melodies rather than dissonance and approaching their music from a dramatic, classical black metal angle  AUÐN  deliver haunting melodies and beautifully frozen atmospheres – as opposed to the jarring and caustic blunt force trauma that has brought their remote homeland in the Northern Atlantic to the black metal forefront.