Possessed Steel joins us on the show to talk about the new record "Aedris"! We talk about the concept behind the album and take questions from the live chat during the show! We play new and upcoming releases from Possessed Steel, Smoulder, SCHIZOPHRENIA, ETERNAL CHAMPION, Vessel of Light, Autopsy, Temple, NERVOSA, Reign Of Vengeance, I, Pariah, Gravehuffer, Beyond the Circle, GWENDYDD, De´luge, Graves of Giants, Victorius, KILLER BE KILLED, Noisecide, EPICA, Diamonds And Guns, Divine Anger, Deathroll, dark phantom, Death Angel, Sabrewulf, Omegavortex, LORD FIST, Impurity, Lie In Ruins, Kvilla , Hombrehumano, Firing Squad, Down Factor, Deathroll, Black Communion, and Begräbnis!
Track List:
1 - The Sword Woman/Warrior Witch Of Hell/Cage Of Mirrors [Manilla Road cover] - Smoulder
2 - The Zach Moonshine Intro
3 - Structure of Death/Mortal Sin/Schizophrenia - SCHIZOPHRENIA
4 - A Face in the Glare/Ravening Iron/Skullseeker - ETERNAL CHAMPION
5 - Possessed Steel Interview featuring Spelllblade/Skeleton King/Frost Lich
6 - Last Ride/There's No Escape - Vessel of Light
7 - In the Grip of Winter - Autopsy
8 - Funeral Planet - Temple
9 - Guided By Evil - NERVOSA
10 - American Family Court; Thy Seeds To Belial - Reign Of Vengeance
11 - CRIMINAL - I, Pariah
12 - Ghost Dance - Gravehuffer
13 - Lost within the stars - Beyond the Circle
14 - Human Nature - GWENDYDD
15 - Abysses - De´luge
16 - The Failure of Humanity - Graves of Giants
17 - Silver Bullet - Victorius
18 - Dream Gone Bad - KILLER BE KILLED
19 - Get Together - Noisecide
20 - Countdown To Singularity - EPICA
21 - San Francisco - Diamonds And Guns
22 - Behind The Wall - Divine Anger
23 - INTO THE VORTEX - Deathroll
24 - Holocaust - dark phantom
25 - Under Pressure - Death Angel
26 - Warbreeder - Sabrewulf
27 - Void Possessor - Omegavortex
28 - Flying Over Tiprinith - LORD FIST
29 - Baphomet Shield - Impurity
30 - Earth Shall Mourn - Lie In Ruins
31 - Wake Up - Kvilla
32 - PUERTO GRIS - Hombrehumano
33 - Police State of Mind - Firing Squad
34 - Blood Of The Patriots 1 - Down Factor
35 - INTO THE VORTEX - Deathroll
36 - Sinister Evocation Of The Black Lord - Black Communion
37 - Inverted Cross - Begräbnis
Listen to the entire show via the Mixcloud App below!
Check out the interview isolated on YouTube!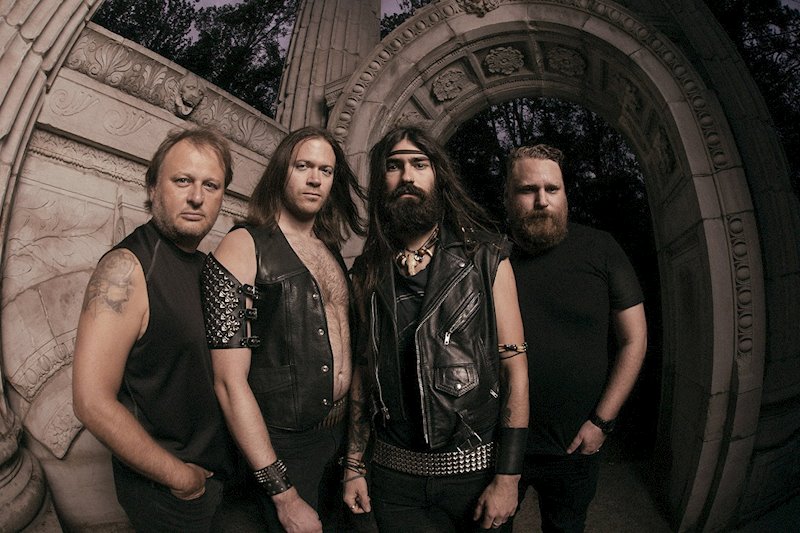 TEMPLE OF MYSTERY is proud to present POSSESSED STEEL's highly anticipated debut album, Aedris, on CD and vinyl LP formats.
POSSESSED STEEL are a four-piece traditional heavy metal band from Toronto, Canada. Formed in 2010, they started by playing small venues and house parties in the area, and through the years became more and more dedicated to finessing their sound and ideas. They released a five-song rehearsal recording that same year, and after a steady stream of shows, the band crystallized their sound on their self-titled EP in 2014.
After a year-long hiatus - where they said they'd break up "forever," but didn't - the current lineup played together for the first time in 2015, playing the old EP from front to back and feeling they had perfect chemistry. From that day forth, POSSESSED STEEL as we know today was formed, and the band went on to release their second EP, Order of the Moon, which featured some older songs expanded upon and slightly rearranged.
As they expanded their sound and honed their creativity, they set their sights on writing their first-ever full-length, leading us to now. For a full year, POSSESSED STEEL have been working harder than they've ever worked - recording, writing and releasing a one-of-a-kind concept album of epic proportions, Aedris.
Aedris takes us across a prophetic journey, which unfolds into a succession of mystical songs taking place in an enchanted world. The goal is for Aedris, the last of kin in a long ancient bloodline, to choose to heed a prophecy of ruin - or to ignore it - and each song is a chapter in his story.
Musically, Aedris is a well-crafted, refreshing mix of epic heavy metal and Canadian-style progressive thrash with poignant vocals, sometimes soul-wrenching screams - but overall, it has incredible RIFFs, otherworldly acoustic parts (think Sacred Blade), and over-the-top solos. One thing that could be said about Aedris is that it is more than an album; it is entering another world. It makes us travel into a parallel universe. It sounds and feels original, and it is the type of record that we can listen to over and over again and discover new things every time.
Join Aedris, and follow his quest to fulfill his destiny as the album sets into a somber musical voyage, which sets sail on November 30th on TEMPLE OF MYSTERY RECORDS.
MORE INFO:
www.facebook.com/possessedsteelofficial 
www.possessedsteel.bandcamp.com 
www.templeofmystery.ca
www.facebook.com/templeofmysteryrecs