The legendary, tireless South American Extreme Metal band VULCANO is counting down for another European tour. The "Europe Stormed Tour" will be the quintet's sixth pass across the old continent and will already support the release of the new album "Eye In Hell", due for release in January 2020 on CD and LP by Danish label Mighty Music.

Starting on 08/11, the tour will run until Dec. 7 and will pass through the Netherlands, France, Belgium, Sweden, Finland, Norway, Germany, Poland, Czech Republic, England, Spain and Portugal, check out the full poster :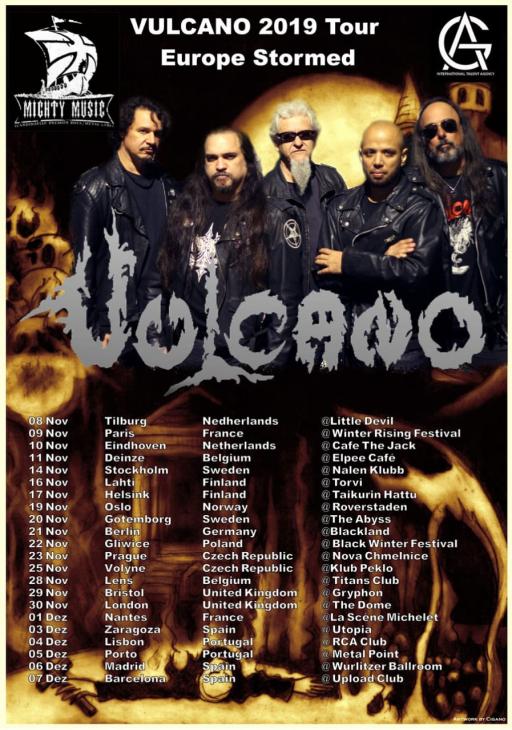 For more information about the "Europe Stormed Tour" write to stephen.moss@arteryglobal.com .
Everything you need to know about VULCANO's partnership with Mighty Music and the release of "Eye In Hell" can be found at the following link: https://sanguefrioproducoes.com/n/2278

In parallel, the band says that in the coming days will release the first single of the upcoming work - above - and to stay on top of all the news follow the group on their social networks:
Facebook: https://www.facebook.com/VULCANOMETAL
Instagram: https://www.instagram.com/vulcanometal_official/

Contact for press office: www.sanguefrioproducoes.com/contato
Related Sites:
https://www.facebook.com/VULCANOMETAL
http://www.vulcanometal.com/
https://www.sanguefrioproducoes.com/bandas/Vulcano/20
Source: Sangue Frio Produções