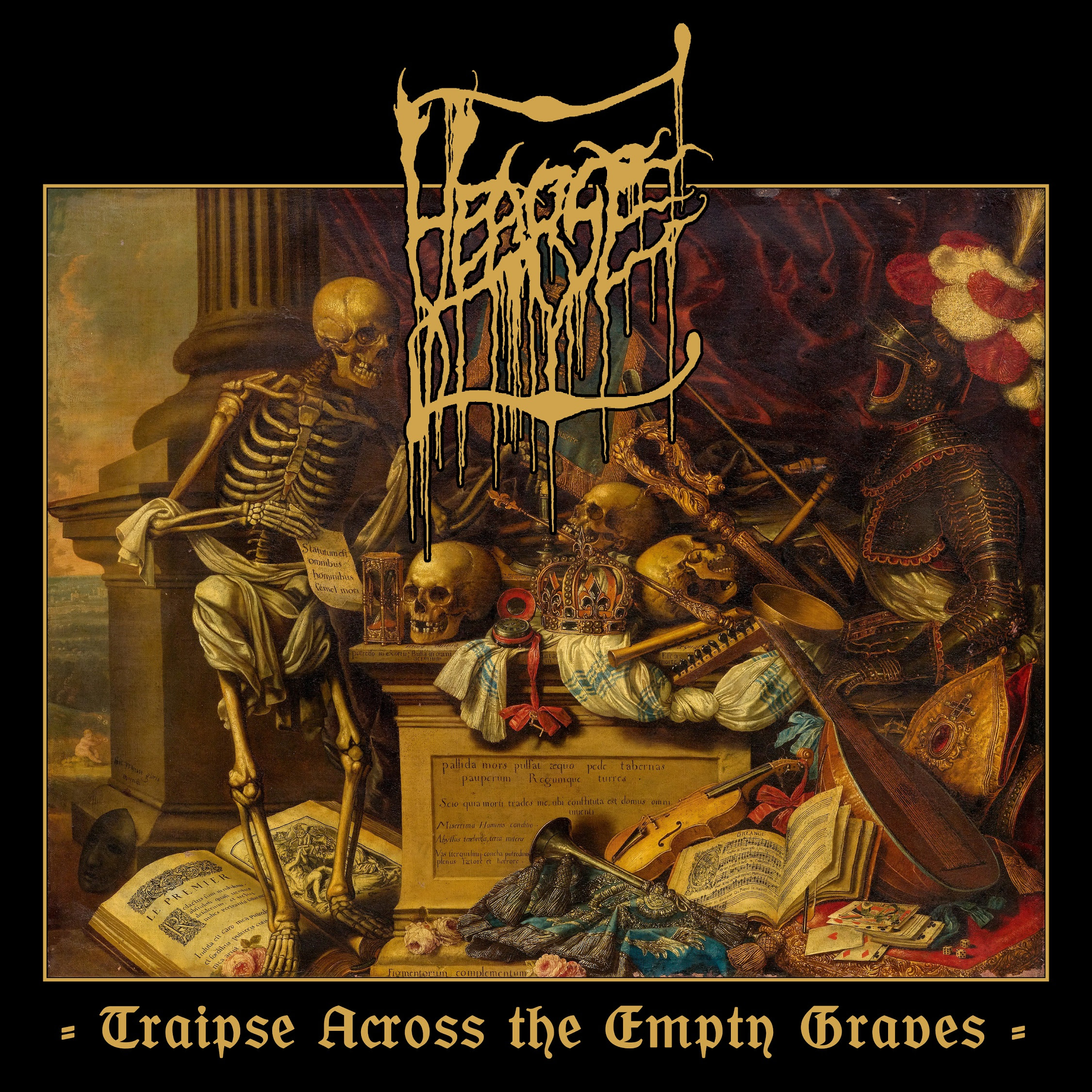 Listen HERE .
Artist: HEARSE
Release title: Traipse Across the Empty Graves
Label: SINISTRARI RECORDS
Release Date: 24-01-2022
Format: CD, Digital
Genre: doom metal
Country: United States
For fans of Thergothon, Unholy, My Dying Bride, Black Sabbath, Rigor Sardonicus, Winter, Paradise Lost
Formed in 1997 and having released 2 demos "Plague & Disease... Holocaust & Armageddon" in 1997 and "So Shines a Good Deed in a Weary World" in 1999, this Pennsylvania/Delaware outfit just released their debut album on SINISTRARI RECORDS. Featuring THE BLACK LOURDE OF CRUCIFIXION of black and death metal bands such as CRUCIFIER, ABHOMINE, DECIEVERION, GBK, BLUDGEON, and BRETHREN.
The area around Chester, Pennsylvania and Wilmington, Delaware is not only known for its industrial wasteland, racketeering, gambling and prostitution. It is also where the funeral doom band HEARSE was given a painful coffin-birth. Underneath the mechanized noise of shipbuilding, the manufacture of iron beams and boilers, and the production of bricks and chemical dumping sites, comes the sound of HEARSE's funeral doom metal.
Recorded, edited, mixed, and mastered at FERMENTATION RECORDINGS, Boothwyn, Pennsylvania.
Engineered by Mark Vizza at fermentationrecordings@gmail.com
Produced by Cazz 'The Black Lourde of Crucifixion' Grant III
Executive Producer - SINISTRARI RECORDS
Tracklist:
1. A Pinebox Penance
2. Groans Below
3. The Wraith in the Fog
4. Whispers of Sorrow
5. The Hopeless Realm
6. His Majesty
7. Coma
8. The Nightmares Have Come
9. In the Abstract Abyss
Line-up:
Cazz 'The Black Lourde of Crucifixion' Grant III (drums, vocals, lead guitars, keyboards)
Ordog (bass, guitar)
Follow:
Website: www.sinistrarirecords.com
Bandcamp: https://doomhearse.bandcamp.com/album/traipse-across-the-empty-graves
Youtube: https://www.youtube.com/channel/UCvn1VEOUhoI8fQ0yNnXRf2A