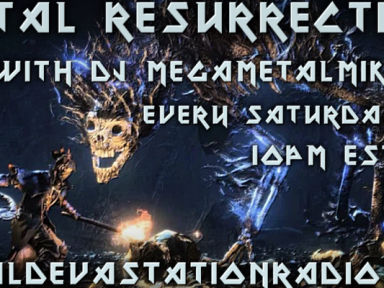 Metal Resurrection Radio Show
Friday February 26 2021, 8:45 PM
Saturday night February 27th Listen "Live" 10pm-1am (EST) to Metal Resurrection with DJ MegaMike! On the show you will hear from Celtic Frost, Aggravator, Heathen, Evile and Skeleton Pit! Also Canadian Metal from Nitemare, Gorguts, Interzone and... More
www.metaldevastationradio.com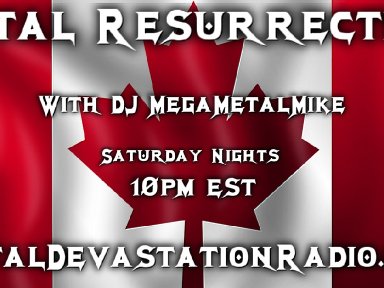 Metal Resurrection Radio Show
www.metaldevastationradio.com
Saturday February 27 2021, 10:00 PM
Saturday night February 27th Listen "Live" 10pm-1am (EST) to Metal Resurrection with DJ MegaMike! On the show you will hear from Celtic Frost, Aggravator, Heathen, Evile and Skeleton Pit! Also Canadian Metal from Nitemare, Gorguts, Interzone and Legion666! NOW PLAYING Click Here For Help Streaming On Chrome M3U Playlist Direct stream link Web port link More
Saturday night February 27th Listen "Live" 10pm-1am (EST) to Metal Resurrection with DJ MegaMike! On the show you will hear from Celtic Frost, Aggravator, Heathen, Evile and Skeleton Pit! Also Canadian Metal from Nitemare, Gorguts, Interzone and Legion666! NOW PLAYING Click Here For Help Streaming On Chrome M3U Playlist Direct stream link Web port link Less
Attendees : 0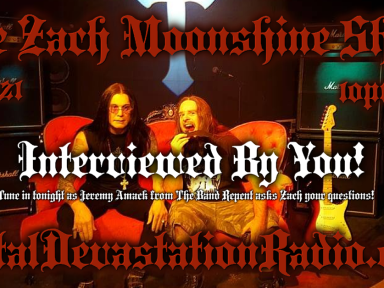 Interviewed by You! - The Zach Moonshine Show
metaldevastationradio.com
Friday February 26 2021, 9:00 PM
"Jeremy Amack" from 'The Band Repent' will be joining The Zach Moonshine Show to interview Zach Moonshine and ask all your questions"! We will be playing your requests, as well as many brand new releases on the show! Show starts at 9pm est/6pm pst and the interview will happen around 10pm est/7pm pst. To join us, simply sign in to the site www.metaldevastationradio.com and click the chat &... More
"Jeremy Amack" from 'The Band Repent' will be joining The Zach Moonshine Show to interview Zach Moonshine and ask all your questions"! We will be playing your requests, as well as many brand new releases on the show! Show starts at 9pm est/6pm pst and the interview will happen around 10pm est/7pm pst. To join us, simply sign in to the site www.metaldevastationradio.com and click the chat & listen links! NOW PLAYING Click Here For Help Streaming On Chrome M3U Playlist Direct stream link Web port link Less
Attendees : 0

Vanan Translation is an Online Certified Translation agency located in Columbia, USA that provides translation services all over the United States and other countries. By following the principles of USCIS certified translation; we only employ native speakers to work on your projects. We provide Certified Translation services in 100+ languages anywhere in the USA.

Our translators are adept in offering technical translations in multiple fields like Legal, Medical, Business, Finance, Marketing, Advertising, Life Sciences and listed below :

1. Contract Translation Services
2. Translation Services Houston
3. Label Translation Services
4. Translation Services Phoenix
5. Urgent Translation
6. Vaccination Record Translation Services
7. Pharmacovigilance translation services
8. Medical Translation Services
9. Medical Device Translation Services
10. Arabic Translation Services
11. Interview Translation Services
12. Affordable Translation
13. Website Translation Services etc...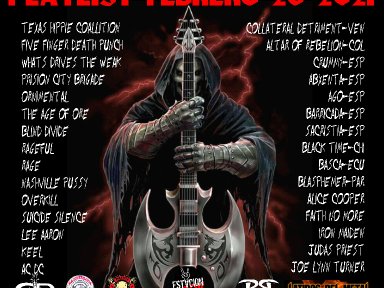 Ornimental, Blind Divide, The Age of Ore, What Drives the...
Friday February 26 2021, 5:08 AM
Ornimental, Blind Divide, The Age of Ore, WhatDrivestheWeak, Prison City Brigade and Rageful - Streaming At Estación Rock!  This Friday, February 26, starting at 9:00 p.m., we will have the presentation of ORNIMENTAL, BLIND DIVIDE, THE AGE OF... More
feature

I am a Tech Support Adviser. I am providing solutions for all technical support services. If you face any type of tech issues visit my company's website and contact our toll-free number for help. Website-




Fire And Safety Equipment Suppliers In Dubai
Firestone Fire and safety engaged in installation services and maintenance of firefighting, fire alarm and emergency lights and central battery systems. Call us today at 00971 562651688.