Day Of Doom was born during the cold deadness of winter in 1999. The idea for the band was spawned in the twisted mind of drummer Rich Hervey; formerly of Sanguinary Carnage, Butchery, and Exuviate. Over the next few years, Hervey unleashed the beast upon the world with the help of multidimensional guitarist and bassist Ray Holmes, recording a slew of demos during that time. These demos were recorded, produced and distributed by Hervey in extremely limited quantities and they are considered a rare treasure in the underground New York Death Metal scene.

After a short hiatus, Rich was joined by former Butchery and Exuviate guitarist Doug Randazzo, who then added his brutal, melodic and dissonant flavor to the mix. Together, the two of them went on to write and record Day Of Doom's first full-length release, entitled "Night Of Horror" along with former Suffocation and Hate Eternal guitarist, Doug Cerrito. During the mixing of the album Doug Randazzo had to leave the Doom which led Hervey to forge ahead.
Over the next few years, Rich would try out a number of different musicians, yet none seemed to fit the bill, and in the end Rich would go on to write and record Day of Doom's second full-length effort entitled "Slaves To Insanity." Rich was then joined again by former Guitarist Doug Randazzo who would rejoin the band.

Doug and Rich continued to write and record material in the bowels of their underground studio, known affectionately as "The Doom Cave." It was around this time that Day Of Doom also welcomed the fiercely talented Bassist/Vocalist Sam Lara, making this a solid unit of musical destruction. This work led to the 2013 EP Version release of "The Gates Of Hell."

In January of 2014, Day of Doom signed a deal with Czechoslovakian record label Lavadome Productions, which led to the release of the full-length version of "The Gates Of Hell" on June 6th, 2014. The album, which has already received a fair share of positive reviews from several publications in the underground metal scene, contains an expressive whirlwind full of wicked riffs, destructive drums, pulverizing slams (played the way they were meant to be played), and mind-bending rhythms. This psychotic mix of twisted mayhem is topped off with otherworldly guitar solos. The original tracks, which were recorded between February and May of 2013, were remastered for the Lavadome release and the CD booklet contains all-new, astoundingly evil artwork by the tremendously talented Raul Gonzalez.

Over the years, Day Of Doom has played some brutal shows with acts including Suffocation, Deicide, Jungle Rot, Dehumanized, Pyrexia, Malignancy, Six Feet Under, Arkaik, and Broken Hope as well as several other awesome bands. The Doom is also preparing for some sick shows in the near future.

In July of 2014, Day Of Doom recruited former Corpsicle and Sanguinary Carnage guitarist, Michael Fairlie, adding a little more of the old school death metal/grindcore flavor to their molten musical mix of apocalyptic terror. The band is currently in the process of getting acquainted with their newest member (who played with Hervey in the early 90's during the beginnings of Sanguinary Carnage).Mike had to leave the band but we all are great friend's and wish him the very best.Lavadome will rerelease Night of Horror and Slaves to Insanity on once cd and it will be called The Second Coming .Slaves is rerecorded and has a unrelased track and will be out early 2016.Day of Doom are also working on their next full-length release, "Descent Of Humanity," which is sure to twist your mind and swallow your soul.

There is no escape. Beware, for your doom is near!
The Second Coming is fourteen tracks representing the evolution of this devastating Long Island band. Night of Horror features Doug Cerrito (ex-Suffocation) who not only produced the album, but also lays down two leads on it. Expect an original mixture of NYDM sickness accompanied with horror psychedelia and chilling atmospheres, which intensified on the band's third album The Gates Of Hell, which was released by Lavadome Productions in 2014. The band is currently finishing their new album, Descent Of Humanity, on which Day Of Doom further refines its musical attack. - Bravewords
What is Obscure Chaos Zine
Obscure Chaos Zine originally started in the closing stages of June 2010 by bringing the idea of the old school way of Word of Mouth, by promoting and supporting bands in the all genres of Rock, Metal, Hardcore and Punk world wide. We began on Facebook building up a following while promoting and supporting bands. Underground printed fanzine's struggles because of the lack of support it receives. Now many printed fanzine's has been dropping the paper and focusing only on the internet to spread the masses faster. We are currently working on both.
Our force is currently composed of dedicated freelance journalists, musicians, rockers, metal heads, poets, promoters, graphic designers, DJ's that simply contribute their work because we worship, promote and support all Rock, Metal, Hardcore and Punk music and it is our passion to share it all over the world.
Obscure Chaos Zine features interviews, album reviews, live pit reports, fanzine reviews, gear reviews, dark poets, artist and have other features as well. We fest on all the rapid growth and changes within the ROCK, METAL, PUNK and HARDCORE genres our conception feels fit as we embrace a much wider range of music within these styles.
We review demos, vinyls, albums, DVDs, interviews and news about newsworthy issues, primarily regarding new albums, upcoming tours, line-up changes or new projects and to help promote bands who spike the perfect balance of savageness, ambiance, creativity and musicianship to new levels. It doesn't matter how immense or diminutive you are . . . come and get exposure! - Obscure Chaos Zine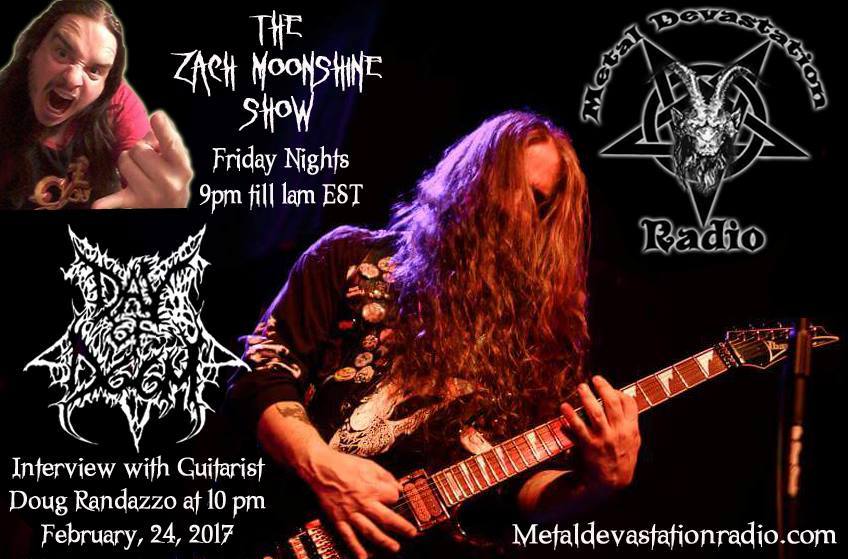 Listen to the interview here
Get the album here 
Download the compilation here 
Listen to the entire show in all its glory here