Ba'alzamon - "A Desolate Place" Reviewed By WOM! Check it out here at this link: https://worldofmetalmag.com/wom-reviews-rews-slut-machine-ils-maggot-heart-pazmonstro-last-lamb-me-chama-de-ze-alright-brother/
We always try to have a positive attitude in the analyzes we do - except for rare exceptions when for personal reasons we are less patient and end up not being able to see the glass half full. Or rather, we can't even see water. The Ba'Alzamon are clearly a young band taking their first steps on the scene, with dreams and ideals that sometimes come up against the lack of conditions and / or experience. "A Desolate Place" is a work that has these good ideas but that thanks to a more rudimentary production (which years ago would have been fantastic but today is not impressive) and an inability to raise these ideas to good themes, results in a set of themes that are not memorable. Still, we are sure that soon the band will be able to present something superior. The talent is there.
5/10
Fernando Ferreira
For fans of Setherial , Moonspell , Paradise Lost
Led by the thunderous vocals of Fitzpatrick and the dynamic compositions of Anderson and WIlliams, Ba'alzamon formed in 1998, and began playing live in and around the Little Rock metal scene in 1999, with a rotating lineup of additional musicians. Mired in a scene dominated by Southern Sludge , Ba'alzamon' s unique blend of Black and Traditional Death Metal stood apart both in sound and performance.
Ba'alzamon 's unbridled energy could not be sustained forever and in around 2001 the band split up, with members going on to other music and stage projects. However, the main core of Fitzpatrick, Williams and Anderson maintained a close friendship that, in 2017, served to bring them back together to record their first full-length album. This project would expand into the double length  A Desolate Place  (May 25, 2020).
A southern blend of Melodic Death and Black Metal beautifully packaged together in this journey of isolation, unbridled hatred, and rebirth. Twenty years in the making, haunting, and crushingly brutal, A Desolate Place is the crowning achievement in Ba'alzamon's unique brand of Ozark Mountain Metal .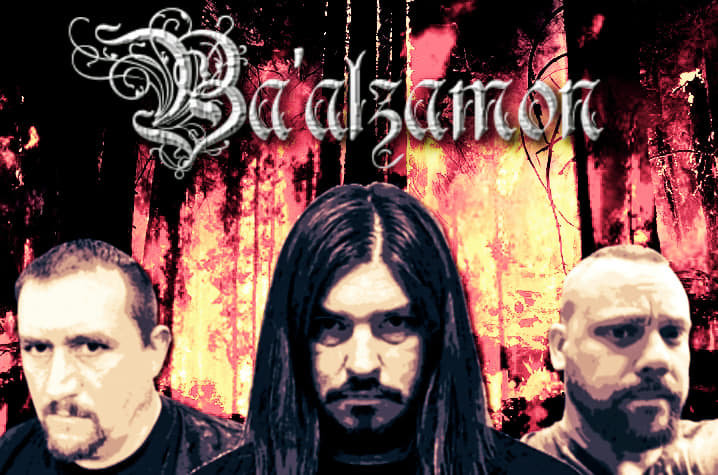 BAND MEMBERS
Curtis Fitzpatrick: Vocals, Samples
Marc Williams: Keyboards, Bass, Additional Guitar
Rob Anderson: Guitar, Drums, Additional Bass
ARTIST INFORMATION
Label: self-released
Genre: Death, Black Metal
Hometown: Conway, Arkansas
Influences: Cradle of Filth, Dimmu Borgir, Behemoth
Links :
https://baalzamon.bandcamp.com/album/a-desolate-place
https://baalzamon.com/sample-page/bio/
https://music.apple.com/us/album/a-desolate-place-re-mastered/1513811988?uo=4&app=itunes
https://play.google.com/store/music/album?id=Bnpj7ufrvcs6l2fkjykgaoqdyei&tid=song-T2yql4xnwvzfphlfsvwsk3oeh3i&hl=en_US
https://open.spotify.com/album/0avFgHrQcnMeWtzMt3YqSm
https://music.amazon.com/artists/B07Y1KDLMB/ba%E2%80%99alzamon
https://www.deezer.com/us/album/148949452
https://www.iheart.com/artist/baalzamon-33693918/albums/a-desolate-place-102275172/