At Sacrament's first track streaming on The Midnight Hour radio show this Sunday from 5pm BST on Metal Meyhem Radio!
At Sacrament's first track will go out on The Midnight Hour radio show this Sunday from 5pm BST on Metal Meyhem Radio.
Tune in here:
www.metalmeyhemradio.com
At Sacrament was born in early 2020, in the heart of South America, Paraguay, with a lot of energy and music to express. From traditional heavy metal to Norwegian black metal, the band is influenced by many styles and the personality of each member brings a lot of musical wealth and passion for metal. After almost six months, in the middle of a pandemic, after several inconveniences but with great pride, the band managed to release their first EP called "A New Dawn" in mid-July. The return to a road that had already begun years ago is now a reality.
The band is formed by:
- Nicolás Peralta (Rhythm guitar, solos)
- Renato Zandonai (Drums)
- Alexis Martínez (Vocals)
- Fabián Giménez (Rhythm guitar, solos)
- Wilson Paniagua (Bass guitar)
Links:
Facebook: https://www.facebook.com/AtSacrament/
Youtube: www.youtube.com/channel/UCsxKQGhvpbmRk7SAum6BLlw
Instagram: https://www.instagram.com/atsacramentpy/
Bandcamp: https://atsacrament.bandcamp.com/
Spotify:
https://open.spotify.com/artist/0obXYvZBCL9CvVuLhN8lv3?si=agWnjgPkRwCBMF-grQ3swA
E-mail:
atsacrament@gmail.com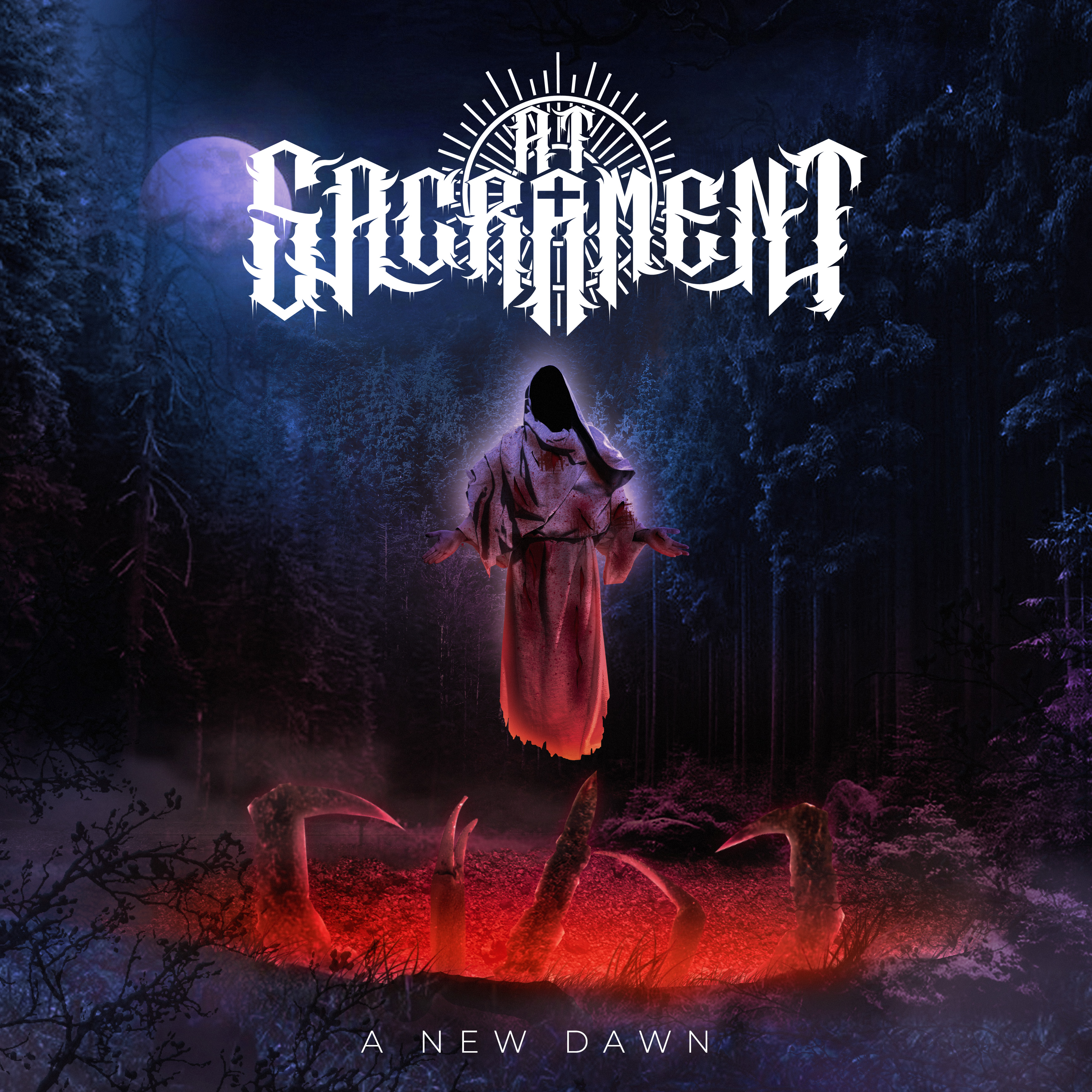 Check out this interview:
Who are the band members and what do they play?
- Nicolás Peralta (Rhythm guitar, solos) - Renato Zandonai (Drums) - Alexis Martínez (Vocals) - Fabián iménez (Rhythm guitar, solos) - Wilson Paniagua (Bass guitar)
How and where did you get together?
Everyone except Wilson Paniagua (Bassist) met and we started playing in 2008 in approximately Ciudad del Este, Paraguay, but for life things we had to leave the project and 12 years later we are resuming with a lot of passion, already with the current one bass player.
What are the band's main influences?
We all have very varied influences but I think thrash and death metal from the 80's and 90's especially predominates. Bands like Metallica, Megadeth, Slayer, Exodus, Death, Morbid Angel, Obituary, Pantera, etc and some newer ones like Lamb Of God, Havok, etc
Have you played any notable gigs, festivals or other events? Likewise radio or TV appearances?
Not yet, the band is very new and we finished recording a short time ago. Also due to the pandemic, we still had no opportunity to play live.
Are there any other interesting or amusing happenings – no matter how small – that the band have been involved with that would be of interest to those who like your music?
We have many anecdotes from many years ago, because we have been friends for a long time and with previous projects we got to play many times live. With the current lineup we still could not have experience but I trust that people will like our work and soon they will see us with new materials and shows. I can emphasize that the recording and post production has not been easy at all.
Do you have any favourable quotes from previous reviews of the band that you'd be happy to share?
I did not have many specialized reviews yet. But I did have positive reviews from many friends and people I contacted. So far everyone told me that they really liked our work and were even positively surprised by the songs.
Where was the single/EP/album recorded and who was involved in its production?
The EP was recorded in our own studio in our city (Ciudad del Este, Paraguay), not very professional yet but we are working to improve it and make it professional very soon. The recording involved only the members of the band, especially me (Nicolás Peralta) who tried to do my best, and despite still having many errors and imperfections, I think that for our first job it is fine, but we will always seek to improve and improve our music for future works that we already have in mind. Mixing and mastering was done in a studio in Europe.
Is there a particular ethos behind the single/EP/album or any particular music styles or events that inspired it?
What most inspired us was the hunger for music, hunger for metal, rage, the experience with illness, a mix of positive and negative emotions. Being able to express all that and more, with our music is something that fills us with pride.
Can you briefly describe what the song/each song is about? If you are releasing an album then either describe the thinking behind the project or choose a couple of lead tracks to focus on.
The EP contains 5 songs: 01 - Saints Of Darkness: it is an intro that goes from soft to strong, with lyrical voices, creating an effect of Gregorian chant too or things like that. 02- A New Dawn: It was the first song we composed, it talks a little about how we are manipulated and we must wake up from that, we need a new dawn. 03- Mental Overload: second song we created, talks metaphorically about experiences with diseases, which I personally went through. 04- Corrupted Mind: third song we created, (my favorite) haha, also talks metaphorically about the power of the mind, and how vulnerable we are when they want to manipulate us.
05- Visions Of Madness: fourth song we created, is based on a dream I had, a bit macabre haha ??but nothing literal, just expressing a little anger and rebellion that often become crazy. The EP "A New Dawn" was made with a lot of inspiration about the metal of the 80's and 90's, the rebellion and the force with which the music was expressed at that time, are our source of inspiration.
Were there any notable or amusing happenings surrounding the recording/production of the EP? As above, list whatever might be of relevance.
I think the most shocking thing was the pandemic, working in the midst of it, sometimes remotely with the bandmates, was something difficult because we couldn't physically meet for a long time, like two or three months practically our country was in total and mandatory quarantine, that caused a significant delay in the recording. We had to record some parts of the songs in another studio, and then mix them up in ours, and so it was quite a different and complicated experience. But we did it!
Please provide a one or two-line personal quote that can be attributed to a band member, about either the band themselves or the release. Obviously the more eye-catching this is the better.
For At Sacrament, "Hunger for metal is hunger for history, we want and we will make history". For me, Nicolás Peralta, "All we need is a new dawn".