Vocalists Who Played Drums in Their Early-Career Pt. 2
This is the second article of the two-part segment.
Chris Cornell
Before establishing himself as arguably the best voice of the grunge scene, Chris Cornell started to get into music by taking piano and guitar lessons as a child. But his serious intention to start making music began from the perspective of a drummer.
In his teenage years Chris already had some drug experience, and as he decided to quit this lifestyle, he became an introvert. In his 2017 interview to spin magazine he recalls:
"From 14 to 16, I didn't have any friends. I stayed home most of the time. Up till then life was pretty great. The world was big and I felt I could do anything I wanted. Suddenly, I felt like I couldn't do anything. But in isolation, my imagination really had time to run."
According to LAtimes he has said that it was his mother who saved his life when she bought him a snare drum, the instrument he adopted in beginning his path to become a rock musician.
Back in December, 1994 issue of Rolling Stone he said:
" When you're young, playing drums is immediately satisfying 'cause whether or not you know how to play anything, the bottom line is that you're pounding on something, so you're happy about it."
Eventually, because of his habit to sing at some point Chris began to accompany his playing with his vocals when he was 17. " I started singing backup from behind the drums. I just imagined, ' If I work at it, I'll be so good that some great band will want me.' "
Chris worked in restaurants and looked up local want ads for bands, and played in a number of them.
" The first band I was ever in, I sang lead vocals behind the drums, and I would get good reactions. And I started thinking, 'Shit, maybe I should just try this.' I answered this ad for a singer. The leader was a pretty good guitar player. His friends were Kim [Thayil] and Hiro [Yamamoto]." The musicians who eventually became the founding Soundgarden members.
" The first day we jammed with Kim, we wrote three songs, and the second time we wrote another five, and within two months we had 15 songs. And that's how Soundgarden started. "
According to the official Chris Cornell website Chris initially played drums while singing. But in 1985 the band enlisted drummer Scott Sundquist to allow him to concentrate on vocals.
Although there's no video footage of Chris playing drums, apparently every now and then the late Soundgarden , Audioslave and Temple of the Dog lead-singer would sit behind the kit at rehearsals.
Jonathan Davis
Although most people know Jonathan Davis for his abilities to sing, growl, scream and play bagpipes, his die-hard fans and everyone who worked with him in a studio also know him as a multi-instrumentalist who can play drums.
Jonathan often stated that he never chose the music, and that the music chose him. Mainly, because as he said on SiriusXM his dad was a musician, so he grew up all around music at all times.
According to Angel Fire Jonathan received a drumset as a Christmas present from his grandmother.  In his interview to Loudersound JD said:
"When I was three years old, I saw my parents doing a little production of Jesus Christ Superstar, and that set me on my way. I got my first drum set, and I just really loved music."
In his conversation with Revolver Jon clarified that he began to play drums when he was 3. According to Ocregister by 6, he was gigging alongside his musician father and sister at local bars. Since then he's mastered several musical instruments, including the bagpipes.
In the interview to musicfeeds Davis recalls:
"Basically you know, when you're a kid, the first thing you learn is drums, then the second thing is piano, so if you mix those two things together you learn rhythm and you learn musical notes, so then you can pretty much put the two together to learn the basic working of the instruments. So you can mess around and learn pretty much anything, so that's what I was doing."
Grunge website doesn't include a direct source of information, but it states that after Jon acquired a drum kit, his stepfather destroyed it during an argument. Uncomfortable living in that home, Davis moved in with his father and stepmother, which was an even worse situation. "She made it her mission to make life so miserable for me that I wanted to move out," Davis said, recalling how she'd prank him when he was sick by feeding him drinks made of hot pepper sauce. "She was a twisted, sadistic sh*t."
Absence of drums and presence of negative emotions is what probably motivated Jonathan to get more serious about singing. When he was around 20, he joined the band Sexart , which was started by Ryan Shuck (ex-guitarist of Orgy ). He describes his experience as that he had no clue what he was doing: " I didn't know what the hell to do with my voice ." But on the other hand, his future band members saw a great potential when they got to his gig. James 'Munky' Shaffer and Brian 'Head' Welch discovered him performing live at the bar in Bakersfield and asked him to join the band, which would later transform into what the world knows as Korn .
Although Jon would hold the position of vocalist permanently, he would still not abandon drums completely. Throughout the years he made some drumming contributions during the phases of studio album recordings.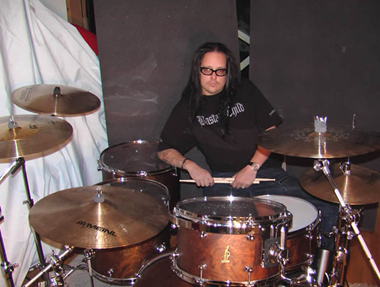 Drumming contributions by Jonathan Davis
At the time of SYOTOS writing the original Korn drummer David Silveria was at the final stage of being a part of the group. So many people, including Jonathan himself had to step up. Davis recalls: "When we were doing that record, it was weird… We had Atticus Ross in there to work with us. David Lester too, and Terry Bozzio was in there doing drums and even I was doing some of the drums on there."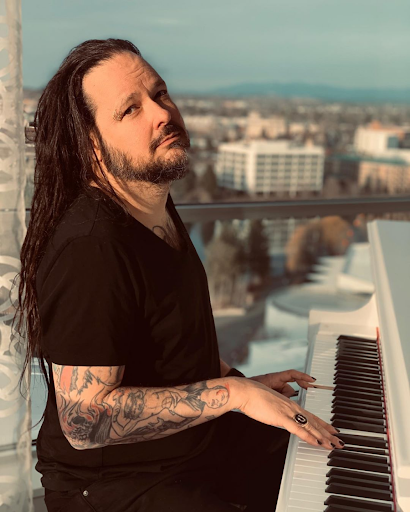 P.S. Besides drums and bagpipes , according to various sources Jon can also play glass harmonica, guitar, bass, violin, clarinet, and piano.

Dave Grohl
Dave Grohl most likely was the first person who came to the mind of every rock drummer who read the title of this article. Nevertheless, he deserves to be mentioned in this segment as one of the most successful vocalists who also happened to be one hell of a drummer.
Grohl began playing music when he was around 12 years old by learning to play guitar. He played in the band Freak Baby . During that period of time he taught himself to play drums, and as a result he switched from guitarist to drummer.
Apparently, the reason he didn't start with drums initially was because he simply didn't have the instrument. RTTnews quoted him: "When I got '2112' [Rush album] when I was eight years old, it fucking changed the direction of my life. I heard the drums. It made me want to become a drummer."
In 1986 when Dave was 17, he started to drum for the band Scream and played with them until they broke up in the late '80s. Shortly after Grohl relocated to Seattle, he tried out for Nirvana and instantaneously got himself a place in the band.
After Dave played with them for about a year Kurt Cobain stated : "The band is finally complete because all the other drummers we had pretty much sucked." Their collaboration has led Nirvana to Rock'n'Roll Hall of Fame induction in 2014.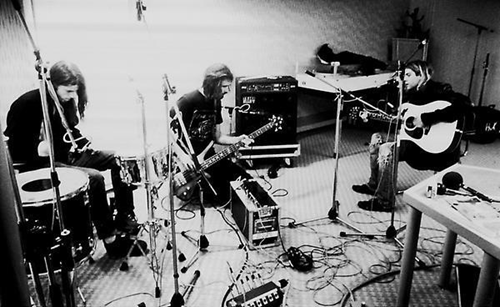 After the death of Kurt Cobain in 1994, Dave would later switch back to guitar. He played every instrument on the self-titled album of Foo Fighters . With the exception of some rare cases at the live performances he would always play guitar as a frontman. Nonetheless, he still played drums with a number of artists, whether it was a studio or live format.
The most notable Drumming contributions of Dave Grohl:
Nirvana (1990–1994) – composing, recording, live;

Foo Fighters (1994 – present) co composing;

Tenacious D (2001, 2006, 2012, 2018) composing, recording;

Queens of The Stone Age (2002, 2013) co composing, recording, occasional live;

Dave Grohl – "Play" (2018) – composing, recording.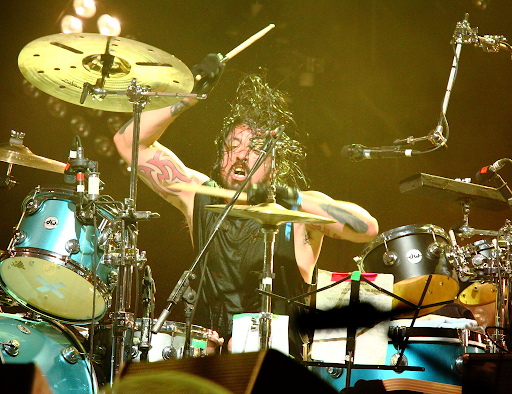 Similar to Mike Bordin (Faith No More), Dave always had a very physical manner of playing. He told about his mindset and style of performing in his interview with Sam Jones :
"As a drummer… I never felt like 'I am gonna be on the cover of Modern Drummer magazine. Because I'm the best fucking drummer in the world.' I just knew that if you put me on stage without a fucking PA or a floor monitors in a small club than I would beat the fucking shit out of my drum so much that people go 'god damn did you see that fucking drummer?! Wow!' and I walk away from every show like 'well, there you go!' I just beat the fucking piss out of those things and people saw it. And that was great! So, at the end of the show I was the successful musician, because I had achieved what I wanted to achieve."
About the Author:
Zack Hargrove is a remote rock journalist. His teammates at BWrigings are willing to guide you with any type of coursework. You can always find Zack on Twitter @zackhargrovejr .