French Blackened Death-metal outfit Bliss of Flesh has announced their return with "Tyrant" and now are offering New Cover's Details!
Mixed and mastered at Vamacara studio in France by HK. (vamacarastudio.com) , "Tyrant" will be released by Listenable Records worldwide this October .
The band comments :
"The cover of this new album is a hand drawing made by the Hungarian artist Balázs Jacsó specially for us. Inspired by medieval artists, he tried to imitate the techniques of this area, creating an infinity of details. 
In the vein of the Etienne de la Boétie's concept dealing with the voluntary servitude, the artist tried to enlighten the overwhelming power of a tyrant, placing the viewer in the situation of the servant. As you can notice, he has no face. Everyone is free to see the tyrant he has accepted to serve obediently. We're all someone's bitch. 
The three circles drawn around the frame symbolize the three elements of the submission: the whip for the oppressive strength, the crown for the symbol of power and the key for the illusional hope of freedom. It's like the holy trinity.
The tyrant also wears broken chains, underlining his past as a servant himself… and the fact that we are most of the time our own tyrant, prisoner of a vicious circle. "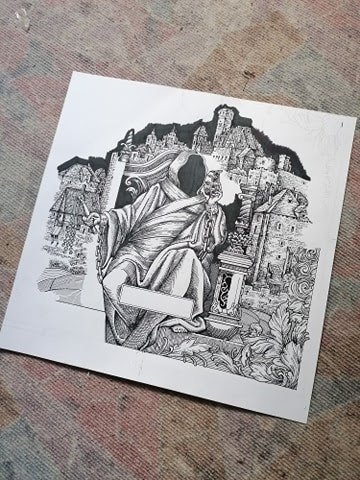 'TYRANT' tracklisting  :
I Serve
II Genesis 
III Vanitas 
IV Krieg 
V Hexis
VI Panem 
VII Tyrant 
VIII Mors 
IX Naturae
Formed in 1999 in Calais - France, BLISS OF FLESH have always been a very charismatic band. Their obscure brand of non typical, lyrically and musically thoughtful, obscure black/ death metal has aroused genuine passion in many European lands drawing them an ever growing amount of followers. The band has also been building up a scorching reputation for their incendiary live shows. BLISS OF FLESH developed a conceptual trilogy of three albums inspired by Dante'sTrilogy : Divine Comedy . Their previous  album 'Empyrean' released in 2017 on Listenable concluded such trilogy.
2020 sees the release of their brand new album 'Tyrant' and is this time based on the concept of  'Le Discours de la Servitude Volontaire ' ( Voluntary Servitude Thesis) written by French philosopher Etienne de la Boétie.  Published fully in 1576, it deals with the idea that although servitude may appear to be forced, and that obedience is imposed to the people, appearances are misleading and such servitude is in fact entirely voluntary.
« Tyrants are only great because we are on our knees. » -Etienne de la Boétie -
Exclusive Tyrant Show !
Samedi 14 Novembre 2020 / Le 9-9bis - Oignies
BAND LINE UP :
Necurat (Vocals)
Sikkardinal (Guitars)
Fleshtstigma (Drums)
Rictus ( Guitars)
Poison ( Bass)

'EMPYREAN' is available on digital platforms :
DISCOGRAPHY :
'Frozen Ashes Of Labdacides (Prelude To Bestial Annihilation)' ‎(Cass, EP - 2001)
'Lethal Ceremonies' ‎(Cass - 2004)
'Todtentanz' ‎(7"  ep -  2006)
Bliss Of Flesh / Bloodhammer - Bloodhammer / Bliss Of Flesh ‎(7 " ep- 2007)
'Annihilation 666 / Bliss Of Flesh - Worshippers Of Evil / Die' ‎(7"  ep - 2008)
'Emaciated Deity' ‎ ( Album - 2009)
'Beati Pauperes Spiritu' ‎(Album - 2013)
'Empyrean' (Listenable - 2017)
BAND LINK :
FACEBOOK
INSTAGRAM