NEWS: Metalegion Magazine issue #6 available for purchase (printed & digital versions)
MIDNIGHT / JAMESON "ATHENAR" WALTERS
"Why bother making more humans when the humans that are here are already terrible?"
 
 
New issue of METALEGION available with exciting features packed in an extensive 92 pages full colour magazine, posters and a free CD.
Highlights in issue #6 range from features with some of the top acts of the metal scene, like MIDNIGHT, THANATOS, MY DYING BRIDE, TRAUMA, ANVIL, BLAZE OF PERDITION or the avant-garde amazing act AZURE EMOTE but also covering underground gems like MELEKTAUS, SACRIFIZER, MORTUARY, TERATOMA, WELLS VALLEY or the uprising international super-group BERZERKER LEGION to state just a few.
It also features a label report from the well-known Dutch label HAMMERHEART RECORDS, a mixtape done by NECROPHOBIC drummer JOAKIM STERNER, plus all sort of regular sections, opinion articles and a 76 MINUTES CD featuring songs from bands that will satiate your headbanging needs.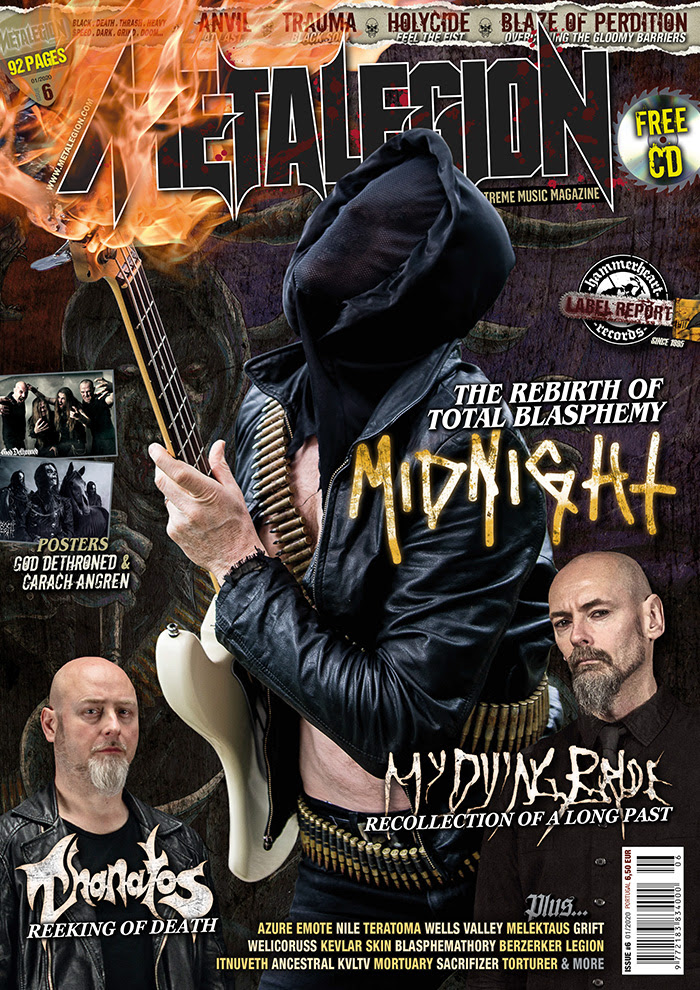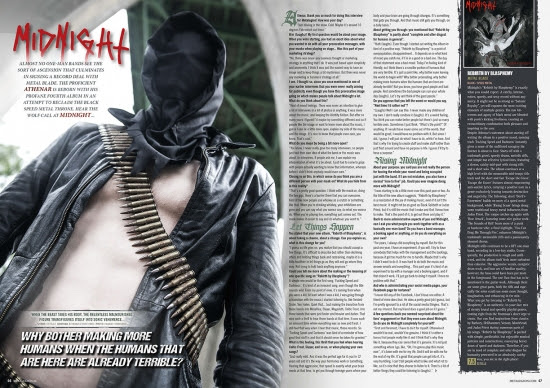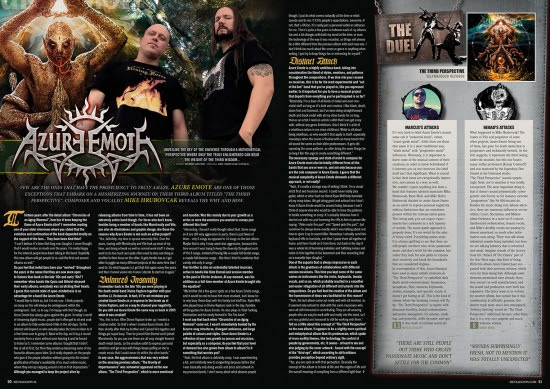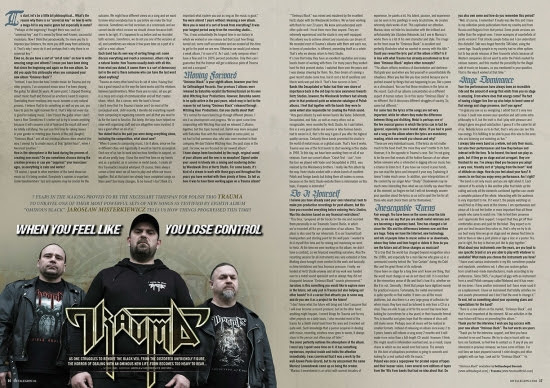 MAGAZINE INFORMATION / METALEGION #6:
 
 
MAGAZINE SPECS:
 
PAGES:
  Between 88 - 96 pages
FORMAT:
  paper: A4 - 21 x 29,7 cm
  digital: pdf
PAPER TYPE:
  Glossy paper, cover (135 gr.) inside (90gr.)
COLOUR:
  Full colour - CMYK
LANGUAGE:
  English written
POSTERS:
  2 x A3 size
COVERMOUNT CD:
  Between 72 - 78 minutes sampler CD
PRINTED CIRCULATION:
  2.000 copies
DISTRIBUTION:
  Worldwide
DIGITAL CIRCULATION:
  Estimative between subscribers, digital sales and free downloads - 2500 - 3500 downloads
 
INTERVIEWS - #6
 
MIDNIGHT
MY DYING BRIDE
THANATOS
HOLYCIDE
TERATOMA
TRAUMA
BLAZE OF PERDITION
WELLS VALLEY
MELEKTAUS
GRIFT
NILE
WELICORUSS
ITNUVETH
BLASPHEMATHORY
BERZERKER LEGION
KEVLAR SKIN
ANCESTRAL KVLTV
AZURE EMOTE
MORTUARY
SACRIFIZER
TORTURER
ANVIL
COVERMOUNT CD - #6
 
01. THANATOS
02. MELEKTAUS
03. HOLYCIDE
04. BERZERKER LEGION
05. ASARHADDON
06. MORTUARY
07. KEVLAR SKIN
08. WELICORUSS
09. BLASPHEMATHORY
10. UNBOUNDED TERROR
11. NAWABS OF DESTRUCTION
12. EMBLOODYMENT
13. JUST DARKNESS
14. THE FLESH TRADING COMPANY
15. VxPxOxAxAxWxAxMxC
16. DISINFECT
17. HANGATYR
18. HARSH
 
Grab a copy here! https://www.metalegion.com/content/metalegion-6/