Newly relocated to the Mojave Desert where writing for a fifth full-length is currently underway, occult rock alchemists CASTLE will be taking a break from conjuring the as-of-yet untitled album, to take on another round of live takeovers.

The perpetually road-bound unit will take to the streets later this month on the previously announced "Stormbringer" trek which will run from June 30th in West Hollywood, California through July 9th in Las Vegas, Nevada. The band will play three more shows the following month before kicking off the "Endless Graveyard" tour set to commence on September 7th in Riverside, California and come to a close on September 30th in Colorado Springs, Colorado.

CASTLE will make some festivals stops throughout their upcoming journeys including performances at the Fire In The Mountains in Jackson Hole, Wyoming, Tour Of The Doomed in Milwaukee, Wisconsin,
Shadow Woods Metal Fest in White Hall, Maryland, and the Stoned Meadow Of Doom Fest in Omaha, Nebraska. Since the release of their most recent offering, Welcome To The Graveyard, issued last summer via Ván Records, CASTLE's massive 170-date world takeover has included tours of the US, Europe, Canada, and the band's first ever tour of Japan last December. See all confirmed dates below.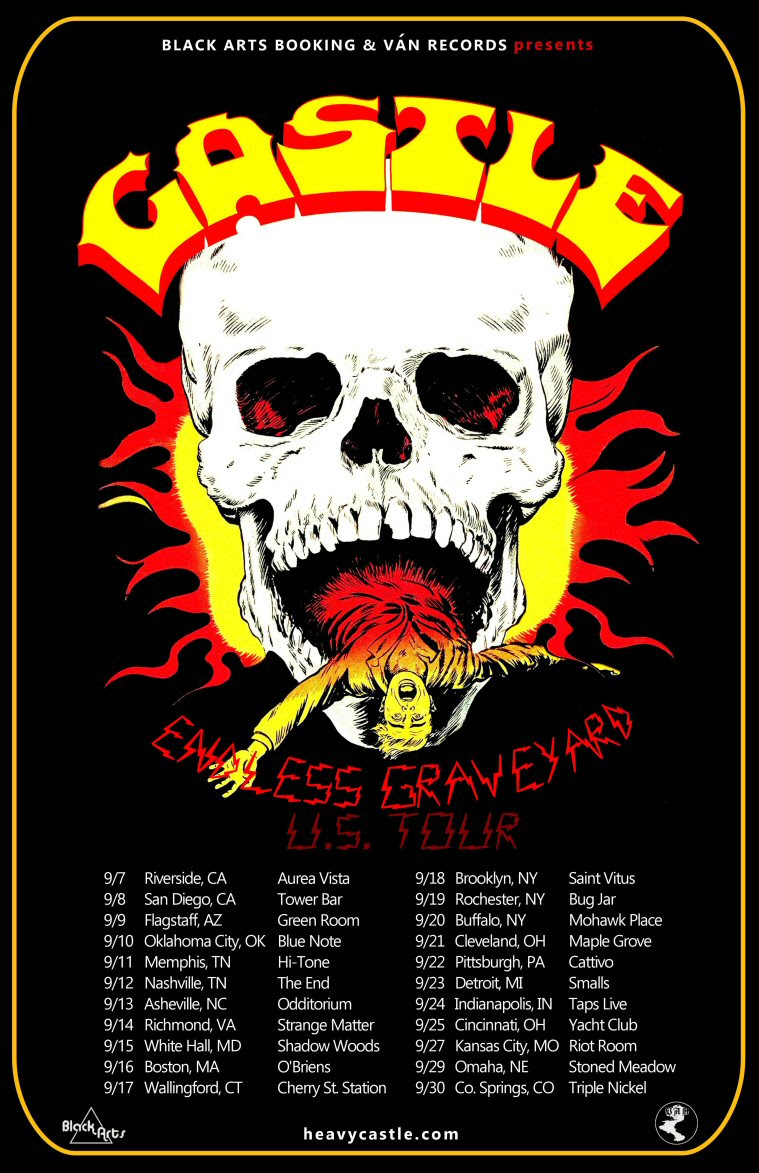 CASTLE:
6/30/2017 Viper Room - West Hollywood, CA
7/01/2017 Starlite Lounge - Sacramento, CA
7/02/2017 High Water Mark Portland, OR
7/03/2017 3rd St. Pub - Bend, OR
7/04/2017 Shredder - Boise, ID
7/05/2017 The Pin - Spokane, WA
7/06/2017 Back Alley Pub - Great Falls, MT
7/07/2017 Railyard - Billings, MT - Railyard
7/08/2017 Fire In The Mountains - Jackson Hole, WY
7/09/2017 Beauty Bar - Las Vegas, NV
8/11/2017 Reggie's - Chicago, IL
8/12/2017 Tour Of The Doomed @ The Metal Grill - Milwaukee, WI
8/13/2017 The Frequency - Madison, WI -
9/07/2017 Aurea Vista - Riverside, CA
9/08/2017 Tower Bar - San Diego, CA
9/09/2017 Green Room - Flagstaff, AZ
9/10/2017 Blue Note - Oklahoma City, OK
9/11/2017 Hi-Tone - Memphis, TN
9/12/2017 The End - Nashville, TN
9/13/2017 Odditorium - Asheville, NC
9/14/2017 Strange Matter - Richmond, VA
9/15/2017 Shadow Woods Metal Fest - White Hall, MD
9/16/2017 O'Brien's - Boston, MA
9/17/2017 Cherry Street Station - Wallingford, CT
9/18/2017 Saint Vitus Bar - New York, NY
9/19/2017 Bug Jar - Rochester, NY
9/20/2017 Mohawk Place - Buffalo, NY
9/21/2017 Maple Grove - Cleveland, OH
9/22/2017 Cattivo - Pittsburgh, PA
9/23/2017 Smalls - Detroit, MI
9/24/2017 Taps Live - Indianapolis, IN
9/25/2017 Northside Yacht Club - Cincinnati, OH
9/27/2017 Riot Room - Kansas City, MO
9/29/2017 Stoned Meadow Of Doom Fest - Omaha, NE
9/30/2017 Triple Nickel - Colorado Springs, CO

CASTLE's Welcome To The Graveyard offering was captured by Billy Anderson (Sleep, Neurosis, Brothers Of The Sonic Cloth, Eyehategod, Ommadon et al) at Type Foundry Studios in Portland, Oregon and is currently available at THIS LOCATION.

"They're the kind of band who could make you believe in heavy metal... their righteously individualized blend of thrash, traditional metal, doom, heavy rock 'n' roll, etc., speaks to some mystical bygone era when metal was about not compromising, putting a fist in the air against expectation and going on tour forever." - The Obelisk

"...an irrepressible combination of '70s doom, NWOBHM, musty-yet-in-your-face production courtesy of famed Neurosis/Melvins producer Billy Anderson, and the smoky, whiskey-stained vocals of Liz Blackwell..." - Metal Hammer

"Skulking like wraiths in a blackened landscape, the band charges through eight fairly short songs... that grab you, rough you up, and leave you battered and bruised." -- Metal Bandcamp


http://www.heavycastle.com
http://www.facebook.com/CastleSF
http://www.twitter.com/heavycastle
http://www.van-records.de
http://www.facebook.com/vanrecs