BERZERKER LEGION Unveil New Single from Upcoming Album
Berzerker Legion have released a new track for their song 'World in Despair '
Their new album "Obliterate the Weak" will be released 31 January 2020 .
Jonny Pettersson comments "The concept for the song is a reflection on how no matter how much the human race evolves, and how far we have come, there will always and has always been religion there to try and bring us back to the dark ages. And they do so by using fear and terror, and wanting to build a world in despair."
 
Listen to Berzerker Legion ' new song 'World in Despair' HERE
To pre-order the album in various physical formats visit our e-shop :
- Limited edition O card Cd with 1 Exclusive Bonus Track!
- Limited Edition Gold vinyl of 200 copies worldwide !
- limited Edition Transparent Red Vinyl of 300 copies Worldwide !
 GRAB IT NOW
----->  HERE    <-----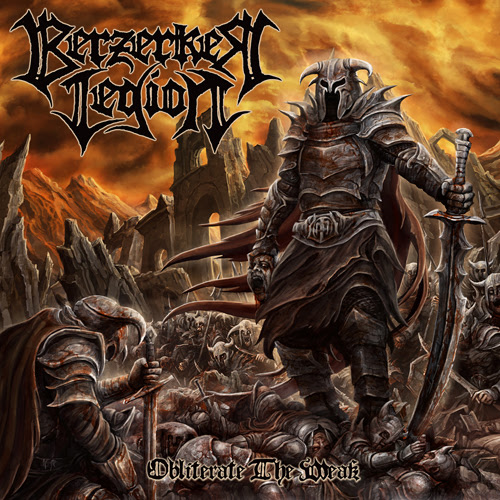 TRACKLIST
1) Rise of the Berzerkers
2)A World In Despair
3)I Am The Legion
4)Of Blood And Ash
5)Obliterate The Weak
6)The Falling Dawn
7)The King Of All Masters
8)Upon The Throne Of Mortem
9)A Lurking Evil
10)In The Name Of The Father
11)Death Euphoria (CD exclusive bonus track)
BERZERKER LEGION was founded in 2016 by guitarists Tomas Elofsson (Hypocrisy) and Alwin Zuur (Asphyx) with a vision to create death metal of the most belligerent quality, they recruited a line-up of solid well-known musicians consisting of James Stewart (Vader) on drums, Jonny Pettersson (Wombbath) on vocals and Fredrik Isaksson (Dark Funeral) on bass to complete the Legion. 
Saying the album songs transpire massively produced invigorating heavy death metal is an understatement. BERZERKER LEGION knock out with warlike triumphant, powerfully addictive harmonies that will turn them into an unstoppable beast in a live situation and on record.
BERZERKER LEGION is:
Jonny Pettersson - Vocals
Tomas Elofsson – Guitars
Alwin Zuur – Guitars
James Stewart – Drums
Fredrik Isaksson - Bass

BERZERKER LEGION
Youtube channel
Video "Of Blood and Ash"
Video "I am the Legion"

BERZERKER LEGION band links
FACEBOOK
INSTAGRAM
BANDCAMP