Today, Saturnal Records sets April 28th as the international release date for Barathrum's highly anticipated ninth album, Fanatiko.

Formed in 1990, Barathrum are one of the founding fathers of Finnish black metal. The band's early '90s demos, and especially their first two albums - Hailstorm and Eerie, both released in 1995 - were foundational in establishing the filthy sound for which Finnish black metal is now known worldwide, and also for featuring a unique and sinister setup of two bass guitars. Barathrum would continue to be prolific during the rest of the 1990s and into the early 2000s, before quietly going on hiatus. And although posthumous collections kept the name fresh for a while, only three new songs would arrive on a split 10" in 2010, and thus flowed rumors about the state of Barathrum and whether the band was truly RIP.
Alas, the rumors have been silenced and Barathrum returns with their strongest album in nearly 20 years, Fanatiko. The band's first album in 12 years, needless to say, Fanatiko has been long in the making, but more importantly, it marks a new start for this cult. Led, as ever, by frontman Demonos Sova, the demonic pack of Barathrum have brewed eight brand-new incantations here which span the entire spectrum of the band's canon. On Fanatiko can be found traces of the shit-thick lava of their earliest albums and also the rowdy, almost-tribal heavy metal of their later years, all bound together by a truly devilish and gleefully infectious charisma that only Barathrum can deliver.
Like the proverbial phoenix, not for nothing did Barathrum record Fanatiko at Blackvox Studio, entirely on analog just like their pioneering early albums. Duly bolstered by blistering, full-bodied production which highlights their characteristically bass-heavy churn, the band sound truly re-energized here, pounding forth with an utterly raw and untamed energy that authentically harks back to their breakout albums. The trudging doom of their earliest, eeriest work benefits as much by this production choice as does the more rocking fare of latter-day albums like Legions of Perkele and Infernal. Altogether, it's a zealous whirlwind which can only spell Barathrum.

Fans old and new, expect nothing but old-school black metal mixed with hellfire and demonic ichor, now spilled out by a solidified six-piece orchestra of Hell. As on their earlier works, the trademark Barathrum sound is executed with two bass guitars, which was almost unheard of back in the day - but today, on Fanatiko, Barathrum are even more dangerous and blasphemous than EVER!

The album shall be released on both CD and vinyl LP formats, along with new merchandise sure to please all old worshipers of Barathrum. Witness the triumphant return of the beast! And it can be witnessed in visual form HERE with the brand-new video for "Hellstorm." Cover and tracklisting are as follows: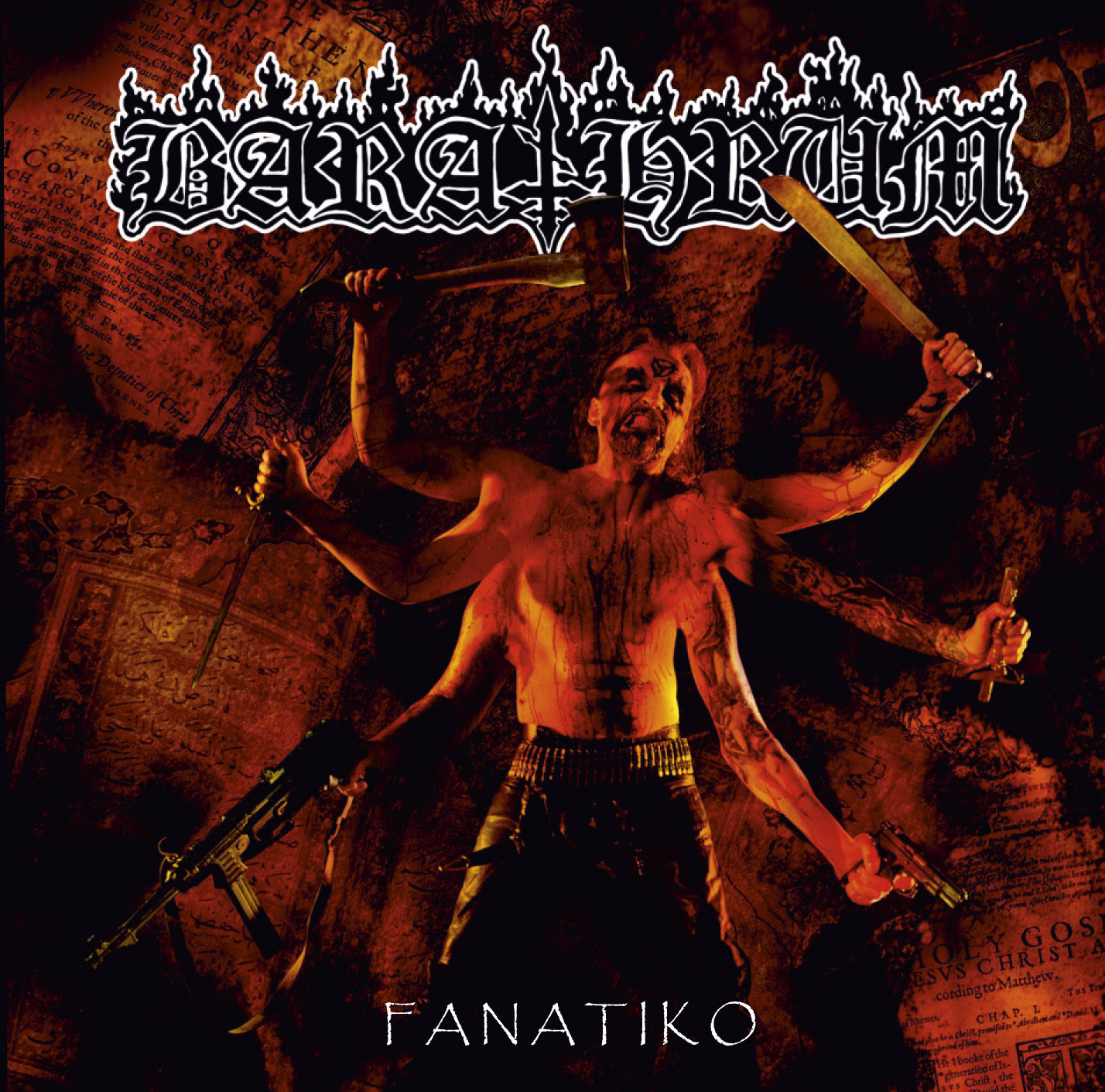 Tracklisting for Barathrum's Fanatiko
1. Hellspawn
2. Pope Corpse Tattoo
3. On The Dark River Bank
4. Sadistic Pleasure
5. Arx Satanas
6. Church Amok
7. Spirit of the Damned
8. Fanatiko
Barathrum lineup 2017
Demonos Sova - vocals
Raakalainen - guitars
Pelceboop - lead guitars
Ruttokieli - bass/backing vocals
Nuclear Tormentörr - lead bass/backing vocals
Vendetta - drums/backing vocals
www.facebook.com/Barathrum- Official-562686087086348