Hyperspace Metal Festival Spotify Playlist here .

HMF 2020 Promo Video here .
Hyperspace Metal festival, organized by Journeyman Productions is returning to the Rickshaw Theatre in Vancouver, Canada on April 17-19, 2020 and the final lineup is now out!
"Feast your eyes on the full lineup for Hyperspace Metal Festival III! Unleash The Archers have been the most requested band by fans of the festival since the beginning and we are beyond excited to finally have them on the bill. Check out the rest of the bands on the lineup and we'll see you at the Rickshaw Theatre in April!"
Over the three years that Hyperspace Metal Festival has been running, bands from all over the world have come to play power, prog, and speed metal on the west coast of Canada. The lineup is now finalized with the following additions: Novareign, Tribal X, Viathyn, Tzimani, Ophelia Falling, Arkenfire, Forsaken Rite, Opus Arise and hometown favorites Unleash The Archers who will be headlining on Saturday.
Unleash the Archers have been a standard in the Canadian music scene for many years with their genre-bending metal, guttural screams, and wild guitar solos and are hugely entertaining to watch with their high energy show. Headlining on Friday will be locals Iron Kingdom, who are inspired by the legends of heavy metal such as Iron Maiden, Judas Priest, Scorpions, and Rush. With an incomparable live performance, they bring listeners back to a time when heavy metal was in its prime.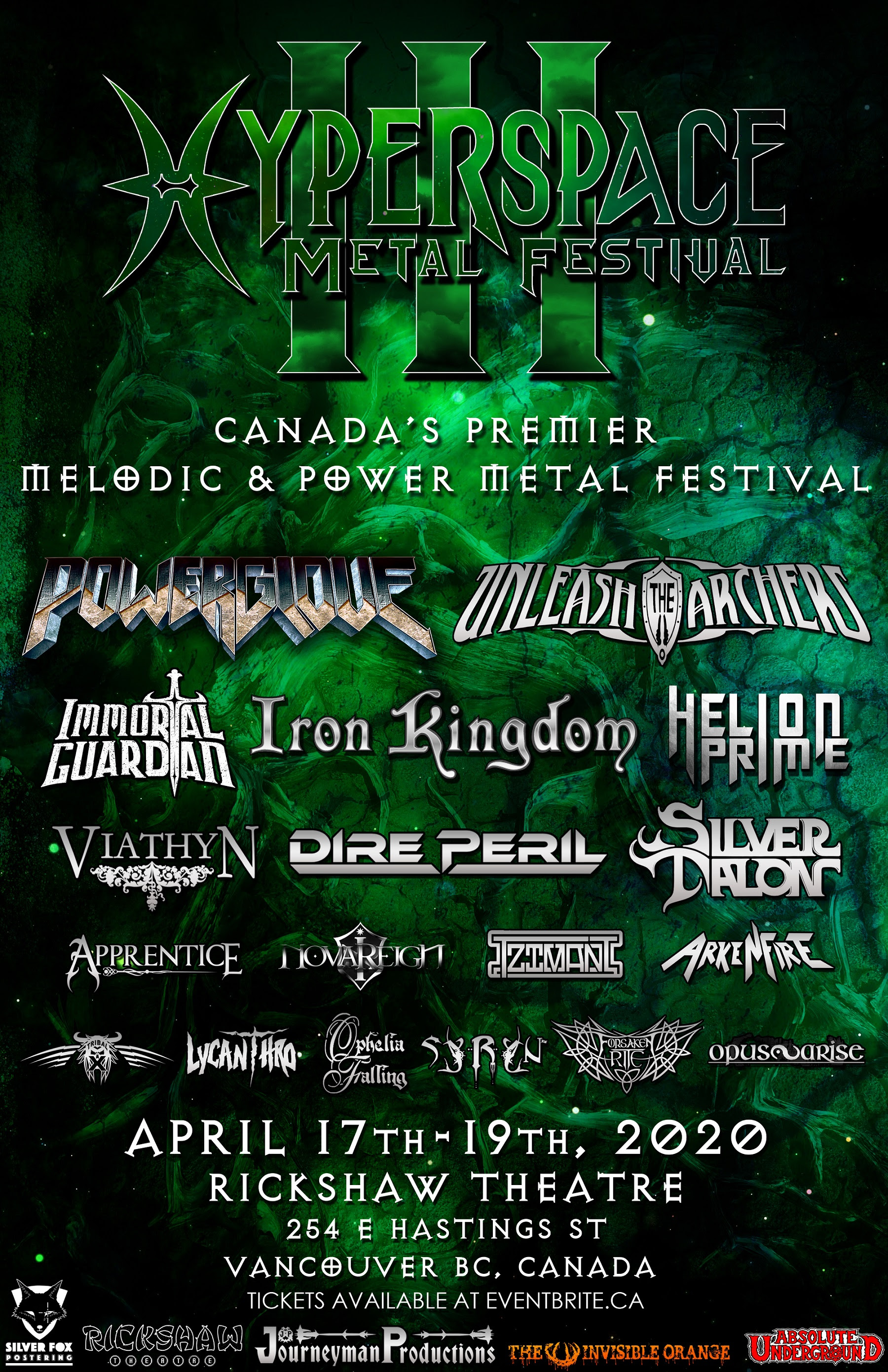 FULL LINEUP:
Friday, April 17
Iron Kingdom
Helion Prime
Dire Peril
Novareign
Lycanthro
Tribal X
Saturday, April 18
Unleash The Archers
Silver Talon
Viathyn
Tzimani
Syryn
Ophelia Falling
Sunday, April 19
Powerglove
Immortal Guardian
Apprentice
Arkenfire
Forsaken Rite
Opus Arise
Tickets are available on Eventbrite and a weekend pass is $50 CAD.

https://www.facebook.com/ events/477660339652700/

https://hyperspace-metal-fest. eventbrite.ca
Festival Info:

Hyperspace Metal Festival was created by Journeyman Productions founder Joey Hockin to produce one of Canada's premier melodic & power metal festivals hosted in Vancouver, BC. Now working on its third edition for April 2020, the festival has presented performances by Crimson Shadows, West of Hell, Judicator, Odinfist, Ravenous, Helion Prime, Iron Kingdom, Apprentice, Tanagra, Scythia and more.

Band EPKs, Bios, Photos, Links here .

Facebook.com/ HyperspaceMetalFestival  

Instagram.com/ hyperspacemetalfestival/