HOUR OF PENANCE release pixel art music video for new single "Blight And Conquer"
As "Misotheism" , the new studio from Italy's death metal force  HOUR OF PENANCE , draws near to its October 25th release date on Agonia Records , the band reveal a new single titled "Blight And Conquer" . The song is accompanied by a pixel art music video created by the skilled Bristol artist Harry Sussams , and is based on a concept by Paolo Pieri . Watch the video at:

HOUR OF PENANCE commented on the video: "We gave a lot of thought about how to do something different from anything else seen before and show you a unique video clip. Videogames have always been one of our biggest passions alongside music, and titles like Dark Souls and Bloodborne and their peculiar imagery and storytelling have been a huge source of inspiration for us: so we've decided to come up with a 2D/retro animation created by Harry Sussams, an amazing professional in illustration and pixel art. We worked hard together on every scene and detail to give life to a cryptic and gruesome narration tied to the themes of wealth and corruption dealt with in the lyrics of 'Misotheism', with the iconic tower of the artwork making its appearance into the video. Check it out!". 

Earlier the band released a lyric video for the single "Flames Of Merciless Gods" , which can be watched here .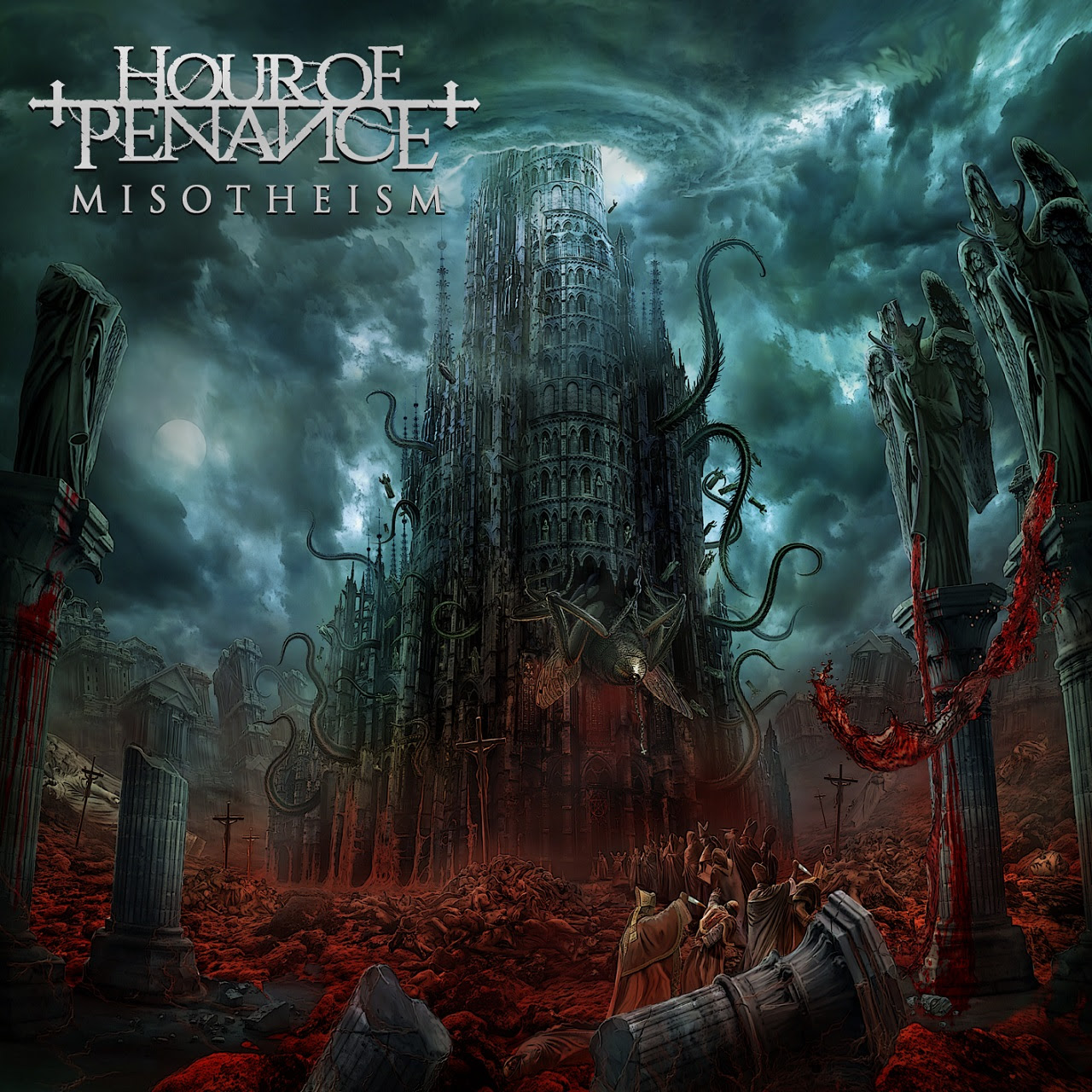 Shortly following the release of "Misotheism", HOUR OF PENANCE will embark on a European tour with Destroyer 666 (AUS), Nocturnal Graves (AUS) and Inconcessus Lux Lucis (UK). The tour will start on November the 3rd and run through November 10th, and will later transform into a headlining, December UK run, feat. HOUR OF PENANCE exclusively.
Set in motion in Rome, in 1999, HOUR OF PENANCE travelled a long way to find itself standing strong as one of the most intense, talented and striking death metal acts to emerge from Italy. At the same time, their eighth installment "Misotheism" cloaks the same verve and mindful perfection, that led to the band's uprising in the first place. "Like we did with our past records, we've started working on this one with the same passion and focus as if we were about to record our very first album", says the group. "We've never took anything for granted, not only by keeping in mind the standards our fans are expecting, but also pushing ourselves to try perfecting our sound". Their excitement for death metal didn't wash out their careful attitude towards tying up all loose ends, either: "We never thought that we would have come this far with our career, and while we didn't feel any pressure writing this record, we definitely put some extra care this time. In fact, the album was recorded in three different studios and handled by three different sound engineers".
What we receive in the end is far better than what some may have been craving for: "Misotheism" is a pitch-black and delightfully brutal death metal soundtrack to a collapsing universe. "It pushed Hour of Penance to a new level of creativity. We're confident that you will enjoy the new album as much as we do", adds the band.
"Misotheism" was worked on in three different locations. Drums were tracked at Bloom Recording Studio (Italy), where the band "took advantage of the huge recording rooms and endless choice of microphones". On the other end, we have the Kick Recording Studio (Italy), where guitars, bass and vocals were recorded with Marco Mastrobuono, who also worked on "Regicide" (2014) and the last album, "Cast the First Stone" (2017). Finally, the band drove all the way to Poland, where the album was mixed and mastered at Hertz Studios (Behemoth, Vader, Decapitated). As the band reports: "Working with the Wiesławscy brothers was like putting the icing on the cake and thanks to their mastery we managed to achieve the perfect sound without making any compromises". 
The cover for the album was handled by a Hungarian artist, Gyula Havancsàk (Accept, Annihilator, Destruction, Ensiferum). "He perfectly captured the overall feel of the album", comments the band.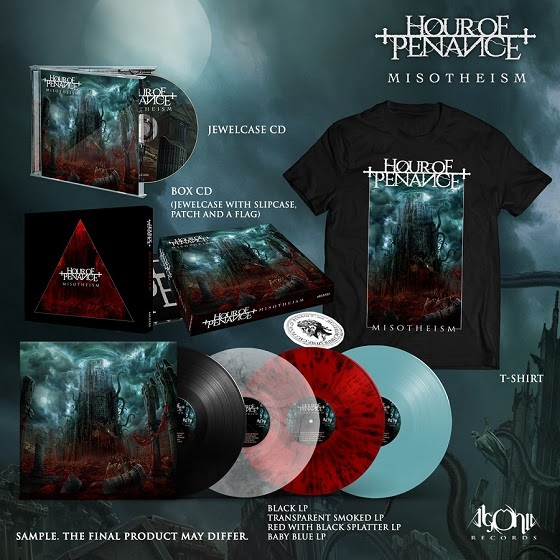 With seven albums to their name (first two with Xtreem Music, later two with Unique Leader Records and last three with Prosthetic Records) and a reputation of a venerated live act (with tours across North America, Europe and Australia in the company of Cannibal Corpse, Behemoth, Devildriver and Misery Index to name a few), Hour Of Pnenace is now on the verge of introducing their latest work, "Misotheism", via Agonia Records, on October 25th. The band is planning to support their upcoming album on the road, having already played at Metal Days Festival 2019 in Slovenia, and looking forward to performing at the revered Eindhoven Metal Meeting 2019 in the Netherlands in December, alongside more shows yet to be announced. 
Tracklist:
1. Mass Crucifixion Of Kings 
2. Blight And Conquer 
3. Fallen From Ivory Towers 
4. The Second Babel 
5. Lamb Of The Seven Sins 
6. Flames Of Merciless Gods 
7. Sovereign Nation 
8. Dura Lex Sed Lex 
9. Iudex 
10. Occult Den Of Snakes 
Limited edition bonus tracks:
11. Misconception (2007 demo) 
12. Slavery In A Deaf Decay (2007 demo) 
13. Hierarchy Of The Fools (2007 demo) 
Formats:
- jewelcase CD,
- box CD (feat. slipcase, patch and flag),
- black LP,
- transparent smoked LP (SOLD OUT),
- red with black splatter LP (SOLD OUT),
- baby blue LP (NEW),
- t-shirt.
Line-up:
Giulio Moschini - guitars
Paolo Pieri - guitars and vocals
Marco Mastrobuono - bass
Davide Billia - drums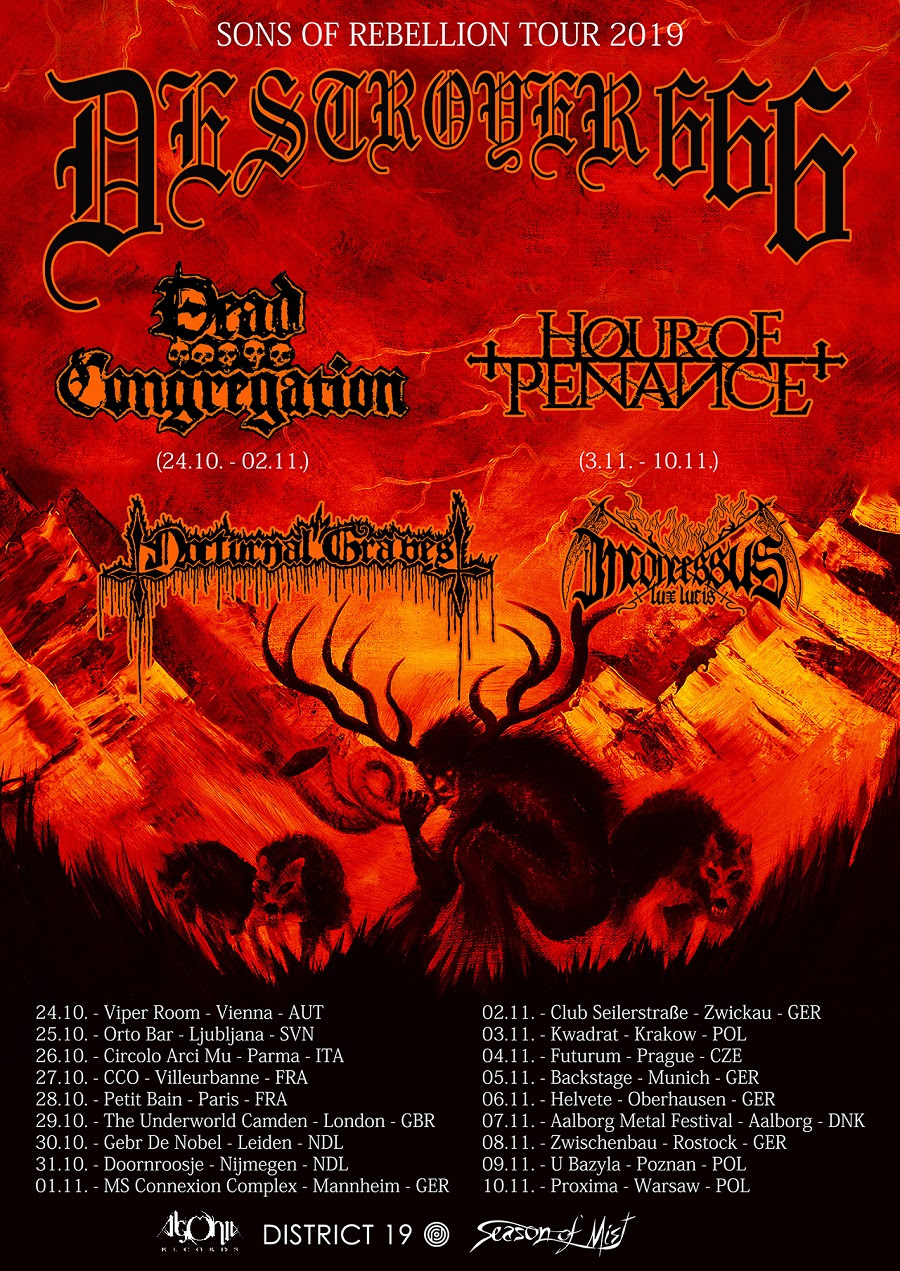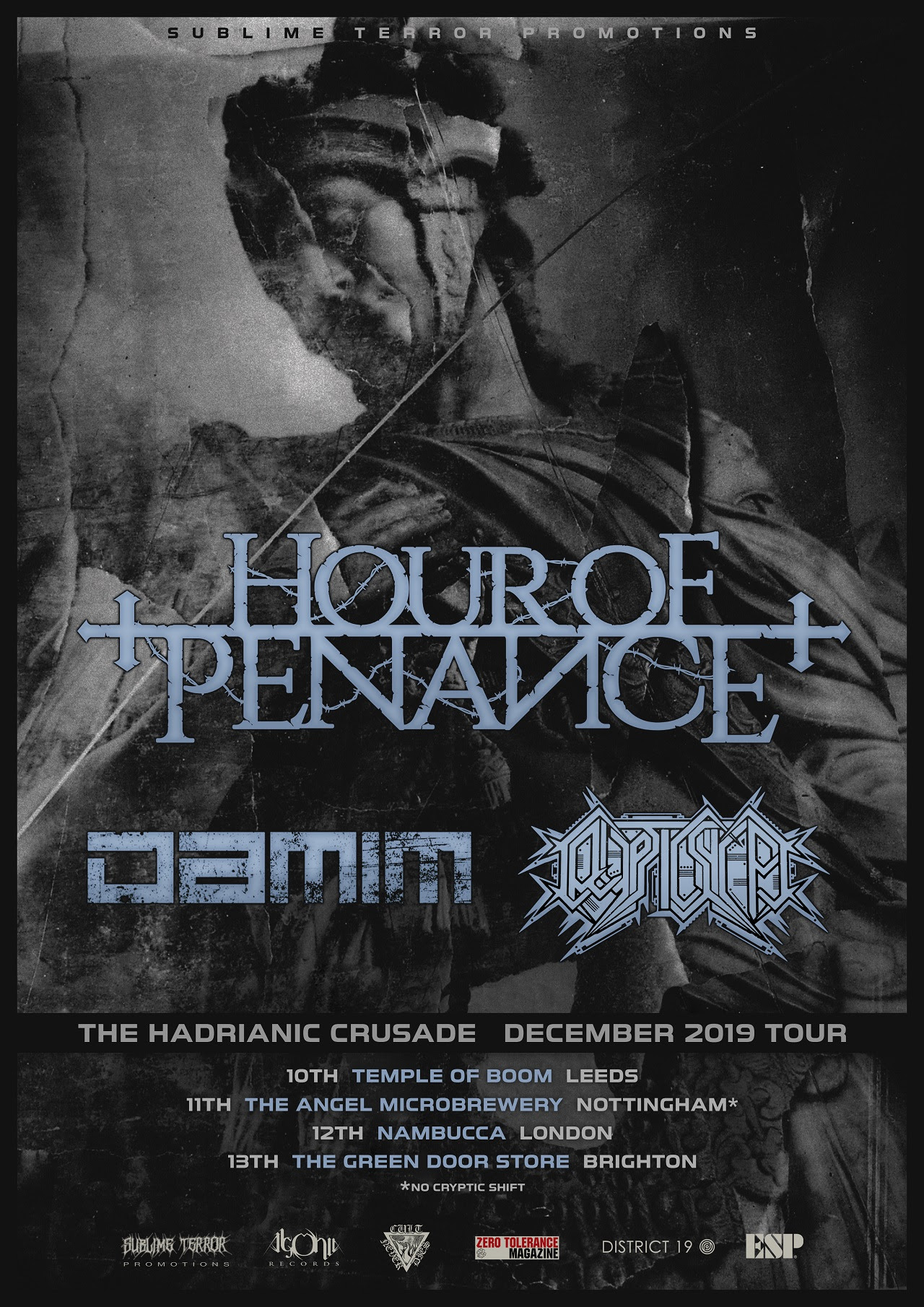 On the upcoming tour, the band commented: "We are proud to announce we'll be playing alongside Destroyer 666, Nocturnal Graves and Inconcessus Lux Lucis for the second half of the 'Sons of rebellion' tour, starting Nov. 3rd in Krakow (PL) and concluding Nov 10th in Warsaw (PL). We'll have the chance to bring you live our new album "Misotheism" coming out Oct. 25th, check the route and come to enjoy a hyperblasting metal night. See you there!". 
Tour dates:
03.11.2019: Krakow @ Klub Kwadrat, PL*
04.11.2019: Prague @ Futurum Music Bar, CZ*
05.11.2019: Munich @ Backstage München, GER*
06.11.2019: Oberhausen @ Helvete Pub - Club - Live Stage, GER*
07.11.2019: Aalborg @ Aalborg Metal Festival, DK*
08.11.2019: Rostock @ Zwischenbau Rostock, GER*
09.11.2019: Poznan @ Klub u Bazyla, PL*
10.11.2019: Warsaw @ Klub Proxima, PL*
--
10.12.2019: Leeds @ Temple Of Boom, UK**
11.12.2019: Nottingham @ The Angel Microbrewery, UK**
12.12.2019: London @ Nambucca, UK**
13.12.2019: Brighton @ The Green Door Store, UK**
--
13.12.2019 - Eindhoven Metal Meeting, NL***
* Hour Of Penance with Destroyer 666, Nocturnal Graves and Inconcessus Lux Lucis
** Hour Of Penance with Damim and Cryptic Shift
*** Hour Of Penance only
Pre-orders:
www.agoniarecords.com/hourofpenance
HOUR OF PENANCE on-line:
Website: http://www.hourofpenance.net/
Facebook: https://www.facebook.com/hourofpenance
Twitter: https://twitter.com/HourofPenance
Instagram: http://www.instagram.com/hourofpenanceofficial
Spotify: https://sptfy.com/20Wh
Agonia Records:
Website: http://agoniarecords.com
Webshop: http://tinyurl.com/agoniashop
Facebook: https://facebook.com/agoniarecords
Twitter: https://twitter.com/agoniarecords
Bandcamp: https://agoniarecords.bandcamp.com
Instagram: https://instagram.com/agoniarecordsofficial
YouTube: http://youtube.com/AgoniaRec