Slovenia's legendary NOCTIFERIA are just confirmed for this year's Metal Days 2019, going onstage on Tuesday 23rd July! With these underground legends, ALPHA OMEGA Management will bring to the festival in all 11 bands from its roster, which are in alphabetical order: ALTAIR, ANIMAE SILENTES, ATREXIAL, FALLEN ARISE, HYDRA, KAIROS, NOCTIFERIA, NOX VORAGO, SISKA, UNHUMAN INSURRECTION and W.E.B.!
Metal Days 2019 organizer stated:
"This is the last Artist Announcement for 2019, and all we can say is; be ready for the best Summer Metal Party!"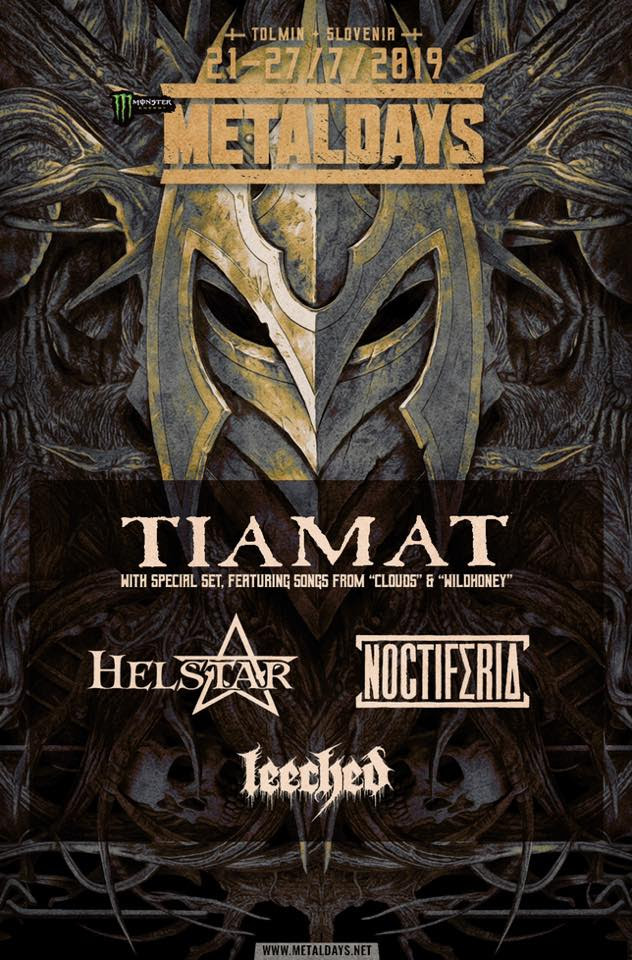 Get more information at https://www.metaldays.net
Updated running order of Alpha Omega roster bands, is the following:
Monday 22nd July
Ian Fraser Lemmy Kilmister Stage: UNHUMAN INSURRECTION (alongside Arch Enemy, Neurosis etc.)
Bosko Bursac Stage: SISKA (alongside Necrophobic, Dornenreich etc.)
Tuesday 23rd July
Ian Fraser Lemmy Kilmister Stage: W.E.B. (alongside Architects, Finntroll etc.)
Bosko Bursac Stage: NOCTIFERIA, KAIROS (alongside In The Woods, Tribulation etc.)
Wednesday 24th July
Ian Fraser Lemmy Kilmister Stage: ALTAIR (alongside Dream Theater, Philip H. Anselmo etc.)
Bosko Bursac Stage: ATREXIAL (alongside Akercocke, Saturnus etc.)
Thursday 25th July
Ian Fraser Lemmy Kilmister Stage: HYDRA (alongside Demons & Wizards, Hypocrisy etc.)
Bosko Bursac Stage: FALLEN ARISE (alongside God is an Astronaut, Gaahls Wyrd etc.)
Friday 26th July
Ian Fraser Lemmy Kilmister Stage: NOX VORAGO (alongside Dimmu Borgir, Tarja etc.)
Bosko Bursac Stage: ANIMAE SILENTES (alongside Impaled Nazarene, The Ruins of Beverast etc.)
Official FB Event page: https://www.facebook.com/events/1149599001844843
Tickets: https://www.mhshop-online.com/c381/metaldays-2019
More information at
ALTAIR: https://www.altairmetal.com
HYDRA: http://www.hydraofficial.com
NOX VORAGO: http://www.noxvorago.com
UNHUMAN INSURRECTION: https://www.facebook.com/unhumaninsurrection
ATREXIAL: https://www.facebook.com/Atrexial
KAIROS: https://www.facebook.com/officialkairos
ANIMAE SILENTES: https://www.facebook.com/animaesilentesofficial
SISKA: http://www.siskaofficial.com
W.E.B.: https://www.facebook.com/webdarkness
FALLEN ARISE: https://www.fallenariseofficial.com | https://www.facebook.com/fallenarise
NOCTIFERIA: https://www.noctiferia.net | https://www.facebook.com/noctiferia
MANAGEMENT: https://alphaomega-management.com | https://www.facebook.com/OfficialAlphaOmegaManagement