A bit less than one year after the release of their fifth album, " Shadow Syndicate " and the subsequent headlining Balkans tour of last Summer, Colorado-based Death Metal veterans SKINNED will be back in Europe, supporting INCANTATION alongside Germany's tech. Death Metal brutalers DEFEATED SANITY .
The three weeks long tour, dubbed " Siege of the Profane Europe Tour ", will see the three artists play 26 gigs in no less than ten countries (iAustria, Czech Republic, Denmark, France, Germany, Netherlands, Poland, Spain, Slovakia and Switzerland).
Tour poster, all dates and music videos / streams by both SKINNED and DEFEATED SANITY are available in the attached promo. We've also attached our latest three releases ( AD PATRES , DEFECAL OF GERBE and INHUME ) in case you didn't check them already.
SKINNED 's " Shadow Syndicate " got released via XENOKORP on May 4th, 2018 while DEFEATED SANITY 's " Prelude to the Tragedy " got released on [and specifically remastered for] vinyl for the first time ever through XENOKORP on September 22, 2017. Both are available right NOW at the XENOKORP Store here .
XENOKORP Links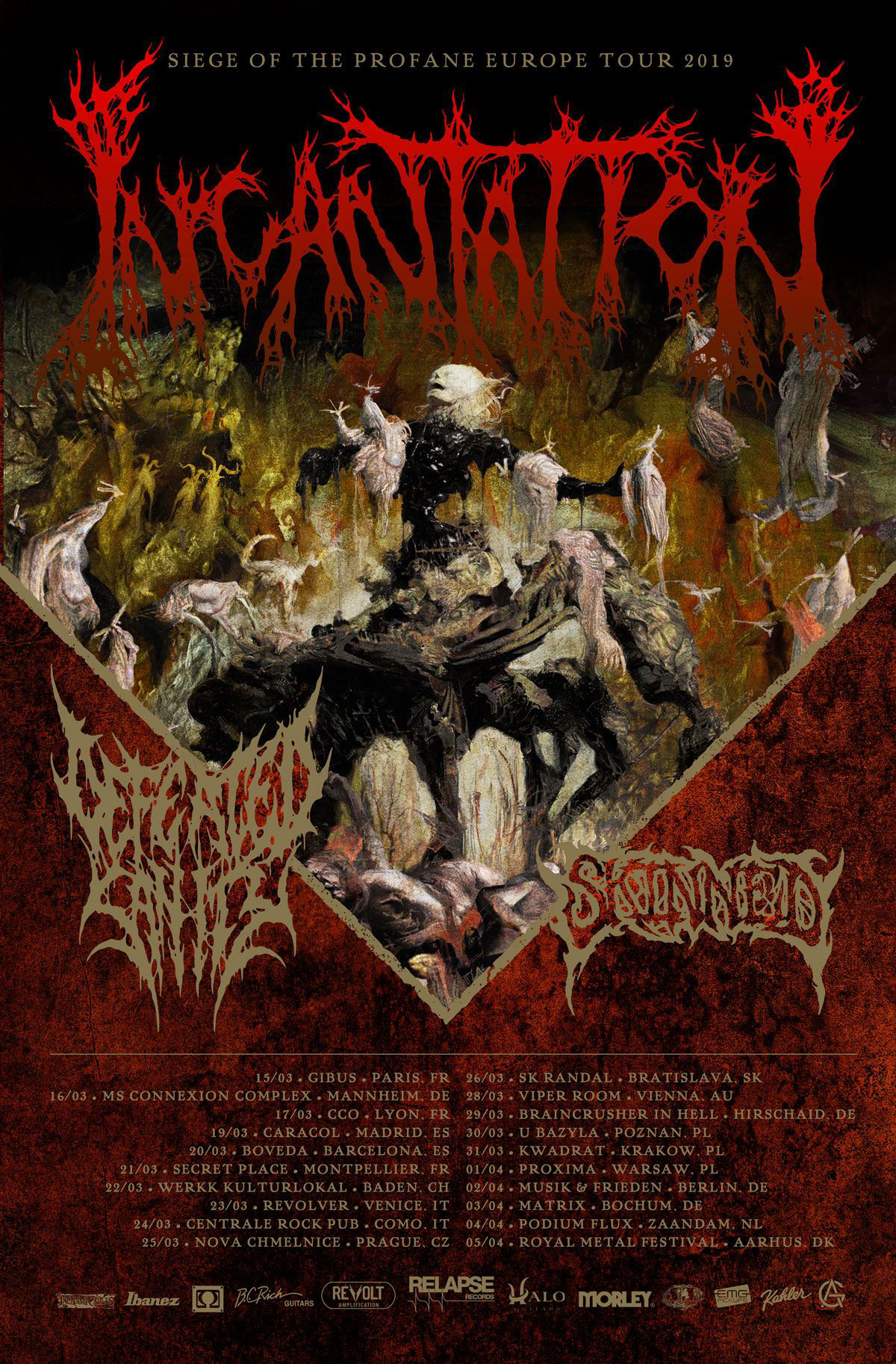 TOUR DATES
• Mar 15 - FR - Paris
• Mar 16 - DE - Mannheim
• Mar 17 - FR - Lyon
- Mar 19 - ES - Madrid
- Mar 20 - ES - Barcelona
- Mar 21 - FR - Montpellier
- Mar 22 - CH - Baden
- Mar 23 - IT - Venice
- Mar 24 - IT - Como
- Mar 25 - CZ - Prague
- Mar 26 - SK - Bratislava
- Mar 28 - AT - Vienna
- Mar 29 - DE - Hirschaid
- Mar 30 - PL - Poznan
- Mar 31 - PL - Krakow
- Apr 01 - PL - Warsaw
- Apr 02 - DE - Berlin
- Apr 03 - DE - Bochum
- Apr 04 - NL - Zaandam
- Apr 05 - DK - Aarhus