ALCHEMY CHAMBER to Play Collaborative Show with Subscura and Ann Narky December 28 in Vancouver
Vancouver (BC) - Heathen's greetings and farewell to 2018! Canadian neoclassical instrumental metal band
ALCHEMY CHAMBER
will perform in collaboration with SUBSCURA and ANN NARKY as special guests in support of BIG JOHN BATES NOIRCHESTRA December 28 at The Biltmore Cabaret in Vancouver. MOMY FORTUNA will open the show. Event details available 
here .
Tickets can be purchased at
this location
.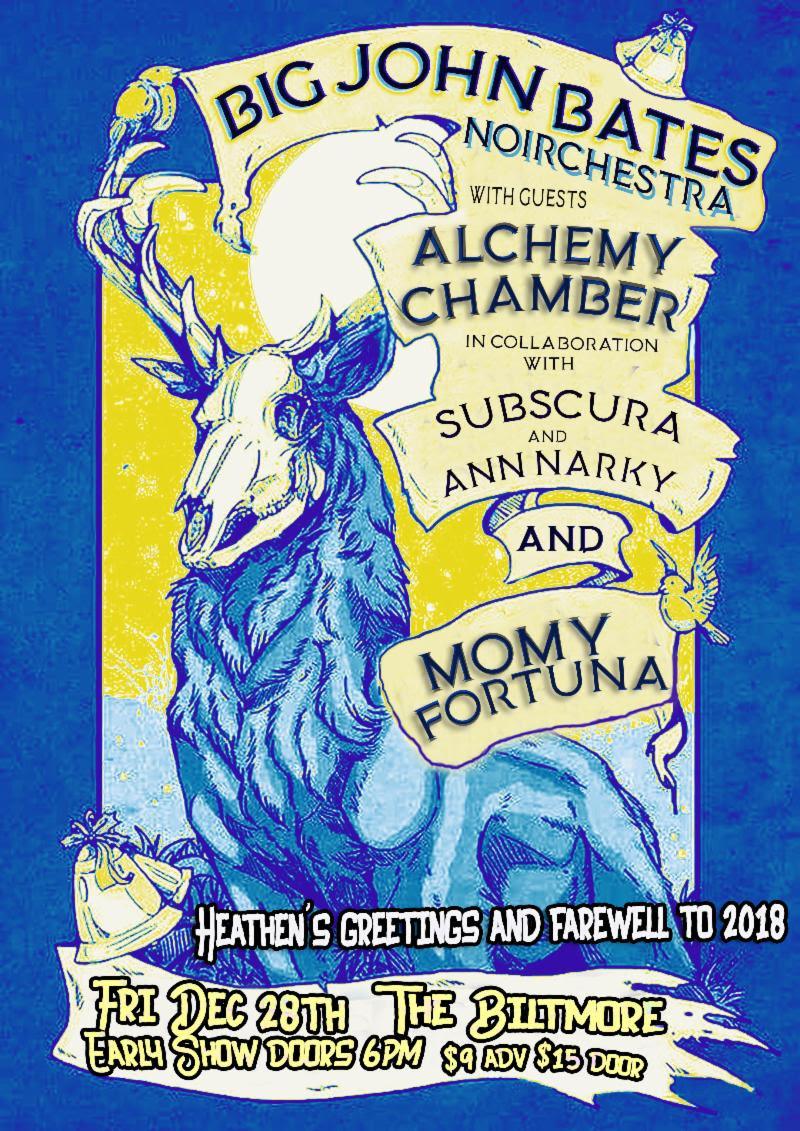 BIG JOHN BATES:
Noirchestra under the influence of absinthe, theatrical movements and questionable life choices ...Relentless, film noir-inspired, Dracula-awaking grooves wholly embraced by the rustic punk underground...
facebook.com/bigjohnbates
ALCHEMY CHAMBER IN COLLABORATION WITH SUBSCURA AND ANN NARKY: Alchemy Chamber:
Heavy riffs, dark moods and gothic beauty integrated into carefully created classical scores... The wordless, purely instrumental expression of the wide spectrum of human emotions, bringing into focus the daker, somber, undiscovered side of one's self
facebook.com/AlchemyChamber
Subscura:
Unique mix of dance, aerial arts, theatrics, and prop manipulation, designed to explore the landscapes of the psyche through a shared journey between and among audience members and performers.
facebook.com/subscura
Ann Narky:
Ann is a versatile performer, model and body artist, fluent in a variety of dance styles. Creating moods through movement, her performances range from playful and sassy to dark, eerie and abstract.
MOMY FORTUNA:
Momy Fortuna is a ritualistic, neoclassical, dark wave band and their astrological sign is horror-score.
facebook.com/fraufortuna

ALCHEMY CHAMBER  released their debut full-length album, Opus I: Subtle Movements from Within , on October 6.
Purchase and/or stream the album in its entirety.
Two official videos for songs from the album are available now. Check 'em out below!
"No. 1 (Dedicated to Doug Gorkoff)"
"No. 10."

Built around cello and saxophone duets, ALCHEMY CHAMBER  is an eclectic mix of genres, featuring captivating melodies intertwined with complex rhythms in a purely instrumental arrangement.  The unique sound of the band, which combines heavy riffs and expressive contrapuntal melodic lines, is influenced by classical composers as well as metal bands of various genres.

The songs have numbers instead of names, and the album is referred to as an "Opus" to reflect the classical side and influences of the music. The order truly is chronological, which means the songs on the album appear in the order they were written. Composition No. 1 is dedicated to Doug Gorkoff who has been Anna's cello teacher for the last 10 years and played a significant role in her becoming the musician she is today. This album is meant to take you through the band's creative development and let you experience the continuous thought process the musicians were going through at the time and changes in the flow of ideas as the time passed. Lyric-less, but not voiceless, the album is designed to encourage one's own interpretation of the music while also telling a story about it's own birth between the lines.
"Alchemy Chamber deliver a refreshing twist to the standard heavy band delivery and has the possibility to open the doors to enjoying a wider range of music."
- Capital Chaos TV
"Alchemy Chamber capture neo-classical influences and unite them with metal and rock, and make a very striking explosion."
  - From Beyond Metal Fanzine

 "This is not tech-metal and it is not jazz metal, and it is not musicians showing off their skills. Think of it as song-centered, compact, to-the-point instrumental progressive metal with cello and saxophone. Most of all, it is tasteful."
- Metal Bulletin Zine
"A neat combination of strong, sometimes slightly twisted sections with distorted, melodic oars that are pleasantly buzzing with melancholy riffs and polished, atmospheric solos."
  - Arrunderground Metal

Opus I: Subtle Movements from Within  Track List
1. No. 1 (dedicated to Doug Gorkoff)
2. No. 2
3. No. 3
4. No. 4
5. No. 5
6. No. 6
7. No. 7
8. No. 8
9. No. 9
10. No. 10





Anna Kuchkova - cello
Kevin Arland - saxophone
Ashar Kazi - guitar
Zenon Shandro - bass
Julia Geaman - drums


Composition: Anna Kuchkova
All drum parts are written by Julia Geaman
Guitar Part in No. 10 is written by Mehmet Turan
Solos in No. 4 and No. 8 are written by respective players
Acoustic guitar and rain in No. 6 by Kyle Anderson
Recording by Kyle Anderson (Blue Light Studio) & Mark Mckitrick (Rain City Recorders)
Mixing by Kyle Anderson
Mastering by Greg Mindorf (Suite Sound Labs)
Artwork by Eugenia Bathoriya
Artwork modification and album layout by Mehmet Turan