TORNADO Euro Tour Dates w/ Six Feet Under, Incite + New Music Video "Spirit And Opportunity"
Finnish thrashers TORNADO announce they will be touring this December on the X-Mass From Hell European Tour with Six Feet Under, Incite, Disquiet and Mecalimb (dates listed below). In addition to the tour, TORNADO have unleashed their latest music video for their track "Spirit And Opportunity", which features guest vocals from Immolation's Ross Dolan.
Music Video - "Spirit And Opportunity" -
"Spirit And Opportunity" is off the band's third full length album "Commitment To Excellence" unleashed this past August via Extreme Metal Music, a subsidiary of Rockshots Records. The album features 11 songs of highly catchy and in-your-face thrash metal along with a guest line up that includes NILE's Karl Sanders, IMMOLATION's Ross Dolan and PRO-PAIN's Adam Phillips as well as Glen Drover (ex-MEGADETH). The album was produced by Ben Varon (ex-Amoral/Oceanhoarse) with mixing, mastering and engineering by AK, Chris Paccou (FOH Engineer of Slayer).
Formed in 2010 in Amsterdam, Netherlands, TORNADO quickly released their Peter Tagtgren (Hypocrisy/Pain) produced debut album "Amsterdamn, Hellsinki". 2016 saw the release of the sophomore album "Black President" as well as the video for the anti-bullying song "David and Goliath", which caught the attention of several anti-bullying agencies, one of which used singer Superstar Joey Severance in a country wide advertising campaign.
Music Video "Global Pandemic"
Album Order and stream available at Extreme Metal Music here, Spotify, iTunes.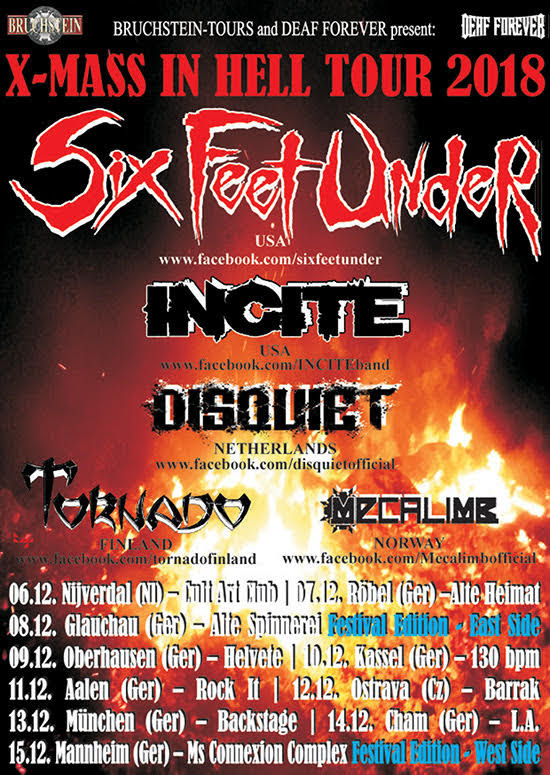 Tour Dates:
06.12. Nijverdal (NL) – Cult Art Club
07.12. Röbel (DE) – Alte Heimat 237
08.12. Glauchau (DE) – Alte Spinnerei 373
09.12. Oberhausen (DE) – Helvete 312
10.12. Kassel (DE) – 130 bpm 218
11.12. Aalen (DE) – Rock It 540
12.12. Ostrava (CZ) – Barrak
13.12. München (DE) – Backstage 664
14.12. Cham (DE) – L.A. 579
15.12. Mannheim (DE) – Ms Connexion Complex 478
For more info:
http://www.Rockshots.eu
http://www.facebook.com/tornadofinland
http://www.youtube.com/tornadosuomi
http://www.twitter.com/tornadofin