Legendary Swedish deathsters HYPOCRISY and Italian symphonic death metallers FLESHGOD APOCALYPSE, will return to North America for a co-headlining tour this March/April. Joining them are progressive, extreme metal band AENIMUS. Tickets go on-sale everywhere on Friday, November 16th. Confirmed tour dates are follows.
"Death...Is Just The Beginning" Co-Headlining North America Tour 2019
HYPOCRISY, FLESHGOD APOCALYPSE, AENIMUS
MAR 15 - Los Angeles, CA - The Regent
MAR 16 - San Diego, CA - Brick by Brick
MAR 17 - Mesa, AZ - Club Red
MAR 19 - Salt Lake City, UT - Urban Lounge
MAR 20 - Denver, CO - Oriental Theater
MAR 21 - Kansas City, MO - Riot Room
MAR 22 - Dallas, TX - Gas Monkey Bar & Grill
MAR 23 - Austin, TX - Come and Take it Live!
MAR 24 - Houston, TX - Scout Bar
MAR 26 - Orlando, FL - The Haven
MAR 27 - Atlanta, GA - The Masquerade
MAR 28 - Raleigh, NC - The Maywood
MAR 29 - Richmond, VA - Canal Club
MAR 30 - Worcester, MA - The Palladium
MAR 31 - New York, NY - Gramercy Theatre
APR 1 - Montreal, QC - Théâtre Corona
APR 2 - Quebec City, QC - Imperial Bell
APR 3 - Toronto, ON - Mod Club
APR 5 - Chicago, IL - Bottom Lounge
APR 6 - Minneapolis, MN - Studio B
APR 7 - Winnipeg, MB - Park Theatre
APR 8 - Regina, SK - The Exchange
APR 9 - Edmonton, AB - Starlite Room
APR 10 - Calgary, AB - Dickens Pub
APR 12 - Vancouver, BC - Rickshaw Theatre
APR 13 - Seattle, WA - El Corazon
APR 14 - Portland, OR - Bossanova Ballroom
APR 15 - Oakland, CA - Metro Opera House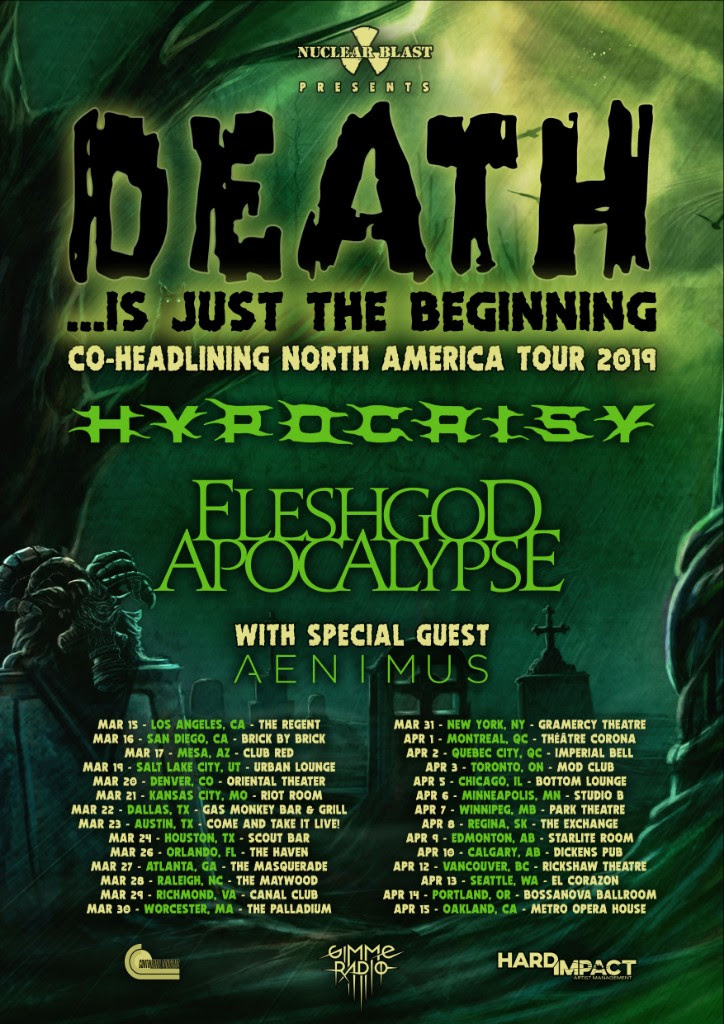 ABOUT HYPOCRISY:
The inception of HYPOCRISY dates back to 1992, when the combo signed its first contract with Nuclear Blast Records and released its monumental debut Penetralia. The follow-up Osculum Obscenum (1993) marked another milestone in the history of crushing extreme death metal, before The Fourth Dimension (1994) and Abducted (1996) broadened the band's horizon with increasingly experimental influences, which brought them the reputation as one of Europe's most innovative and important names in death metal. Eventually, 2002's release of Catch 22 defined a totally different dimension of sound, vaulting the band into a new era of contemporary death metal.
Being on a par with their 90's brute yet multifaceted masterpieces the bands latest release, End Of Disclosure, leaves no room for breathers. "This time I wanted to go back to basics," commented Tägtgren. "I felt like we lost it for the last couple of albums. This one is straight to the point and more HYPOCRISY than ever! Fast, heavy, and epic." End of Disclosure was produced by mastermind Peter Tägtgren in his Abyss Studios in Sweden, with artwork done this time by Wes Benscoter (SLAYER, KREATOR, NILE, VADER, BLOODBATH). Claiming HYPOCRISY have outdone themselves on their new opus is a bold understatement. End Of Disclosure embodies death metal perfection!
More on End of Disclosure:
"End of Disclosure"
"Tales of Thy Spineless"
HYPOCRISY online:
www.hypocrisy.cc | www.facebook.com/hypocrisy | www.youtube.com/hypocrisy | www.twitter.com/hypocrisyband
ABOUT FLESHGOD APOCALYPSE:
FLESHGOD APOCALYPSE are currently in the studio with legendary producer Jacob Hansen (VOLBEAT, DESTRUCTION, ABORTED, EPICA), recording the follow up to their critically acclaimed 2016 release, King. The as-of-yet-untitled-record is tentatively scheduled for a spring 2019 release.
King was produced by Jens Bogren (OPETH, KATATONIA, SOILWORK), with the help of recording engineer Marco Mastrobuono. The stunning artwork was created by acclaimed contemporary artist Eliran Kantor (TESTAMENT, ICED EARTH, KATAKLYSM, HATEBREED).
More on King:
'Cold As Perfection' OFFICIAL MUSIC VIDEO:

(censored version)
'Cold As Perfection' OFFICIAL MUSIC VIDEO:
https://vimeo.com/153750101
(uncensored version)
'The Fool' OFFICIAL TRACK:
'Gravity' OFFICIAL LYRICVIDEO:
FLESHGOD APOCALYPSE online:
facebook.com/fleshgodapocalypse | twitter.com/FApocalypse | www.FleshgodApocalypse.com
AENIMUS hail from the San Francisco, Bay Area. In August of 2013, they released their debut full length album,Transcend Reality. The following years were spent touring in support of the album with the likes of RINGS OF SATURN, I DECLARE WAR, and ARSONISTS GET ALL THE GIRLS to name a few. Following this relentless tour cycle, the band focused the next 2 years crafting their upcoming album, Dreamcatcher. Stay tuned for more information on their sophomore album!
AENIMUS online:
https://www.facebook.com/Aenimus
https://www.instagram.com/aenimusofficial
https://twitter.com/aenimusofficial
https://www.youtube.com/user/Aenimusofficial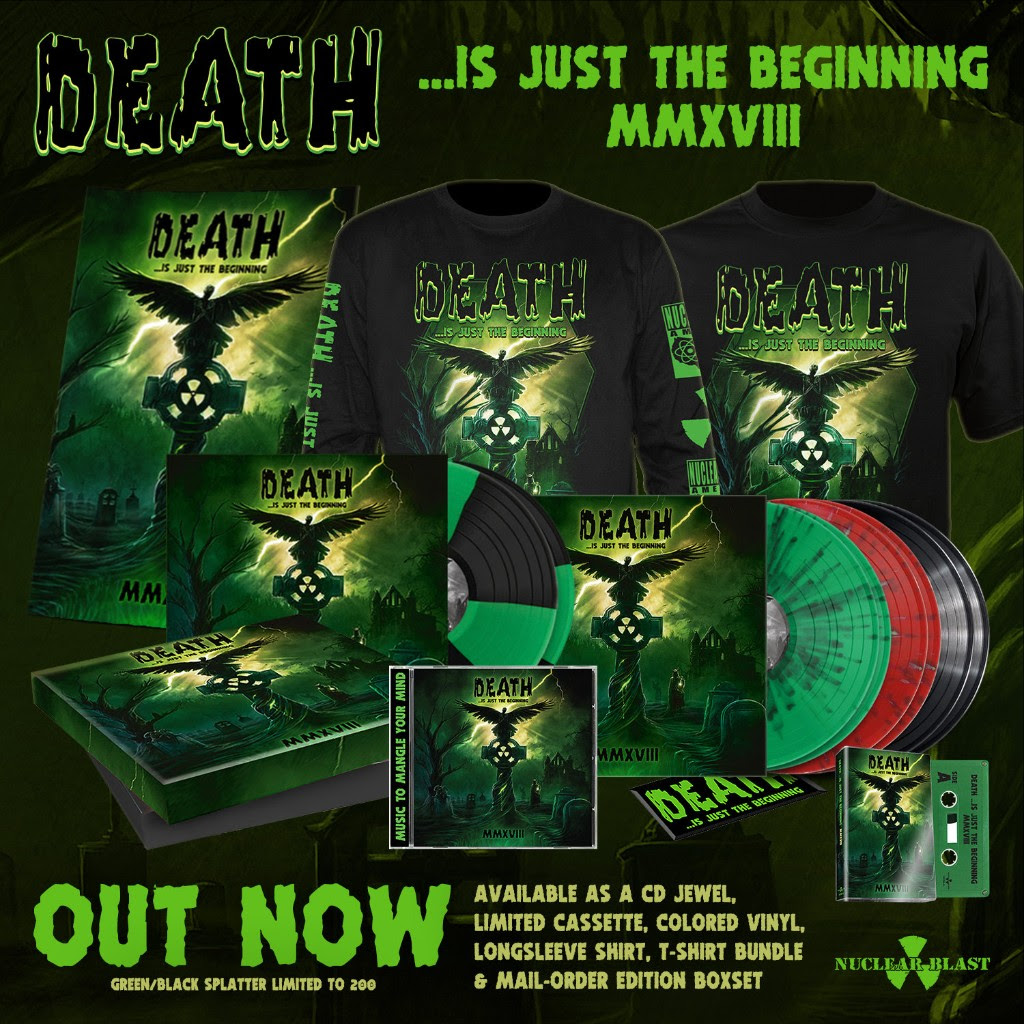 About Death...Is Just The Beginning:
The legendary death metal compilation Death...Is Just The Beginning is back! Nuclear Blast's involvement with death metal harkens back to the late '80s and early '90s explosion of this heavy and deadly genre. The Death...Is Just The Beginning compilations paved the way to the introduction of many soon to become legendary acts such as Pungent Stench, Dismember, Hypocrisy, Kataklysm. While the scene suffered a bit of stagnation somewhere in the mid-to-late '90s, the genre as a whole never went away and Nuclear Blast continued to release quality death metal in the form of bands such as Hypocrisy, Kataklysm, Decapitated, etc.
Highlights for this latest installment include some re-recordings of classic tracks, Nuclear Blast bands performing covers of classic songs from other Nuclear Blast artists, demos and rarities of previously released and unreleased songs, original cover artwork by Blake Armstrong and layout by Marcelo Vasco (SLAYER, HATEBREED, KREATOR).

Death...Is Just The Beginning MMXVII track listing:
01. BENEDICTION - Tear Off These Fucking Wings (unreleased demo of new song)
02. KATAKLYSM - The Awakener (re-recorded)
03. HYPOCRISY - They Lie (The Exploited cover)
04. THE SPIRIT - Illuminate The Night Sky
05. MEMORIAM - The War Rages On (demo)
06. INSIDIOUS DISEASE - Soul Excavation (unreleased new song)
07. POSSESSED - Abandoned (unreleased demo of new song)
08. THY ART IS MURDER - The Son Of Misery
09. IMMOLATION - Morbid Visions (feat. Max Cavalera) (Sepultura cover)
10. NAILED TO OBSCURITY - King Delusion (unreleased new song)
11. BLEEDING GODS - Beloved By Artemis
12. DECAPITATED - Sane (Meshuggah cover)
13. AENIMUS - Before The Eons (unreleased new song)
14. PARADISE LOST - Frozen Illusion (previously released Japanese only b-side)
15. CARCASS - A Wraith In The Apparatus
16. BRUJERIA - Viva Presidente Trump! (previously only available digitally and on vinyl)
Death …Is Just The Beginning MMXVII is available as a CD jewel, limited cassette, colored vinyl, long sleeve shirt, T-shirt + CD bundle & mail-order edition boxset. Order the compilation here: http://nblast.de/DeathIsJustMMXVIII