The Flesh Hammers join us on this episode to have some beers and talk about the new album and much more!
We cover topics such as sexism in music, lineup changes, live shows, black metal getting banned in the USA and much more.
Tracklist
1 Dr. Feelgood- Motley Crue
2 The Zach Moonshine Show Intro
3 Damned If You Do - Metal Church
4 Passchenhell - 1914
5 Zach Moonshine Bullshitting On Air announce the battle of the bands winners Mechanics of the Mind!
6 Tear Under My Skin - Mechanics Of The Mind
7 Zach Moonshine Bullshitting On Air getting the Zakk Wylde fix out and special inclusive shout outs!
8 Road Back Home - Zakk Wylde
9 Doomsday Jesus - Black Label Society
10 Birth Of The Unholy Lamb - Necrotion
11 Outlaw Trucker - Rock N Roll Villain Society
12 The Flesh Hammers Interview featuring Cyanide, Everything Sucks, Something About Her I Like, Night Of The Demon, Death & Taxes, Spade
13 Enter Sandman, So What - Metallica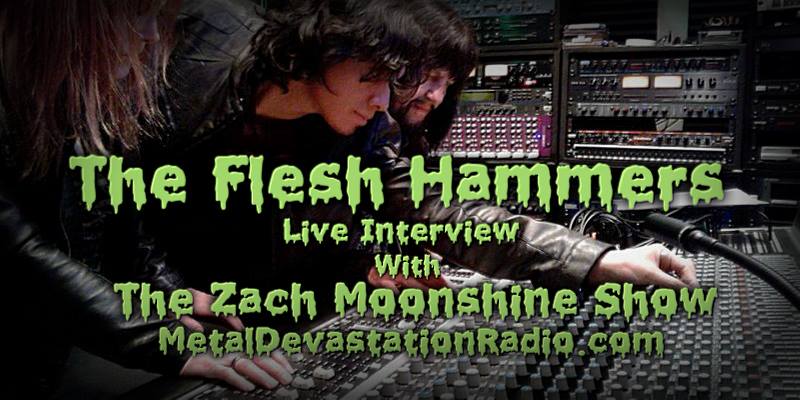 The Flesh Hammers fronted by enigmatic provocateur, Blackie Crabtree, are a controversial, and musically brilliant outfit who have succeeded in creating a sound all their own. The band was formed in 2003. Based in Northern Nevada, The Flesh Hammers, innovators of the "Gutter Punk" sound they play throughout the western states as well as regular gigs in their favorite city away from home, San Jose. The band unleashes rawk at the rate of submachine gun fire. Blackie, known as "The Black Thrush" on Bass and Vox drives the songs to climax, Paula Lee on Rhythm Guitar and Vox keeps the pace, while Tom beats thunderously and Zane spirals Lead Guitar. Blackie comes from the Los Angeles strip where he cut his teeth playing clubs like The Whisky and The Troubadour. The band's brand of "no holds barred" rawk energizes as well as stimulates the listener, mind and body. LIVE they are a force that needs to be heard and seen to be believed. They released their first album, RIDING DIRTY in 2005. Their second album was recorded in San Francisco at Rodent Records. It was released in 2009 on Wondertaker Records titled, SATAN ON THE DASH. It features guest appearances by Professional wrestler, Luster the Legend and Stagger G and Special Edna of The Grannies. The band's 3rd album BULLSEYE was released August 2013.