American metal band HALCYON WAY have teamed up with EMG Pickups to present a guitar playthrough video for the title track off their latest album, "Bloody But Unbowed". Watch guitarist's Jon Bodan's performance on EMGtv at this link: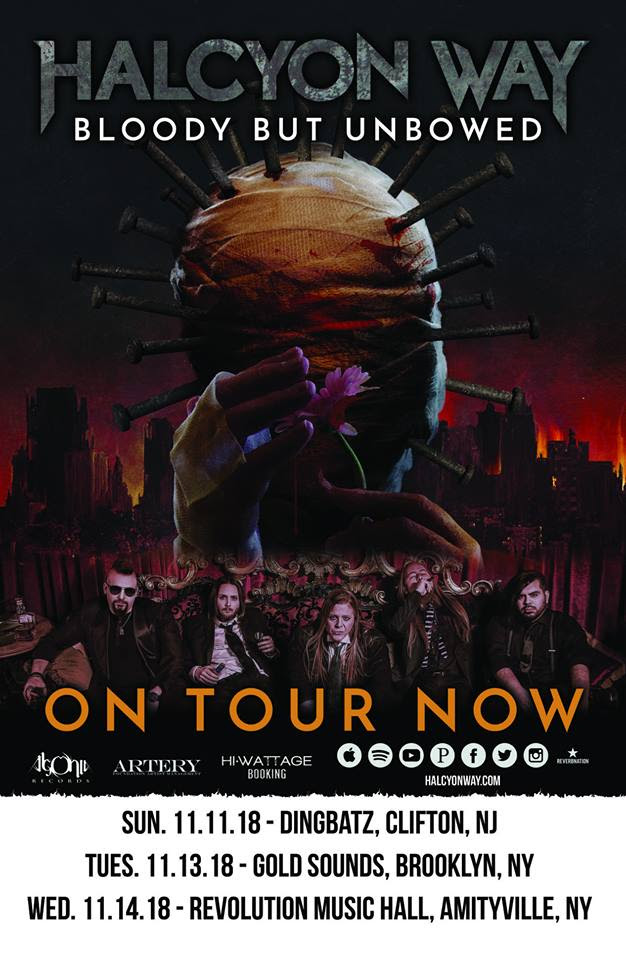 The band also announced a 3-day headlining mini-tour in New York and New Jersey this November.
Dates:
11/11/2018 - Dingbatz - Clifton, NJ
11/13/2018 - Gold Sounds - Brooklyn, NY
11/14/2018 - Revolution Music Hall - Amityville, NY
HALCYON WAY's sound cannot be neatly slotted into any sub-category of metal. It can be described as heavy, catchy, technical, progressive and above all, focused on strong songcraft. From Megadeth to Dream Theater, to Testament and Chimaira - HALCYON WAY draws influences & inspiration from many metal bands. With a magnitude of catchy hooks, vocal harmonies a la King's X or Stryper, and heavy, technical, yet ultimately accessible instrumentation, the new album "Bloody But Unbowed" is sure to please fans of many forms of metal. Be that modern, power, thrash and progressive metal - but also hard rock fans. Crammed full of huge anthemic choruses, shredding solos, and brutal riffs, this release checks off all the boxes.
"Bloody But Unbowed" was recorded, mixed and mastered by Mark Lewis (Whitechapel, Trivium, Bad Wolves, Threat Signal) and is replete with artwork from Travis Smith (Opeth, Overkill, Death, Iced Earth). The album boasts a very special appearance of "The Nailhead Choir", with many guest names to be revealed soon.
HALCYON WAY is the ultimate example of blue-collar work ethic, self-reliant bootstrapping, and hard work & perseverance in spite of nearly insurmountable odds. The band has released four studio albums worldwide (through Nightmare Records/Sony RED, Massacre Records and most recently Agonia Records) and has performed on 4 continents (and about 20 countries and counting), touring with the likes of Saxon, Sabaton, Queensryche, Fates Warning, Fozzy, Skid Row, U.D.O., Delain, Angra and Geoff Tate's Operation: Mindcrime.
Line-up:
Steve Braun - vocals
Jon Bodan - lead guitars, backing vocals, programming
Max Eve - rhythm guitars
Skyler Moore - bass, backing vocals
Aaron Baumoel - drums
Buy "Bloody But Unbowed":
https://www.agoniarecords.com/bloodybutunbowed
HALCYON WAY on-line:
Website: https://www.halcyonway.com
Facebook: https://www.facebook.com/halcyonway
Twitter: https://www.twitter.com/halcyonway
YouTube: https://www.youtube.com/hwmetal
Instagram: https://instagram.com/halcyonwayofficial
Agonia Records:
Website: http://agoniarecords.com
Webshop: http://tinyurl.com/agoniashop
Facebook: https://facebook.com/agoniarecords
Twitter: https://twitter.com/agoniarecords
SoundCloud: https://soundcloud.com/agoniarecords
Bandcamp: https://agoniarecords.bandcamp.com
Instagram: https://instagram.com/agoniarecordsofficial
YouTube: http://youtube.com/AgoniaRec