KATAKLYSM - Release New Animated Video + Death… Is Just The Beginning European Tour Kicks Off Thursday!
Montréal based melodic death metallers KATAKLYSM will kick off the European leg of the Death… Is Just The Beginning tour with label-mates HYPOCRISY and THE SPIRIT this Thursday!. Today, the band offer a new music video for "…And Then I Saw Blood" in celebration of the upcoming trek.
KATAKLYSM explored a new creative and artistic side when they hired acclaimed Romanian visionary artist Costin Chioreanu to tell the story of "…And Then I Saw Blood". The video chronicles a post-apocalyptic world dominated by A.I. Two dying brothers are brought to a facility where their minds are uploaded into a digital virtual world dominated and controlled by oppressors of mankind. As hope appears to defy the system in place, the two brothers are forced to make a decision to either follow their human instinct or their new found conscious.
KATAKLYSM frontman comments "'…And Then I Saw Blood' can be interpreted in many different ways as it has an open concept to it. Everyone can see it the way they want but we wanted an animated video done with an artistic flair. Costin was the perfect artist to do it. I told him the central theme of the track deals with the betrayal of two close friends. I asked him to bring in his own world on how he envisioned the song and theme. Costin totally out did himself in this futuristic but realistic interpretation of where we are headed as people continue to get absorbed by technology and this urge to create something bigger, stronger, and more intelligent in this obsession to become godlike."
Watch the music video for "…And Then I Saw Blood" here:
KATAKLYSM live:
Death… Is Just The Beginning
W/ HYPOCRISY, THE SPIRIT
10/18/2018 Schlachthof - Wiesbaden D
10/19/2018 LKA Longhorn -Stuttgart D
10/20/2018 Backstage - Munich D
10/23/2018 Barba Negra - Budapest H
10/24/2018 Arena - Vienna A
10/25/2018 Zaklęte Rewiry - Wrocław PL
10/26/2018 MusicHall - Geiselwind D
10/27/2018 Live Music Club - Milan I
10/28/2018 Z7 - Pratteln CH
10/29/2018 Ninkasi Kao - Lyon F
10/31/2018 Sala Mon - Madrid E-
11/01/2018 Razzmatazz 2- Barcelona E
11/02/2018 CC John Lennon - Limoges F
11/03/2018 La Machine du Moulin Rouge - Paris F
11/04/2018 Trix - Antwerp B
11/05/2018 Docks - Hamburg D
11/06/2018 Trädgår'n - Gothenburg S
11/07/2018 Fryshuset - Stockholm S
11/09/2018 The Circus - Helsinki FIN
11/10/2018 Pakkahuone - Tampere FIN
11/12/2018 Pumpehuset - Copenhagen DK
11/13/2018 Neushoorn - Leeuwarden NL
11/14/2018 Kesselhaus - Berlin D
11/15/2018 Eventwerk - Dresden D
11/16/2018 Turbinenhalle 2 - Oberhausen D
11/17/2018 Hellraiser - Leipzig D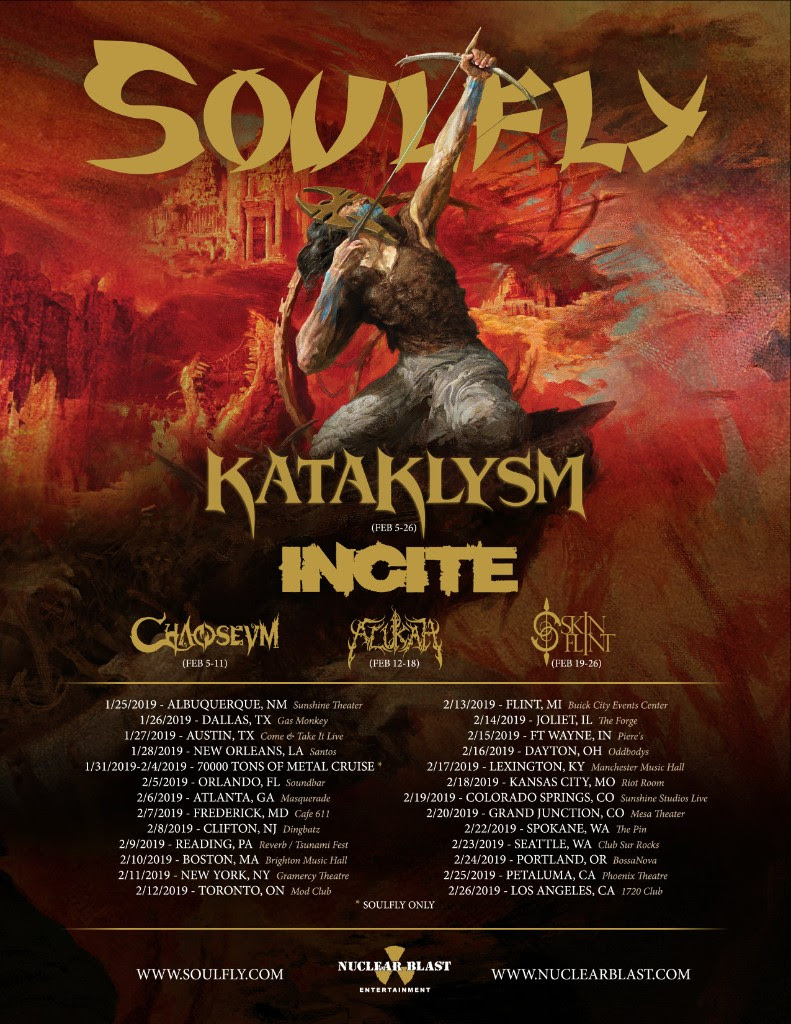 Yesterday, the band announced they would join label-mates SOULFLY as direct support on their 2019 US tour that starts in February! Joining them on the run is INCITE as well as CHAOSEUM, ALUKAH, and SKINFLINT on select dates.
"We are very excited to be sharing the stage with the legendary Max Cavalera and the mighty SOULFLY! This will be our first tour in North America in support of MEDITATIONS and we can't wait to get out there and rip the stage apart. This is a deadly combination of a tour and everyone should come out with their devil horns locked and loaded!"
SOULFLY, KATAKLYSM, INCITE, CHAOSEUM, ALUKAH, SKINFLINT
2/05/2019 Soundbar - Orlando, FL *
2/06/2019 Masquerade Atlanta, GA *
2/07/2019 Cafe 611 - Frederick, MD *
2/08/2019 Dingbatz - Clifton, NJ *
2/09/2019 Reverb / Tsunami Fest - Reading, PA *
2/10/2019 Brighton Music Hall - Boston, MA *
2/11/2019 Gramercy Theatre - New York, NY *
2/12/2019 Mod Club - Toronto, ON **
2/13/2019 Buick City Events Center - Flint, MI**
2/14/2019 The Forge - Joliet, IL**
2/15/2019 Piere's - Ft Wayne, IN **
2/16/2019 Oddbodys - Dayton, OH **
2/17/2019 Manchester Music Hall - Lexington, KY **
2/18/2019 Riot Room - Kansas City, MO **
2/19/2019 Sunshine Studios Live - Colorado Springs, CO ***
2/20/2019 Mesa Theater - Grand Junction, CO ***
2/22/2019 The Pin - Spokane, WA ***
2/23/2019 Club Sur Rocks - Seattle, WA ***
2/24/2019 BossaNova - Portland, OR ***
2/25/2019 Phoenix Theatre - Petaluma, CA***
2/26/2019 1720 Club - Los Angeles, CA ***
* CHAOSEUM
**ALUKAH
*** SKINFLINT
Produced by the band's own guitarist J-F Dagenais and drummer Oli Beaudoin, the record was mixed by Jay Ruston (ANTHRAX, STONE SOUR a.o.). Mastering duties were handled by Paul Logus (PANTERA a.o.). The artwork was created by Ocvlta Designs by Surtsey, who also crafted the artwork for KATAKLYSM's previous record, Of Ghosts And Gods.
The DVD features the performance of the bands 2 classic albums, Shadows & Dust and Serenity in Fire in their entirety. The concert was captured by several cameras and recorded live in front of a full house of fans from around the world. Mixed by the band's guitarist J-F Dagenais, the feature also includes interviews with the band members about that very special tour and the new album Meditations.
Are you an outsider? Post your own clip of what makes you an outsider to Instagram, Facebook or Twitter with the hashtag #iamanoutsider and get reposted, retweeted or shared on the KATAKLYSM social pages!
Meditations can be ordered in various formats, here: http://nblast.de/KataklysmMeditations.
Born in 1992 from the cold winds of Montréal, Québec, Canada comes one of the country's top extreme musical exports to date: KATAKLYSM. With a career spanning 25 years, KATAKLYSM is a leading force in the most brutal & powerful genre in heavy metal and has conquered territories such as Europe, North & South America, Australia, and Asia while recently becoming the first Canadian metal band to ever play South Africa.
They've spent the last 25 years cementing their legacy in the extreme metal genre. 2016 marked a whirlwind of excitement as the band added a Juno Award to their collection as well as landing their highest Billboard charting. They are one of a handful of bands that have the title of "Longest Standing Artist" on the Nuclear Blast roster.

KATAKLYSM is:
Maurizio Iacono | Vocals
Jean-Francois Dagenais | Guitar
Stephane Barbe | Bass
Oli Beaudoin | Drums