Millennium - The Sign of Evil - Reviewed By thoseonceloyal ! Check it out https://thoseonceloyal.wordpress.com/2023/08/29/review-millenium-the-sign-of-evil/
Review by Sandre the Giant
There has been a lot of things for classic heavy metal fans to be happy about in the last few years, and one of them should be the resurrection of Newcastle's Millenium, returning back in 2015 after an almost 30 year hiatus. Their newest record, 'The Sign of Evil', is out now through No Remorse Records and is looking to add them to the pantheon of great British metal legends. They've already got the classic 80s debut, let's see if they can adapt to modern expectations.
Opener 'There is a Devil' is classic NWOBHM: duelling guitars, melodic choruses and a charismatic vocal performance from frontman and only current original member, Mark Duffy. A mighty collection of battle anthems, from the thrust of 'Hell is My Home' to the Brocas Helm-esque epic 'Thy Kingdom Come'. Everything about 'The Sign of Evil' just screams 'gritty NWOBHM veterans still kicking ass 40 years on', and you'd struggle to find many bands of the era that can still rock as hard as this without losing something of the magic. 'Fall from Grace' is another great example, galloping twin guitar melodies and gravelly yet rousing vocals  meet with a killer solo and a fist pumping energy. I was literally just espousing the values of a great heavy metal sound with the most recent Dyspläcer record, but Millenium are right up there with them.  The only real difference is that Millenium have got decades of experience behind them
It's hard to tell just what my favourite moment of 'The Sign of Evil', but the energetic and enigmatic 'Nightmares' is a good place to start. So much of 'The Sign of Evil' is like this; classic heavy metal with enough of a modern slant to give even jaded metallers something to hang onto. Just listen to that chorus in closer 'March of the Damned' and tell me you're not just inspired by the power of metal. Millenium have come back strong in the past few years, but 'The Sign of Evil' is their best album yet. thoseonceloyal  

Release Date: 05/19/2023
FFO: Saxon, Satan, Iron Maiden
Location: Newcastle upon Tyne, England
Short Bio: Formed in 1982 by Mark Duffy and Pete McArdle, Millennium were featured on Guardian Records 1993 compilation album Pure Overkill alongside contemporaries Spartan Warrior, Tokyo Rose, Risk and Incubus and. The band went on to record their debut album 'Millennium' in 1984. The "Blue" album on vinyl is still sought after by fans. The band split in 1988. Mark Duffy went on to front thrash metal act Toranaga (link below) Millennium reformed in 2015 with Will Philpot on guitar. The idea of resurrecting Mark's NWOBHM band Millennium seemed an obvious choice as Mark had always felt that this chapter of Metal History was not yet over. Original members Steve Mennell and guitarist Dave Hardy were keen to revive the band. Gigs followed with a great response to the live appearances at Brofest, Live Evil, Mearfest, Headbangers open air festival Germany, Up the Hammers festival Greece. In February 2017, the band as it was, traveled to Coach House Studios in France to record the album, 'AWAKENING', a combination of NWOBHM riffage, Heavy Metal ideals and a lyrical call to arms. The band signed to Pure Steel Records in 2017, and with new members, recorded a new album, 2019s 'A NEW WORLD' which was received with critical acclaim and once again was a mixture of new influences and the ever present NWOBHM style. Their new album "The Sign of Evil" is released in May 2023 on No Remorse Records. 
Check out this video!
Support them on Bandcamp!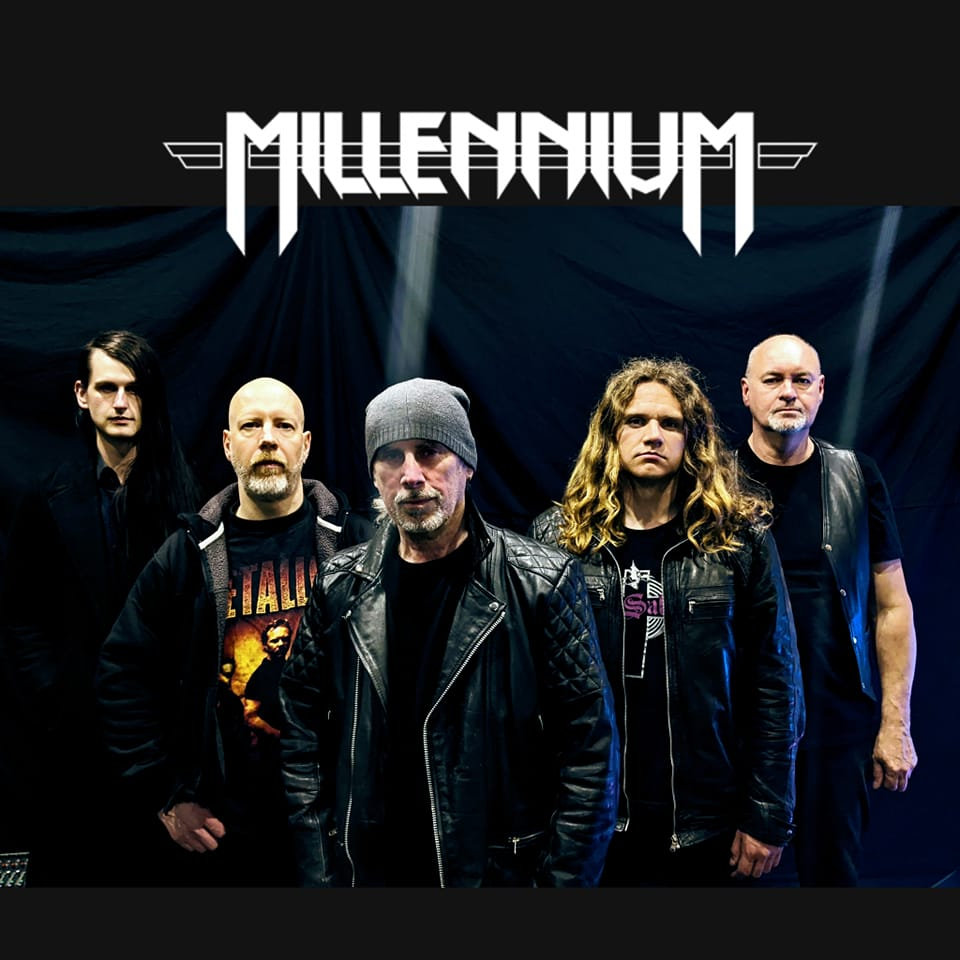 Follow the band and label at these links:
https://www.facebook.com/Millenniumheavymetal
https://www.youtube.com/@noremorserecords7517
https://millenniumheavymetal.bandcamp.com/
https://ivyhollowmead.wixsite.com/millennium