Darkwave - Thanatology - Reviewed By allaroundmetal ! Check it out https://www.allaroundmetal.com/component/content/article/26-releases/10575-darkwave,-metal-strumentale-non-per-tutti
Make yourself comfortable and the right predisposition of spirit, close the world out of yourself, turn off the light and let yourself be flooded by the tide of notes of this "Thanatology", the third album of this Hungarian project called Darkwave. Behind this monicker is the guitarist and multi-instrumentalist Zsolt Némethy who started in 2021 with the full-length "Hexapla", to spend the year after the second album "Missa unnamed", always self-produced (like this new album), always unfortunately made only in a digital version and unfortunately unknown to us. Némethy's music is extremely particular, a sort of Progressive with some moments close to Thrash, but also with countless references to other musical genres (from the Neoclassical, to Fusion, even passing for a few touches of Venetian rounds!), all entirely instrumental; it is as if the Mekong Delta (a secret main influence of the Hungarian musician) met the Cynic, the Voivod and the Anacrusis. Everything, as you will have well understood, is absolutely not easy listening, first of all because normally the instrumental Metal is not, but also and above all because this kind of Prog is anything but simple understanding and approach. That's why at the beginning of the review I recommended to be the right predisposition of spirit, otherwise it is easy for this music to send the brain into a tailspin for its complexity and particularity. Of course, to play in this way, you have to have a technique out of the ordinary, but the technique alone is not enough because you also have to know how to "compose", you must always have the "song structure" well present and sometimes the good Némethy lets go probably for his desire to overdo it; the songwriting, in fact, could be improved and above all to be more concise and effective, not surprisingly the best piece ("Legacy of the worthless") is also the shortest piece. Nevertheless, "Thanatology" is a record of remarkable quality, in which you do not even miss a singer (the guitar thinks about it!); the Darkwave project deserves much more attention, because at this level there are few, very few bands around the world! allaroundmetal  
Release Date: 3. August 2023
FFO: Mekong Delta, Atheist, Nevermore, Believer, Voivod

Location: Hungary
Darkwave is an experimental music project built on the backbone of old-school metal riffs, with an outlook to a wide variety of musical scenes. Despite its intimate connections with progressive – and even thrash – metal, Darkwave's musical dynamics often deviates from the classical concept of the genre (e.g. the catching tempo generated by tight rhythmicity), and incorporates elements with significantly different tonal and emotional characteristics, ranging from thrash, power, doom or symphonic metal themes to electronic, classical or even jazz elements.
Darkwave is a one-piece musical project, meaning that all the duties from songwriting through playing the guitar/bass to recording, mixing, mastering and promotion lay on the shoulders of one single person, the Hungarian composer and guitarist Zsolt Némethy. Darkwave's debut material entitled "Hexapla" intends to be a small but determined step towards some kind of a synthesis between various sub-genres rooted in the rich legacy of past and contemporary thrash metal standard-bearers, spiced up with outlooks to sometimes highly different musical genres. Being an instrumental album, it clearly indicates the intention to synthesize various musical inputs into one massive metal experiment to express feelings and thoughts without words. Hexapla reached quite a lot of listeners and received extremely flattering reviews from both friends and strangers – it even appeared at one of the RepostExchange charts by SoundCloud, Pop/Rock Top40. However, as everything is subjected to continuous changes, so are the original manifestations of a person's past artistic ideas. The continuous experimentation with the original sound of Hexapla resulted in an inner need to re-record and polish certain parts of the debut material – and in general, remix and remaster the whole album. The updated version of Hexapla was released under the title "Hexapla – The Remasters" half a year later, on the 31st of March 2022 with a thicker and more mature sound. Like its predecessor, the remastered album was also well received: it appeared again on the RepostExchange Pop/Rock Top40 and was even featured in the "New and Notable" section of Bandcamp's homepage on the 4th of April 2022. By the time of the release of the remix album, the recordings of the second full-lenght Darkwave material entitled "Missa Innominata" were already running. Following months of fine-tuning, Missa Innominata was finally released on the 1st of June 2022 with the dual intention to proceed further on the path of developing Darkwave's own version of experimental metal music and to add personal and fresh shades to something that is otherwise considered very traditional and monolithic. Missa Innominata was even more warmly received than the previous albums: one of its songs was making waves not only in the ReEx Pop/Rock Top 40, but also in the overall Re-Ex Top 40 chart, a cumulative chart for all SoudCloud users belonging to various musical genres. And now, more than one year later – on the 3rd of August 2023, exactly on the second birthday of Hexapla –, the third full-length Darkwave album entitled "Thanatology" was also finally released. 
    
The third full-length Darkwave release entitled Thanatology is a deeply emotional journey to the land of those formative memories, emotions and feelings that exert a significant impact on the ultimate spiritual character of a human person. Relying on the vast capacities of instrumental progressive metal to paint picturesque inner landscapes, Thanatology attempts to transmit these emotional waves into six separate movements, each being provided with an indicative title.
"Memento mori" – warns us the well-known phrase that echoed throughout the entire medieval Christianity as a reminder of the inevitability of death: "Remember that you [have to] die". Humans have always been trying to transcend the painful contingency rooted in the inherent finiteness of our existence with reacting to it in strikingly various ways. In this regard, Thanatology attempts to answer this unsettling question according to Jack Kerouac's famous quote: "I'm writing this book because we're all going to die" (Visions of Cody). In other words, the six songs of Thanatology (released on August 3, 2023, exactly on the second birthday of Hexapla) constitute a very intimate soundtrack to a spiritual pilgrimage from the past towards the recognition of the finiteness of life. Being an instrumental album, Thanatology cannot (and doesn't even intend to) provide definitive answers to the disquieting questions of human existence. However, it does attempt to evoke feelings and emotions that may guide the listener all along this intimate and meaningful journey. In this regard, Thanatology can be considered as the logical continuation and ultimate wrap-up of the previous two releases "Hexapla" and "Missa Innominata", signifying an intimate connection and a somewhat tight unity between the first three Darkwave albums.
Check them out on YouTube and subscribe!
Follow on Spotify and add to your playlists!
Support on Bandcamp!
Also available on Apple!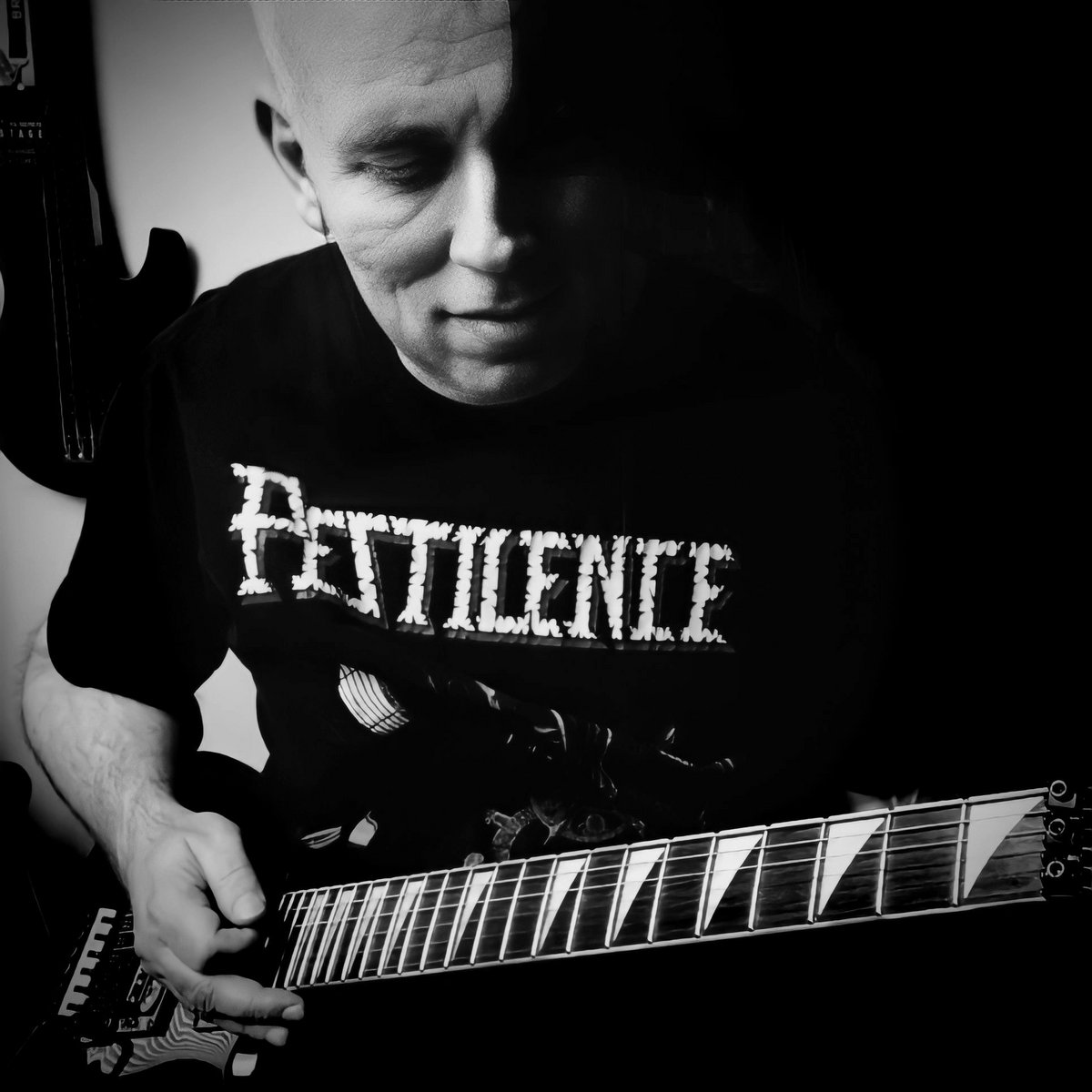 Follow the artist at these links:
https://darkwavemetal.com/ 
https://www.instagram.com/darkwavemetal/ 
https://www.facebook.com/profile.php?id=100071547372214
https://twitter.com/nemethy_zsolt 
https://www.youtube.com/@darkwavemetal
https://open.spotify.com/artist/2YwgjXvN6j6grN2uafY2Jy?si=TGJWTqhfSCaNemCwqjOoiw
https://music.apple.com/hu/artist/darkwave/1581082929?l=hu 
https://darkwave-metal.bandcamp.com/ 
https://soundcloud.com/user-650553121