Stigma (Germany) - First Call - Reviewed By Rock Hard ! check it out here https://www.rockharditaly.com/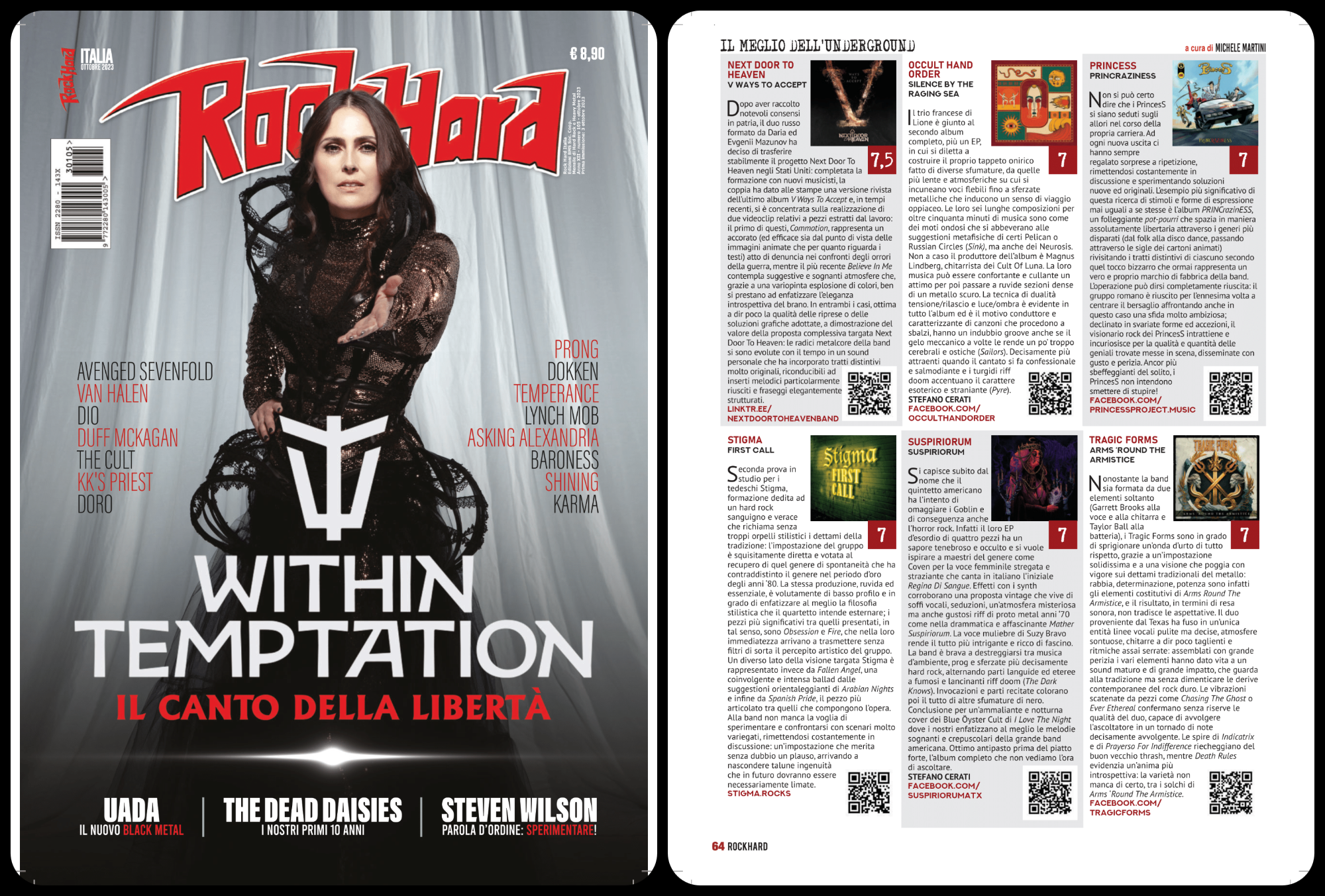 Release Date: 28.04.2023
FFO: Alice Cooper, Metallica, AC/DC
Location: Nuremberg, Germany
Stigma makes clear announcement with inspiring new album "First Call"
Stigma, a modern rock band with an uncompromising sound and distinctive melodies sends a clear call to action with their new album "First Call". The album explores themes of personal challenges, resilience and the pursuit of dreams, and showcases the band's artistic maturity.
With an impressive run in just two years, Stigma's successes speak volumes about their talent. Their music video for "Lies of War" has earned them two "Best Music Video Awards" at the Red Moon Film Festival in New York City and the prestigious Multi Dimension Independent Film Festival in London. The video showcases their ability to create visually stunning and thought-provoking images that complement their powerful music. In addition, her collaboration with American football team Nürnberg Rams has resulted in a stirring anthem that captures the adrenaline and spirit of the game.
For Stigma, "First Call" is a significant milestone in their creative journey. "Every single song on "First Call" musically and lyrically each tells its own unique story that can help you move forward in life in your own way." (Gerald)
With "First Call," Stigma continues their bold musical dialogue that inspires their fans to break free from societal stigmas, embrace their individuality and pursue their dreams with unwavering determination. The five songs are a call to action to overcome obstacles and live life on their own terms.
Stigma is a rock band that defies expectations and leaves audiences in awe with their electrifying sound and captivating performances. The band consists of Gerald, the mesmerizing vocalist; Markus, the virtuoso guitarist; René, the thunderous bassist and Pavel, the powerful drummer. Together they dominate the stage and deliver an uncompromising fusion of rock, hard rock and metal.
Follow them on Spotify and add them to your playlists!
Support them on Bandcamp!
Also available on Apple!

Follow the band at these links:
https://www.facebook.com/stigma.rocks
https://www.instagram.com/stigma.rocks
https://twitter.com/Stigma_rocks
https://music.apple.com/de/artist/stigma/1617871738
https://open.spotify.com/artist/4ZiCBBwuen2axvx4FGng3y
https://www.deezer.com/de/artist/165953347
https://music.amazon.de/artists/B09P9TYM2V/stigma
https://pandora.app.link/AEYVx9URNAb
https://tidal.com/browse/artist/40281324