Release Date: December 1st, 2023
FFO: Dark Angel, Nuclear Assault, Slayer
Location: Vancouver, BC CANADA
AGGRESSION is a Canadian thrash metal band that was formed in Montreal, Quebec, in 1983. Before settling on its current name in 1985, the band had existed under two different names, Asylum and Adrenalin. The formal concept of AGGRESSION came to life on Halloween night 1984 from a pact made between guitarists Denis "Sasquatch" Barthe and Bernard "Burn" Caudron. After a few various editions, the final and main lineup included Eric "Botcher" Langlois on vocals, Yves "Dug" Duguay on bass and Gaetan "Gate" Bourassa on drums.
Following a few demos, the band got invited to participate in a couple of metal compilations from New Renaissance Records': 1986's "Speed Metal Hell II" with "Metal Slaughter" and 1987's "Thrash Metal Attack" with "Torment or Death" alongside other luminaries such as Flotsam and Jetsam, At War, Deathrash, Necrophagia and Wehrmacht. Shortly after the band recorded its 1986 debut album "Forgotten Skeleton". Unfortunately, that album would not see a release until 2005 due to numerous complications. After parting ways with Burn and Botcher, AGGRESSION added lead vocalist Pierre "Cactus Pete" Fleurant; originally from Quebec City's band R.A.W.W.A.R.; and recorded the 1987 album "The Full Treatment" which was released on Canada's infamous label Banzai Records.
AGGRESSION received good reviews for its demos and album which led the band to become one of the most popular metal acts from the province of Quebec. Concerts were sold out everywhere, and the fan base grew from hundreds to thousands in a short period of time. The band had the honor of playing numerous concerts with legendary acts such as Anvil, Celtic Frost, Voivod, Nuclear Assault, Agnostic Front, Sword, D.R.I., Possessed, Dark Angel, Crumbsuckers, Sacrifice and many others. If the band's concerts were beyond impressive, parties were legendary. AGGRESSION was on track to become one of the forefathers of the 80's Thrash Metal movement. However, due to substance abuse, legal matters, and reckless behavior, the band was declared "disbanded" by 1989.
After a brief reunion in 2005, AGGRESSION resurrected for good in 2014, in Vancouver, British Columbia, with Denis "Sasquatch" Barthe at the helm once again. In 2016, the band signed with Spain's Xtreem Music for its 3 rd album entitled "Fragmented Spirit Devils" leading the band to play its first European tour in 2017. In 2018, a 4 th album "Feels Like Punk, Sounds Like Thrash" was released by British label Dissonance Productions. In 2021, the band returned to Xtreem Music/Blood Blast for the release of their EP "Field of Nightmares" followed by the critically acclaimed 5 th album "From Hell With Hate" in 2022.
Now armed with a brand new recording deal with the almighty label Massacre Records, AGGRESSION is ready to take the world by storm with their upcoming album "Frozen Aggressors" which will be available December 2023.
Over the past 10 years, this rejuvenated act had some great musicians come and go, but the current line-up of Barthe (vocals, guitar), Dave "Watts" Watson (guitar), Kyle "Viking" Hagen (vocals, bass) and Ryan "Quatchi" Idris (drums) is the strongest yet. The "new" AGGRESSION has played over 250 shows in North America and Europe with amazing bands such as Brujeria, Venomous Concept, Cattle Decapitation, Zimmers Hole, Venom Inc, Toxic Holocaust, Midnight, Carcass, Havok, Warbringer and countless others. The hilarious thing is that the band is only getting warmed up!!
Check them out on YouTube and subscribe!
Follow the band on Spotify and add them to your playlists!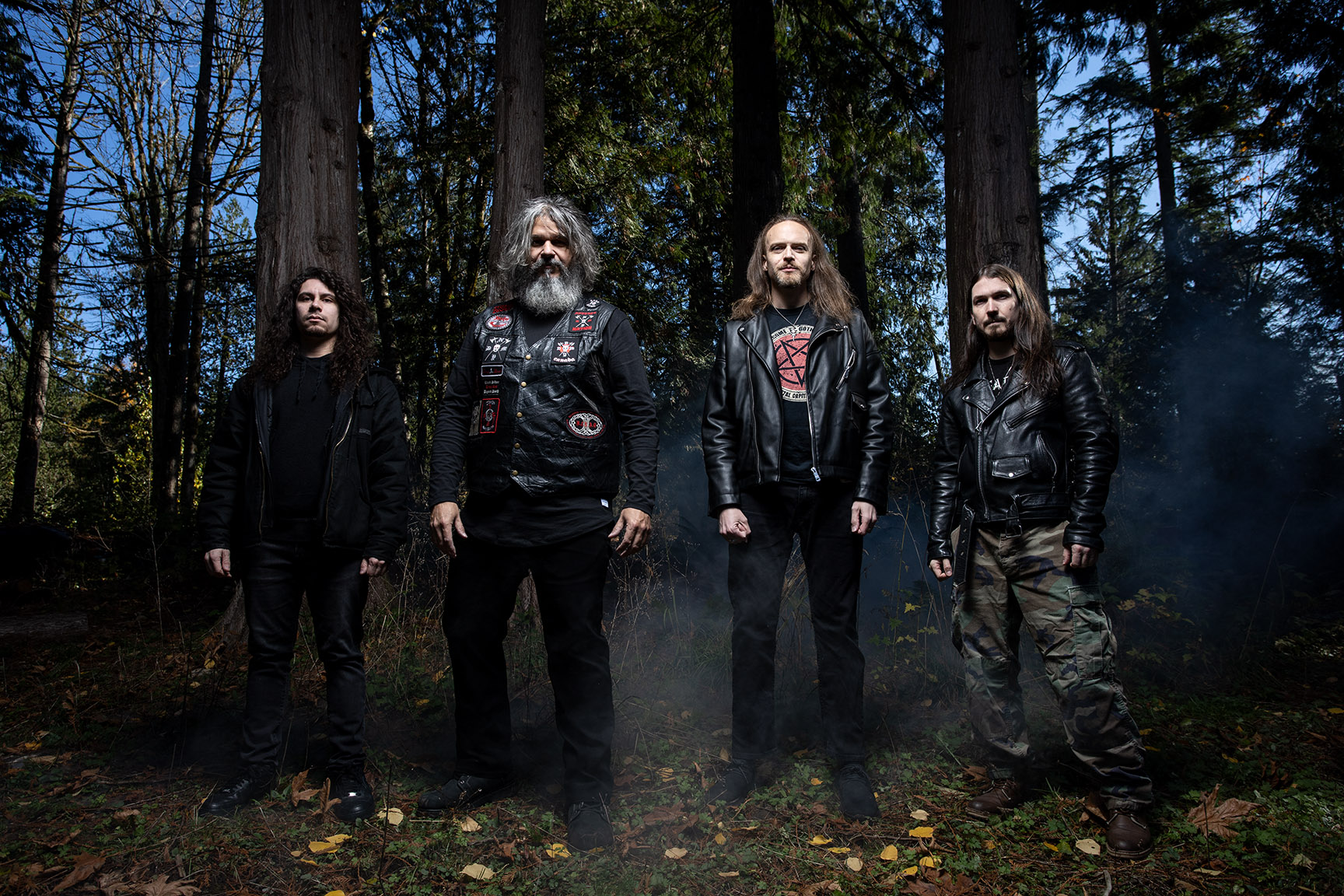 AGGRESSION is:
Denis "Sasquatch" Barthe – vocals/guitar
Dave "Watts" Watson – guitar
Kyle "Viking" Hagen – vocals/bass
Ryan "Quatchi" Idris – drums.
Follow the band at these links:
https://www.aggressionofficial.com 
https://www.facebook.com/AGGRESSION85 
https://www.instagram.com/aggressionofficial
https://www.youtube.com/channel/UCMvy_ILGIZk-nt0UyiKAcsg
https://open.spotify.com/artist/3KcRUDQ45WfCzEEN2Hu6YO
https://massacre-records.com/