Finnish Thrash Legends BLOODRIDE Announce Tour Dates with METHANE + SGT SLIME in September!
Finnish thrash legends BLOODRIDE have a huge pleasure to announce tour dates with their long time friends, Swedish thrashers METHANE, alonside Sgt Slime! See the shows and details below.
The band comments:
"Several years ago we played high octane gig with Methane guys so this is great fun to reunite and raise hell with them as well as our moshing pals Sgt Slime. Actually this also first time that Bloodride thrashes in Sweden territory, really looking forward to that!"
September 22nd - Helsinki (FIN) @Lepakommies - event page https://www.facebook.com/events/923223545449294
September 23rd - Tampere (FIN) @Varjobaari - event page https://www.facebook.com/events/923223545449294
September 30th - Stockholm (SWE) @Fredagsmangel - event page www.facebook.com/events/533300615458918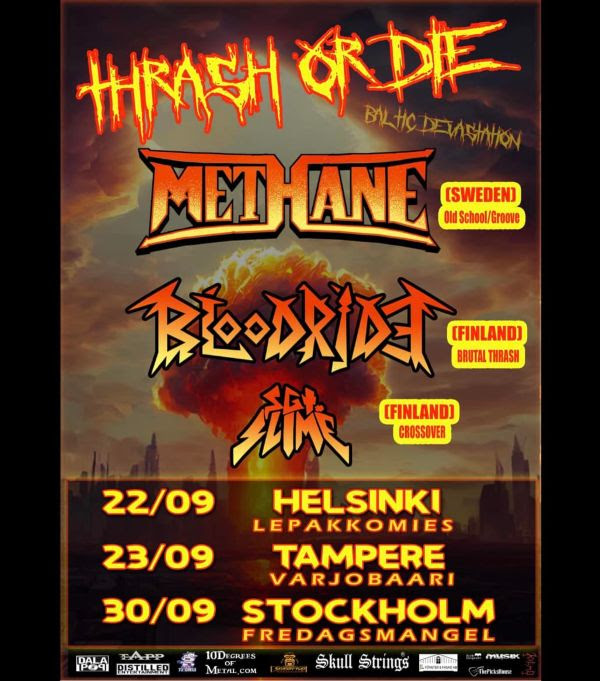 + Earlier announced show
17.11.23 – Slovakia, Podrad, ROCK Fabric - event page https://www.facebook.com/events/1130728750937204
18.11.23 – Poland, Krakow, PUB Pod Ziemią
More shows TBA. 
The band is currently working on new material for their upcoming album. More details soon.
Check out BLOODRIDE latest videos:
'Hate of Hatred' official video -
'Cast Out From Idiocracy' official video -
Bloodride LIVE @ Speed Metal Party Tampere 13th of August 2022 -
'Planet Alcatraz' official video -
Bloodride live @ Helsinki 15th September 2017 -
'Horror Has a New Prey' official video -
'Battered' official video -
Fierce Finnish thrash metal band Bloodride was formed 2000. The band released their first EP "Bloodridden Disease" in 2004 and debut full-length album "Crowned In Hell" came out 2011. Latest and fourth album "Idiocracy" came out September 2021 through Great Dane Records. Musically Bloodride play old school thrash metal with some vibes of darker sound like death metal and harsh edge of hard core. Real stuff to bang your head and break your neck! During these years band has devastated stages all around Europe with names like Exhumed, Exodus, Nunslaughter, Toxic Holocaust, Whiplash etc. On stage you can expect perfect storm from Bloodride!
BLOODRIDE are:
Jykä Leskinen: vocals
Esa Pennala: bass
Simo Partanen: guitar
Teemu Vähäkangas: guitar
Petteri Lammassaari: drums
BLOODRIDE Discography
Idiocracy - Album, Release date: 2021-09-17, Label: Great Dane Records
Planet Alcatraz - Album, Release date: 2016-11-25, Label: Inverse Records 
Bloodmachine - Album, Release date: 2014-03-14, Label: Violent Journey Records 
Crowned in Hell - Album, Release date: 2011-04-16, Label:  Violent Journey Records
Supreme Predator - Single, Release date: 2010-04
Bloodridden Disease EP, Release date: 2004
Photo by Jaakko Höykinpuro
More information at
BAND: www.bloodride.com | https://www.facebook.com/bloodride | https://www.instagram.com/bloodride666 | https://bloodride.bandcamp.com
MANAGEMENT: https://www.facebook.com/SplitScreenManagement | http://www.splitscreenproduction.com