New Single: Gravelle-Perinbam - Beyond the Cage of Silence - (Classic Rock/Prog Rock/Melodic Metal)
Release Date: Jan 21, 2023
FFO: Led Zeppelin, Queensrÿche, Rush
Location: Ottawa, Canada
About Beyond the Cage of Silence: Gravelle-Perinbam's latest single, "Beyond the Cage of Silence," is making waves in the music industry, captivating listeners with its powerful message and timeless sound. The long-awaited second part of the Trilogy of Silence brings together the creative genius of John Perinbam and Rob Gravelle, delivering a song that speaks to the human experience of overcoming obstacles and finding one's true voice.
The single boasts a classic rock sound with progressive elements, skillfully balancing musical complexity with approachability. The profound and relatable themes explored in the song, combined with its impressive musicality, create a compelling and memorable experience for music enthusiasts.
Beyond the Cage of Silence is not just a song; it is an anthem for anyone who yearns for the freedom to explore and experience the wonders of the world. It speaks to those who have felt trapped in their own thoughts and circumstances, longing for the opportunity to break free and embark on a journey of self-discovery. Through its evocative lyrics and captivating melodies, the song ignites a sense of wanderlust, urging listeners to venture beyond the confines of their comfort zones. It serves as a reminder that life is meant to be lived to the fullest, with each step taken on the open road leading to new adventures and profound personal growth.
About Gravelle-Perinbam: Gravelle-Perinbam is a Canadian recording duo whose musical style embraces elements of rock,  progressive, and metal. The duo is based in Ottawa and is comprised of producer / guitarist Rob Gravelle and producer / vocalist / multi-instrumentalist John Perinbam.
Gravelle and Perinbam also recorded the KNIGHTFALL CD with Annihilator's Jeff Waters in 2009 and have released several albums with their band Ivory Knight, which appeared in the Brave Words and Bloody Knuckles article "O Canada, Our Home and Metal Land! The List - Great White Metal A-Z;" in issue #92, among greats such as Rush, Saga, Voivod, Annihilator, Exciter, and Anvil!
The prodigious vocal and instrumental talents of the duo have helped their songs and videos garner tens of thousands of streams, downloads and views.
In recent years, Gravelle-Perinbam songs have been popping up on various music charts around the globe, including Viberate's Youtube Video Views in Metal in Canada and Soundcloud Plays in Metal in Canada, as well as Spotify's 360 Best of Indie Music Playlist. 
Check them out on YouTube and subscribe!
Follow them on Spotify and add them to your playlists!
Support them on bandcamp!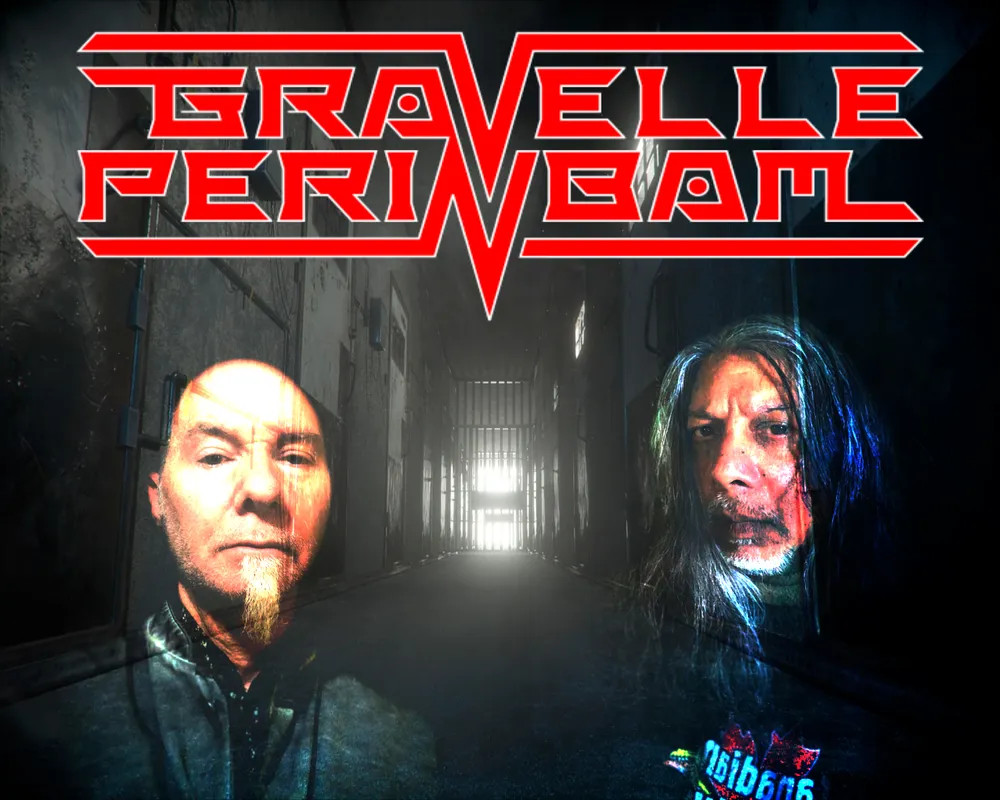 Follow the band at these links:
https://gravelleperinbam.com  
https://robgravelle.com
https://johnperinbam.com/
https://www.youtube.com/c/RobGravelle
https://www.facebook.com/gravelleperinbam
https://www.facebook.com/RobGravelleOfficial
https://robgravelle.bandcamp.com/
https://www.reverbnation.com/robgravelle
https://www.deezer.com/en/album/225835192 
https://open.spotify.com/artist/3TmSpHNiu10oPIk1UD5zBF
https://soundcloud.com/rob-gravelle-450614847/
https://music.apple.com/ca/album/beyond-the-cage-of-silence/1667359549?i=1667359550
https://www.amazon.com/Beyond-Cage-Silence-Gravelle-Perinbam/dp/B0BSVL4YPY