New Promo: SPILLAGE - Phase Four - (Feat. Bruce Franklin - Trouble) (Hard Rock / Doom Metal)
Release Date: September 8, 2023
FFO: Uriah Heep, Trouble, Deep Purple
Co- Produced By: Bruce Franklin - (Trouble)
Location: Chicago, USA
In 2013, SPILLAGE was born from a vision of guitarist Tony Spillman. Initially conceived as a musical "project", SPILLAGE developed into a solid riff-rock band, with its roots firmly planted in hard-rock, blues, jazz and other musical influences inherent in its members. SPILLAGE band members have known each other for the most part, since childhood playing in various bands in the Chicago suburbs for nearly 40 years. Tony Spillman had been touring with Earthen Grave for 5 years when Earthen Grave disbanded in 2013. Tony decided to fully focus on bringing his vision to life, creating SPILLAGE with drummer Chris Martins in April 2013. Drawing from songs written by Tony in his younger days, SPILLAGE released their debut album "Spillage" featuring Lothar Keller ( The Skull, Sacred Dawn ) on vocals, Nick Bozidarevic on guitar, Willie Max ( Mudfish ) on bass and featured guest musician Bruce Franklin (Trouble) on guitar and backing vocals on several tracks on the 2015 release. Paul Rau played keyboards on the album but did not tour with the band at that time.
Lothar and Willie left SPILLAGE in 2015 to pursue other musical projects, and Billy McGuffey who was friends with several band members, joined on bass.  SPILLAGE was scheduled to play the Maryland Doomfest in 2016, and through connected circles, Tony offered Elvin Rodriguez (a singer from the Philadelphia area) an opportunity to learn their songs and audition for the band. Elvin basically had his audition during the Doomfest, quickly learning their songs prior to taking the stage, and effortlessly performed to a thrilled audience! Needless to say, Elvin became the new singer for SPILLAGE and the band lineup remains unchanged. In January 2019, SPILLAGE released their 2nd album, "Blood of Angels", which was well-received worldwide.
As the world faced the COVID-19 pandemic in early 2020, SPILLAGE continued to forge ahead writing epic new songs for their 3rd album "Electric Exorcist" which showcased a more mature, developed, and collaborative songwriting process while continuing to develop their evolving SPILLAGE style. Despite their plans to tour in Europe being cancelled due to travel restrictions during the pandemic, SPILLAGE successfully released Electric Exorcist in late October 2021 and they hit the ground running, bringing their fun and energetic performances to fans locally at the end of 2021 and made appearances in several US festivals and shows during the summer of 2022. SPILLAGE recorded their performance during RIFF FEST in July 2022, and their new SPILLAGE Live! Digipak became available March 31, 2023 to appease fans until their 4th album is scheduled to be released on September 8, 2023 (CD/Digital formats, Vinyl in Nov 2023) in celebration of ten years of SPILLAGE! 
​SPILLAGE has weathered decades of changes in the music industry. Diligent, professional, and committed to bringing their unique style of music to their fans, SPILLAGE is a force to be reckoned with, earning accolades and increasing their fanbase worldwide! Blending complex keyboard melodies with tight dual-guitar harmonics, progressive bass lines complimenting heavy hitting drums that set a solid foundation for a distinctive vocal style has secured SPILLAGE in the realm of original, one-of-a-kind music category that defies explanation. The creative and respected bond that the members of SPILLAGE share, catapults them into a level of musical fellowship envied by most, but maintained by few. SPILLAGE fans know, you just can't stop listening to their music, their catchy riffs and meaningful lyrics will stand the test of time as music that offers something for everyone! 
The new album ' Phase Four ' was co produced by Bruce Franklin from the band Trouble and also features Bruce on backing vocals for the track ' Nothing To See '! 
Check them out on YouTube and subscribe!
Check out this live video of them performing last years Tennessee Metal Devastation Music Fest!
Check them out on Bandcamp and support!
Follow them on Spotify and add them to your playlists!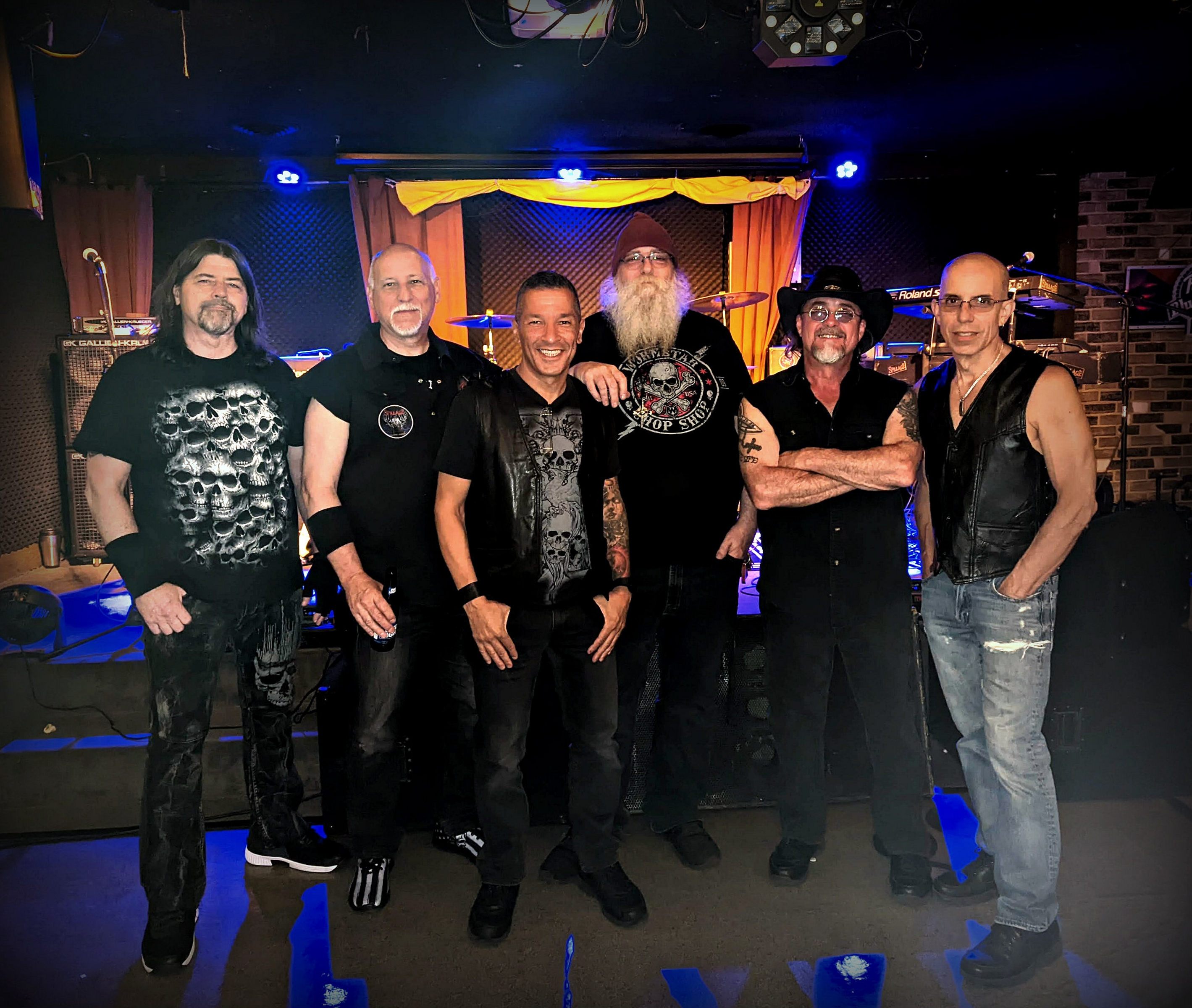 Follow the band at these links:
https://www.facebook.com/spillagerocks
https://spillage.bandcamp.com/
https://www.youtube.com/@spillagerocks2290
https://spillage-online.com/