Carbon County - Self Titled - Reviewed By Metal Digest ! Check it out here at this link: https://metal-digest.com/2023/04/15/carbon-county-carbon-county/
A first listen through this debut is a somewhat unsettling affair. Every song feels destined to find a roll filling a niche somewhere, and where that niche exists differs song to song. Covering everything from big-screen psychedelic pop bombast to frenetic shoutalonga-Punk anthems by way of Texas Boogie and even rounding out with an electronic backed Pop ballad in just 8 tracks in under 25 minutes makes this a real curate's egg of a record. 
The trio of Carbonite, Torque, and Tommy Soho (I'm all for silly non de plumes – to a point) give the solid foundation of decent musicianship and canny song writing to guide the listener through what would otherwise be a dog's breakfast of confusing, directionless tat. "When I Fly" has the whole Pond/Claypool Lennon Delirium/King Gizzard Psychedelia thing done and boxed off in just over three rather glorious minutes. Then it's straight into Billy Idol/Sigue Sigue Sputnik mildly chaotic Punk with the super sharp and catchy "Panic" (featured in the soundtrack to the film "Millennium Bugs"). Obviously, the next track "Welcome to Nowhere" is such a pure UK Indie/Jangle from the turn of the 90's; it is almost jarring when Miles Hunt doesn't pop up on vocals. 

Elsewhere tropes and stylistic hints of everything from pop/punk to lounge jazz abound; it certainly needs a few listens to get the most out of this one. It does have the slight disadvantage of starting with the two strongest songs first. There is nothing wrong with the rest of the album, but it does slide after a strong start. Metal Digest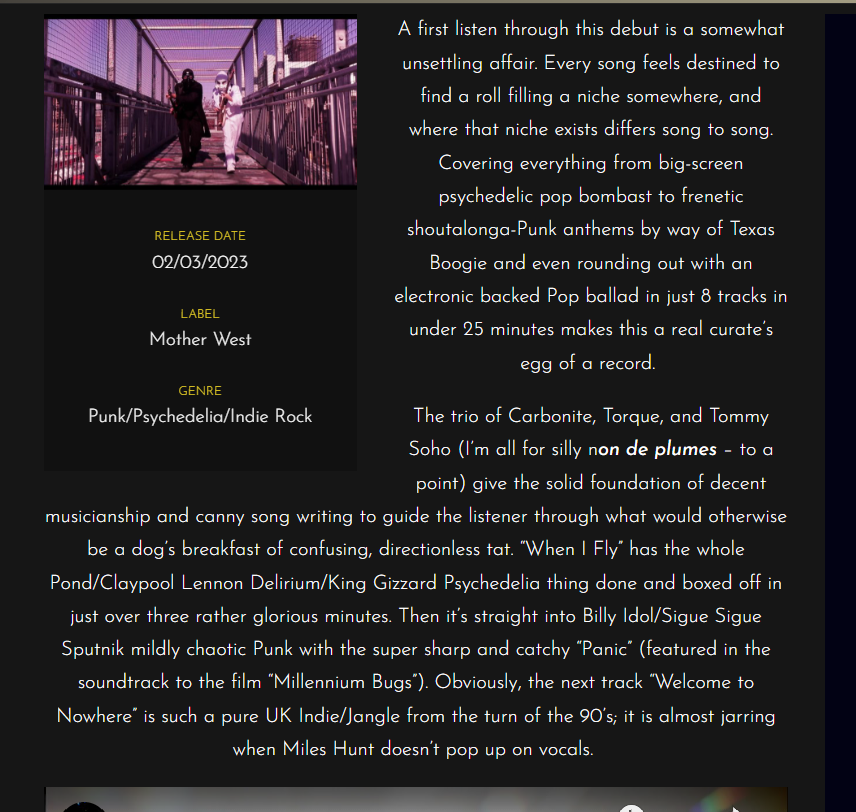 Release Date: 2/3/23
FFO: Kyuss, Monster Magnet, ACDC
Location:  Gotham
Short Bio: Tear it all down with thunderous drums, blow it all up with shotgun guitars and point the megaphone!
Follow the band on Spotify and add them to your playlists!
Follow the band at these links:
https://www.facebook.com/carboncountyrock/ 
https://www.instagram.com/carboncountyrock/
https://open.spotify.com/album/5SZtGhLrSLCgwzrwR7po5c