Savage Existence - Savage Existence - Reviewed By Metal Digest ! Check it out here at this link: https://metal-digest.com/2023/04/29/savage-existence-savage-existence/
    The Latin American underground metal scene is as alive and well as a jaguar that stalks its prey in the night. These countries are showing time and again that they are arguably some of the best apex predators of the scene. One of the behemoths of the San José underground are Savage Existence who are back with their self-titled sophomore album.
                As an album 'Savage Existence' takes its cues from thrash metal, but this isn't your big-name thrash sanitised by a clean production, it takes a heavier, dirtier assault. Therefore, 'Savage Existence' embraces groove metal as one of its main prongs of attack whilst leaning on elements of death metal and metalcore too. Through tracks such as 'Matricide', 'Enigma' and 'Steady Blows to the Head', Savage Existence show that this band have all the guile of Sepultura and Incendiary, but also the pure groove assault of Pantera, Soulfly and Machine Head, particularly the former with a bass drum drive that would have made Vinnie Paul nod with appreciation. Furthermore, vocalist Anton Darusso stomps about the stage like Phil Anselmo in his prime, in fact, Darusso does a better job than Anselmo these days.

                'Savage Existence' is a good album of groove and whilst it may not set the world on fire, it certainly drags the waters of what a groove metal album should do, and you know what… it does it well. Metal Digest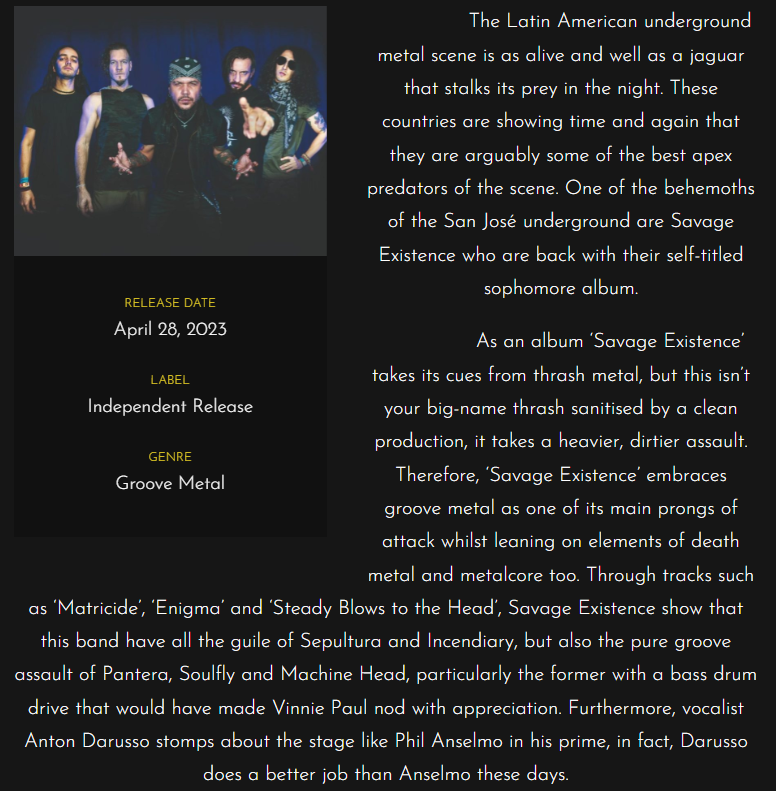 Release Date: April 28th, 2023
FFO: Sepultura, Pantera, Incindinary
Location: Santa Ana, Costa Rica
Short Bio: Savage Existence is the extreme groove/death metal band created in Costa Rica by Daniel Cleland (guitars) and Jesse Radford (drums), both entrepreneurs from Canada, and experienced vocalist, producer and songwriter Anton Darusso (Wings of Destiny, Oxidize from Sweden, Magic Opera from Italy). They are joined by Daniel Ramos Castro (bass) and Andres Castro (guitars).  "ANIMALS" was produced and recorded by Logan Mader (Once Human, ex-Machine Head, ex-Soulfly). Savage Existence is inspired by old school metal, taking it to another level with blasting riffs, unconventional song writing, insane vocals, and an overall wall of heavy sound.
Check out these videos!
Follow them on Spotify and add them to your playlists!
Also available on Apple!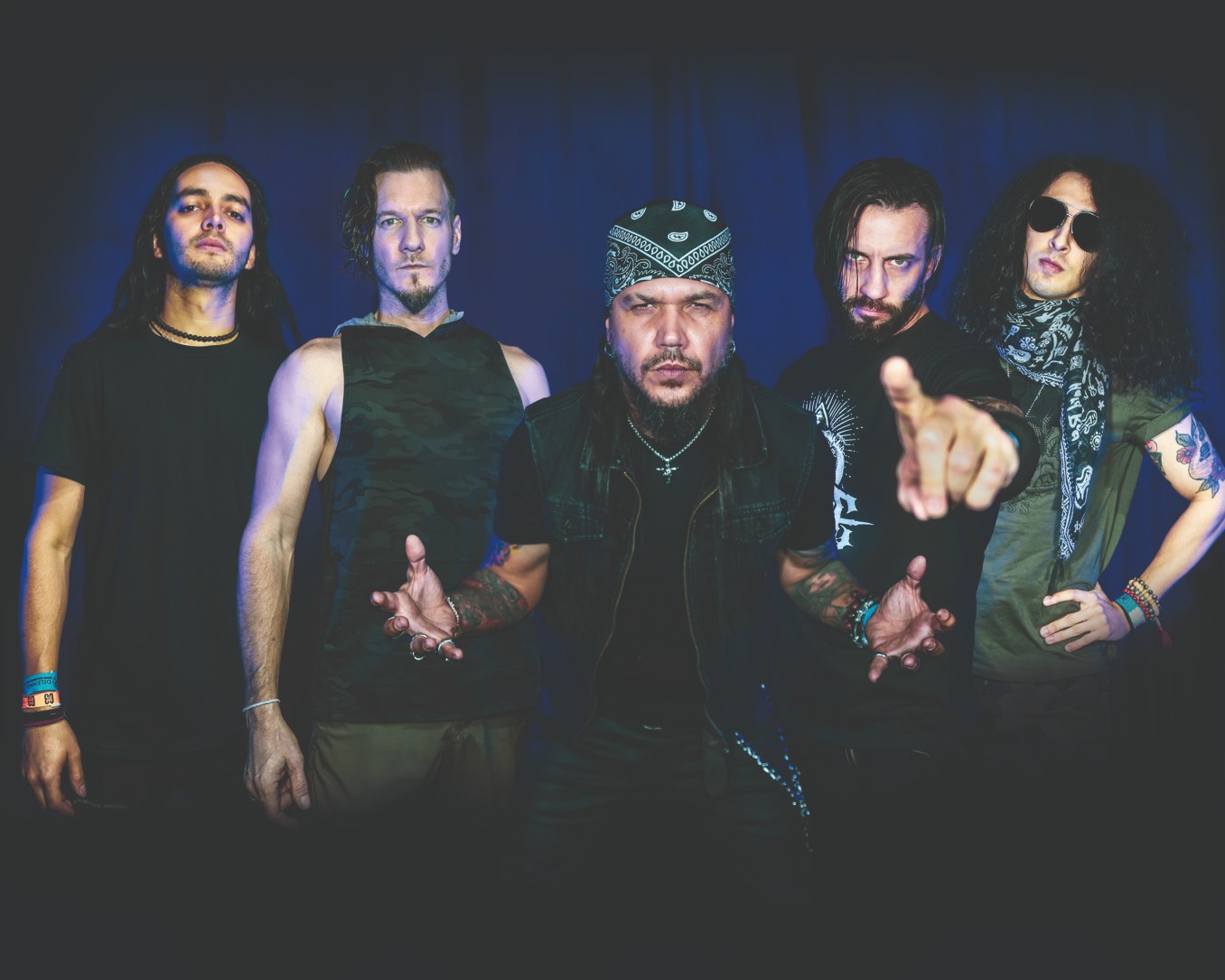 2023 is shaping up to be a very busy year for Savage Existence, as they will be touring Europe with Ross the Boss from April-May (on the 'Kings of Metal 35th Anniversary' tour), and will be issuing their self-titled LP on April 28th (recorded by Logan Mader). 
 
"Savage Existence is extremely excited to be going on tour in Europe with a band as widely respected and accomplished as Ross the Boss," says the band. "It's an honor to be sharing music with our fans in Europe and we can't wait to see you guys in the mosh pit!"
Savage Existence Tour Dates for ROSS THE BOSS (on 'Kings of Metal 35th Anniversary' tour) in Europe: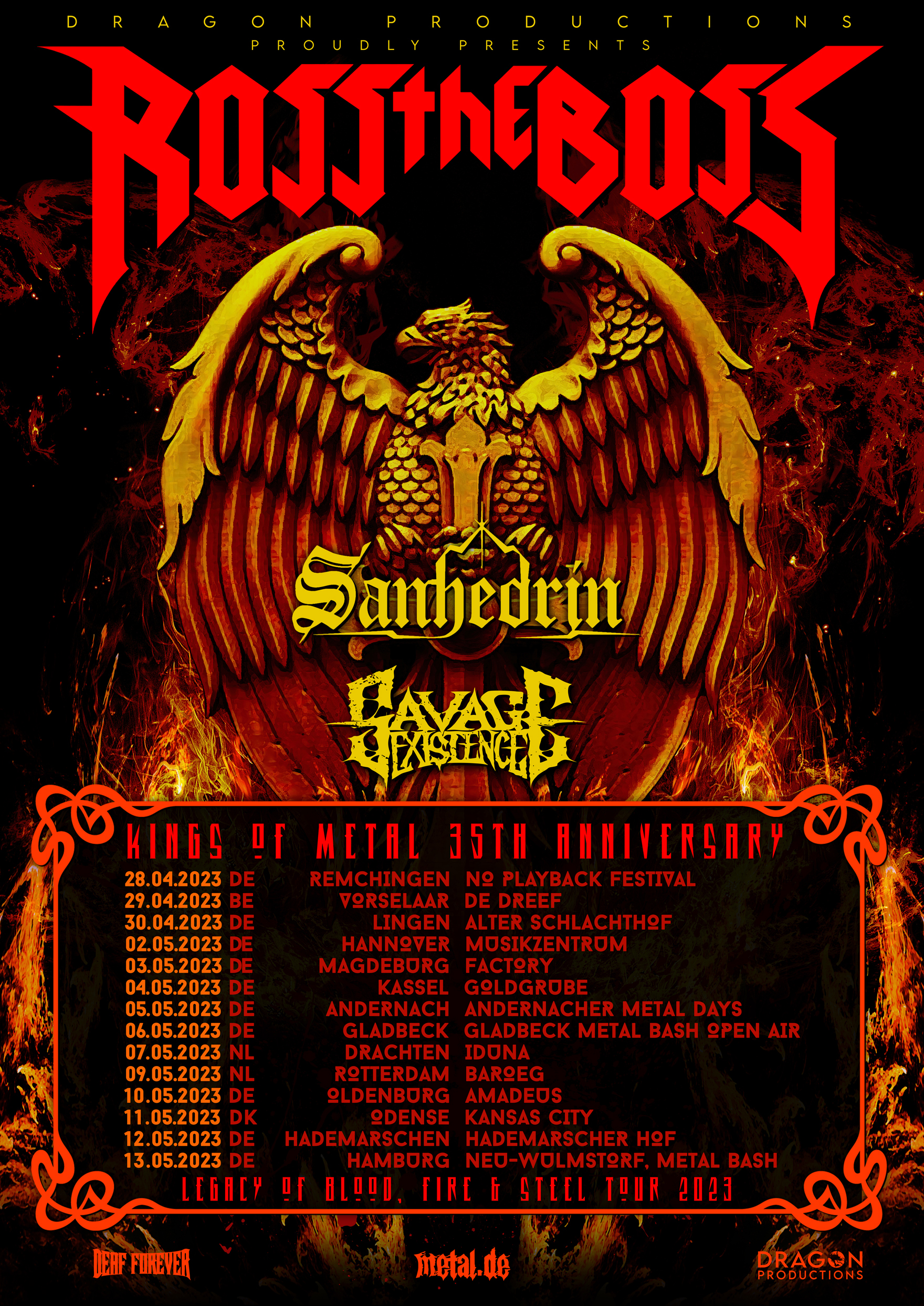 April
 
28 DE - Remchingen, No Playback Festival
29 BE - Vorselaar, De Dreef 
30 DE - Lingen, Alter Schlachthof
 
May
 
02 DE - Hannover, Musikzentrum
03 DE - Magdeburg, Factory
04 DE - Kassel, Goldgrube
05 DE - Andernach, Andernacher Metal Days
06 DE - Gladbeck, Gladbeck Metal Bash Open Air
07 NL - Drachten, Iduna
09 NL - Rotterdam, Baroeg
10 DE - Oldenburg, Amadeus
11 DK - Odense, Kansas City
12 DE - Hademarschen, Hademarscher Hof
13 DE - Hamburg Neu-Wulmstorf, Metal Bash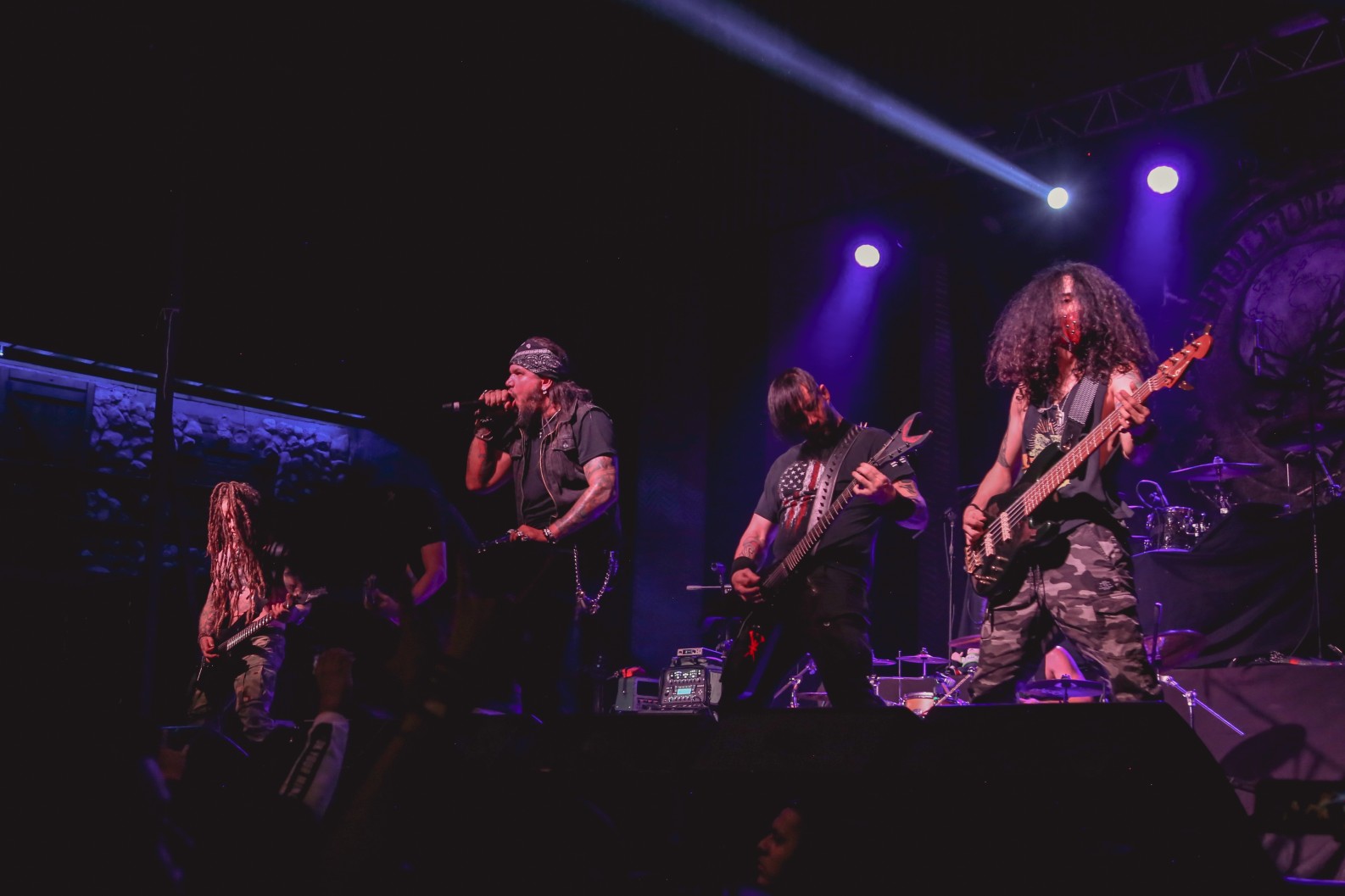 Follow the band at these links:
https://www.instagram.com/savageexistenceofficial/
https://open.spotify.com/artist/5lYpdXpc0hJoXXMac4VUok
https://music.apple.com/us/artist/savage-existence/1589812996
https://savageexistence.com/
https://www.facebook.com/savageexistenceofficial
https://www.youtube.com/channel/UC0257uSuVEVnspaisYy61aA