Lawrence Wallace - Life Force - Reviewed By Metal Digest ! Check it out here at this link: https://metal-digest.com/2023/05/08/lawrence-wallace-life-force-ep/
Philadelphia native Lawrence Wallace is both prolific and immensely talented. His latest offering, 'Life Force,' is a four-song EP that continues his brand of dazzling six-string wizardry. Filled with beefy rhythms and brilliant melodies/counter melodies all falling effortlessly into place, 'Life Force' shows Wallace's dedication to the craft. However, unless a compelling emotional component exists, the zip and whip-shred albums will generally be relegated to a niche audience. While technically perfect, 'Life Force' lacks that human touch. Maybe it's just me, but it reminds me of a lofty political speech. Lots of eloquent words and phrasing that sound great but ultimately don't say a hell of a lot. It does, however (like said lofty speech), spark a million ideas.
Of exception is "Spirit World," a darker, subdued piece that, at first listen, is merely a moody arpeggiated excursion. But to me, the intangibles are the brighter light here. Call it audiophile intuition, but between this and the over-the-top nature of the other tracks, 'Life Force' could be the launching pad for something exceptional.

The talent is clearly there, but heart it doth lack. When the correct elements mesh, Wallace may just be opening for a well-known axe slinger, and that person will be given a serious run for their money. For now, I'll keep this on my radar. Metal Digest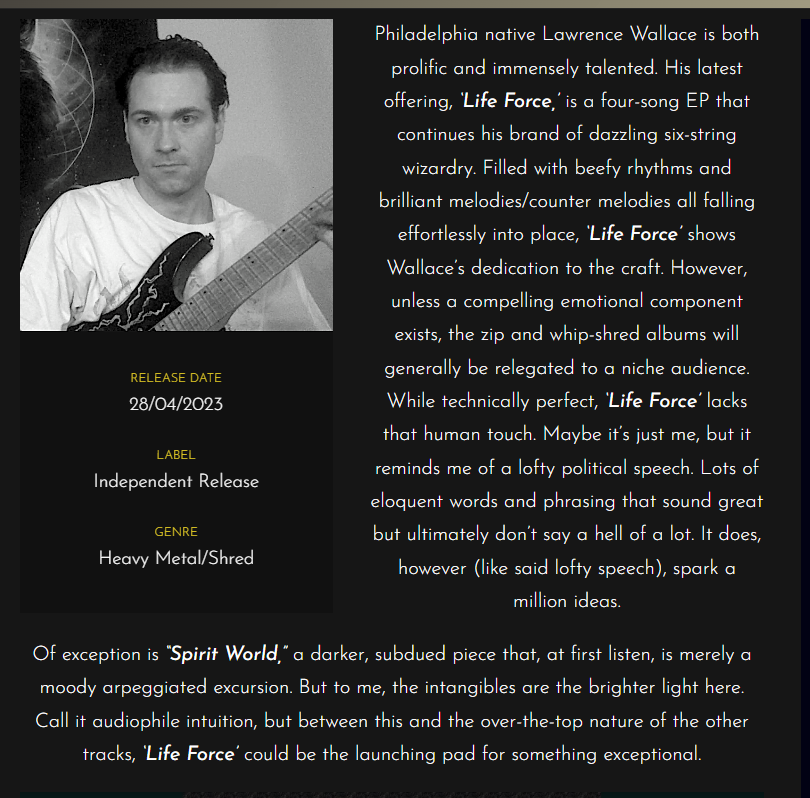 Release Date: April 28th
FFO: Yngwie Malmsteen, Jason Becker, Paul Gilbert
Location: Philadelphia PA USA
Lawrence Wallace is amongst the most jaw-dropping guitarists in modern music.  One of the last true devotees to the art of shredding, his muscular riffs, expert harmonies, and dizzying solos are beginning to attract a legion of devoted fans.  It is his intricate sense of melody, however, that sets him apart from the crowd.  His compositions have a rare cross-over appeal, making him a thrilling new voice in instrumental music.
Born in Philadelphia, Lawrence burst onto the scene with the 2020 EP 'Visions of Another World,' which he quickly followed up with the full length 'Journey Through Time.'  These established the interstellar arrangements that would come to define his sound.  Over the next several years, he built up an incredible discography, showcasing his versatility but always staying true to pure shredding glory.
With his latest releases, Lawrence is entering into bold new territory.  His style is beginning to garner acclaim, praised for its "wrist-breaking, finger-twisting action" (Metal Bulletin).  Make no mistake, this is a guitarist whose virtuosity will inspire awe for years to come.
Follow them on Spotify and add them to your playlists!
Support them on Bandcamp!
https://lawrencewallaceband.bandcamp.com/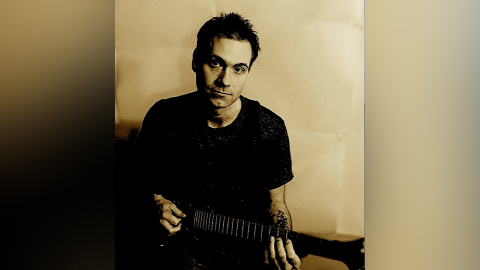 Follow the band at these links:
https://www.facebook.com/profile.php?id=100063498159472
https://www.instagram.com/lawrencewallace1984/ 
https://lawrencewallaceband.bandcamp.com/ 
https://open.spotify.com/artist/41c5z3mSwHwkja9Sooerxi 
Email: moonlightprophet@gmail.com