CEMR MetalFest (Edmonton, AB) Announces 2023 Lineup w/ Display of Decay, Votov, Whorrify, Immortal Possession, Death Perception, TYMO and more!
CEMR 2023 Festival Spotify Playlist -   https://spoti.fi/3Lr5XDX ​
CEMR MetalFest   announces its return in 2023 since being postponed during the Covid Pandemic. This year's lineup is being hosted in Edmonton, Alberta from September 1st to 3rd at Rendez Vous Pub. The lineup includes headliners   Display of Decay, Votov, and Whorrify   among many more from the Canadian West Coast. (full lineup below).
Highlights of the festival's lineup include Friday night headliners and hometown death metal heroes   Display of Decay , who will be supporting their latest album "Art In Mutilation" (2018) ( Gore House Productions ), along with delighting and punishing the audience with an onslaught of new blast beats and evil gutturals from their yet to be titled forthcoming sixth studio offering. They will be supported that same night by Winnipeg old-school death metallers   Immortal Possession , who are making a rare performance since first forming in 1989. They will be supporting their latest album and first new extreme music in 20 years, "The Resurrectionist" released in 2022 via CDN Records. Headlining the Saturday night is   Votov , also hailing from Winnipeg with their OSDM layered with thrash undertones and primal grooves. Headlining the closing night on Sunday is one of the must-see acts from Calgary, mosh pit tyrants   Whorrify,   named by MetalSucks as one of Canada's grinding bands to check out   "Their songs are vile-filled but earnest and the performances are sweat-filled and cathartic."   and praised by Absolute Underground,   "They have brutal songs that get the pit going which are catchy enough to not be just a bunch of noise, making for memorable live shows.".
In addition to the headliners, local Edmonton thrashers   TYMO   are another band not to miss, who will be supporting their latest album   "Art of The Maniac"   named   "one of the best thrash releases of the month (February)!"   by Metal Hammer Germany and reveled by Worship Metal as one of The 5 Greatest Canadian Thrash Albums of 2022,   "In the mood for a good ol' fashioned thrashing? Feeling the need for speed? Is it party time? If the answer to any (or all) of the above is/was a resounding "fuck yes!" then Tymo's The Art Of A Maniac was the thrash album for you… Relentless and, most importantly FUN, Tymo's clean, crisp lethal riffage and Tim Tymo's feral barks combined to create a detailed thrash canvas liberally sprayed with blood, sweat, tears, and beers….Bob Ross would approve (probably)."
And trekking all the way from Hamilton, ON,   Death Perception   making their first appearance in Western Canada to support their blisteringly fast 2021 album   "Ashes"   (WormHoleDeath Records).
Ticket Info: ​
Early Bird Weekend Passes are available at $60.00 until June 15th
_______
1 Day: $ 25.00
2-Day Passes : $ 45.00
Weekend Passes After June 15th: $70.00
Tickets are available online on Eventbrite along with physical available for purchase at Rendezvous Pub in Edmonton, AB.
Event info -   https://www.facebook.com/ events/s/cemr-metalfest-iii/ 1351904695594695/ ​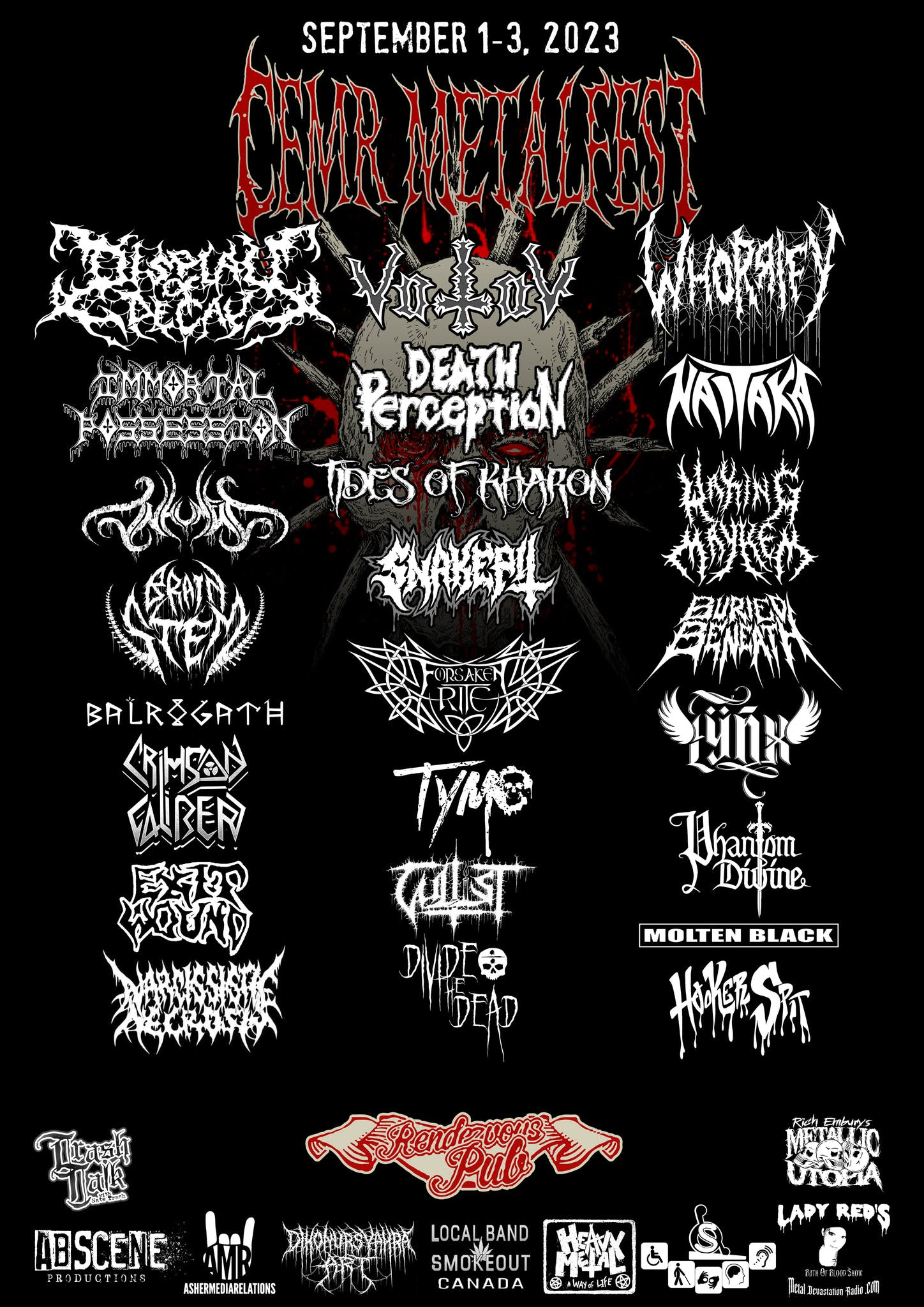 CEMR MetalFest 2023 Lineup:
*Friday September 1st* ​
Narcissistic Necrosis - Calgary, AB
Exit Wound - Calgary, AB
Crimson Caliber - Medicine Hat, AB
Balrogath - Calgary, AB
Brain Stem - Edmonton, AB
Inhumed - Winnipeg, MB
Immortal Possession - Winnipeg, MB
Display Of Decay (Headliner) - Edmonton, AB
​
​ *Saturday September 2nd* ​
Divide The Dead - Red Deer, AB
Cultist - Calgary, AB
Tymo - Edmonton, AB
Forsaken Rite - Edmonton, AB
Snakepit - Calgary, AB
Tides Of Kharon - Edmonton, AB
Death Perception - Hamilton, ON
Votov (Headliner) - Winnipeg, MB
​
​ *Sunday September 3rd * ​
Hooker Spit - Red Deer, AB
Molten Black - Calgary, AB
Phantom Divine - Red Deer, AB
Lynx - Calgary, AB
Buried Beneath - Edmonton, AB
Waking Mayhem - Edmonton, AB
Naitaka - Kelowna, BC
Whorrify (Headliner) - Calgary, AB
Sponsors:
​ Spectra Alternative Solutions
Heavy Metal A Way Of Life
Asher Media Relations
Lady Red's Bath Of Blood c/o Metal Devastation Radio
Rich Embury 's METALLIC UTOPIA
Custom Artwork by Diko Nursyahra
Trash Talk w/Nate Trash
Abscene Productions
Local Band Smokeout Canada
For more info:   Cemrmetalfest3.com   |   Facebook.com/cemronline   |   Instagram.com/cemrmetalfest