We are SO excited to announce that Summoner's Circle will be returning to the Tennessee Metal Devastation Music Fest this year! They have been busy doing amazing things since they performed at the fest last October. They recently returned from a European tour, have been touring the US, and recently signed with Black Lion Records out of Sweden. We are honored to have them back! If you missed seeing them last year, be sure to catch them this time around!! You do NOT want to miss their amazing LIVE theatrical performance! Join us for a trip into the Worm Tunnel! \m/
"Summoner's Circle is a six-piece theatrical metal band that blends elements of doom, death, black and progressive metal into what they refer to as simply Epic Metal.
For the band, every song is an incantation, every live performance is a Summoning, and everything they do is tied intrinsically to the mythology, or lore, they have created. The lore tells the story of the band's origins, battles of divine conquest, and showcases their creativity and vision, which sets the stage for a very entertaining live performance where bigger is better, and Epic is always the standard."
They have shared the stage with bands such as Children Of Bodom, Swallow the Sun, Wolfheart, The Convalescence, Pentagram (official), HATEOFFICIAL, Batushka, Hideous Divinity, NunSlaughter, The Black Moriah, Casket Robbery , and many more.
They have been added to the fest Spotify playlist below, so be sure to like the playlist on Spotify to not only support these amazing bands, but to also become familiar with the bands prior to the show.
GRAB TICKETS HERE!
https://www.eventbrite.com/e/tennessee-metal-devastation-music-fest-2023-tickets-542779246337
Follow the playlist here!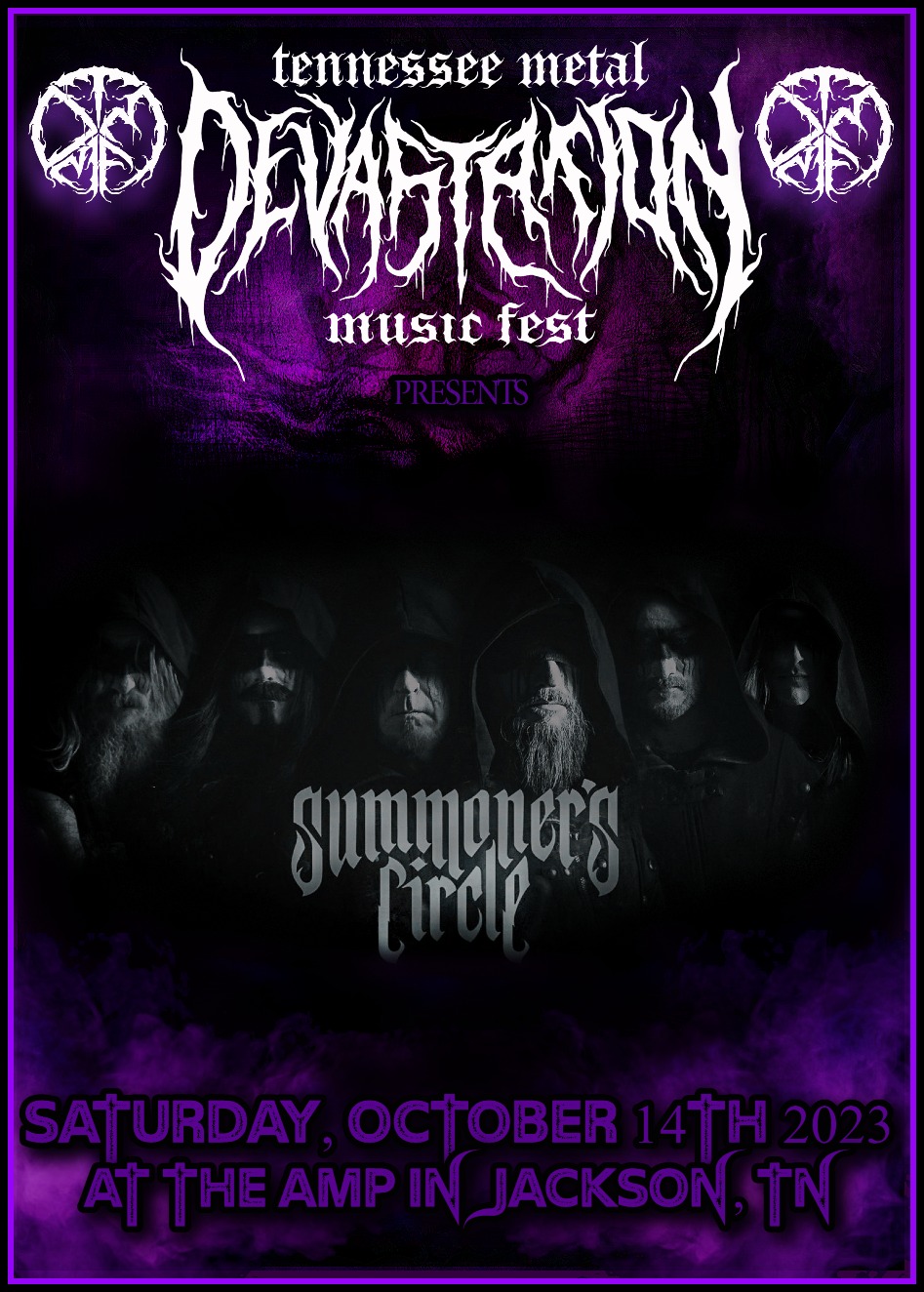 Check out this video from last years performance at Tennessee Metal Devastation Music Fest 2022!
Follow the band at these links:
https://www.summonerscircle.com/
https://www.facebook.com/summonerscircle
https://twitter.com/summoners13
https://www.instagram.com/summonerscircle/
https://linktr.ee/SummonersCircle
https://music.apple.com/us/artist/summoners-circle/1074087942
https://open.spotify.com/artist/2BpJrW0RgXSQgDwv9VbU4J