Immortal Possession - The Resurrectionist - Reviewed By allaroundmetal ! Check it out here at this link: https://allaroundmetal.com/component/content/article/26-releases/10168-trentatr%C3%A9-anni-dopo-la-loro-formazione,-arrivano-al-primo-album-i-canadesi-immortal-possession
Released last December on CDN Records, "The Resurrectionist" is the first full-length by Canadian Immortal Possession; the Winnipeg band is first active between the end of the 80s and the first half of the 90s, a period in which it releases four demos before disbanding in 1995. They then return to activity in 2020. At the end of last year it can be said the definitive turning point for the Canadian quartet's career has finally arrived: this first long-distance work of theirs projects us into an anti-Catholic and blasphemous world, all in an old school US Death Metal sauce. And this should be enough to show how Deicide are an important influence on Immortal Possession's sound, especially - needless to say - those of "Deicide", "Legion" and "Once upon the Cross". But at the same time other old names of the American school "have a hand" in our proposal: Morbid Angel and Death - both early works -, Hate Eternal, Gruesome, Incantation... In short, if you are looking for originality at all the costs this is definitely the wrong address: granite chitarroni that pour on the listener a cascade of riffs, excruciating solos, a rhythmic section that perhaps dares a little less than one would expect, but in which the bass of John Duke (Votov), which pulsates from the first to the last second. For sure there is also that Immortal Possession also know how to play with rather sinister atmospheres, thanks above all to the violin parts played by Erin "Helvii" Welsh ("Mass Murder", "Delicacy of Disease"... the latter a of the best tracks of the whole album). Then there is a piece which the undersigned is particularly fond of, mostly due to the title due to having been one of the masterminds behind the Evolution Club: I am speaking obviously of "Evilution", which being among other things the most long of the album is the one in which you can mostly find all the elements that make up the Canadian band's sound. In general, however, "The Resurrectionist" is a solid work, which can boast, among other things, several guests to take care of the guitar solos (and among these Tim Roth of Into Eternity certainly stands out). And it's a disc that we definitely recommend to fans of that early 90's American Death Metal: in this case, satisfaction guaranteed! allaroundmetal

Release Date: December 9th, 2022
FFO: Morbid Angel, Death, Deicide
Location: Winnipeg, Manitoba, Canada
Immortal Possession is an old school Death Metal band based out of the murder capital of Canada (Winnipeg, Manitoba). Founded in 1989,they are renowned for their incredibly tight and bestial live performances. These OG's of the Canadian Death Metal scene blazed the trail alongside bands like Kataklysm and Cryptopsy. They independently released three demos in their active years between 1990 and 1998 (Grave News From the Other Side/1991, Delicacy of Disease/1992 and Mass Murder/1994), attaining international acclaim through underground tape trading and fanzines.
The band reunited a few times over the years (2001, 2006 and 2016) remaining inactive until recently,when there was interest from multiple labels to reissue their recordings. Chuck Labossiere and John Duke (IP's original members) had no interest in this venture, as they felt the sound quality and the performances didn't do the songs justice. After being approached to reunite IP for Manitoba Metalfest 2020, they enlisted VOTOV drummer Derrick Kroll and decided to record the Immortal Possession catalogue the way it was meant to be represented and signed to CDN Records.in 2021..Originally a four piece, theyrecruited longtime friend Lee Arnone (Headcramp) as a secondary guitar player to complete the line-up. "The Resurrectionist" is the result of 30 plus years of OSDM fury, ready to be unleashed worldwide by CDN Records on December 9th/2022!
Lineup:
Chuck Labossiere - Guitar/Vocals
John Duke - Bass Guitar
Derrick Kroll - Drums
Lee Arnone - Guitar
Check out this video!
Add them to your collection on Bandcamp!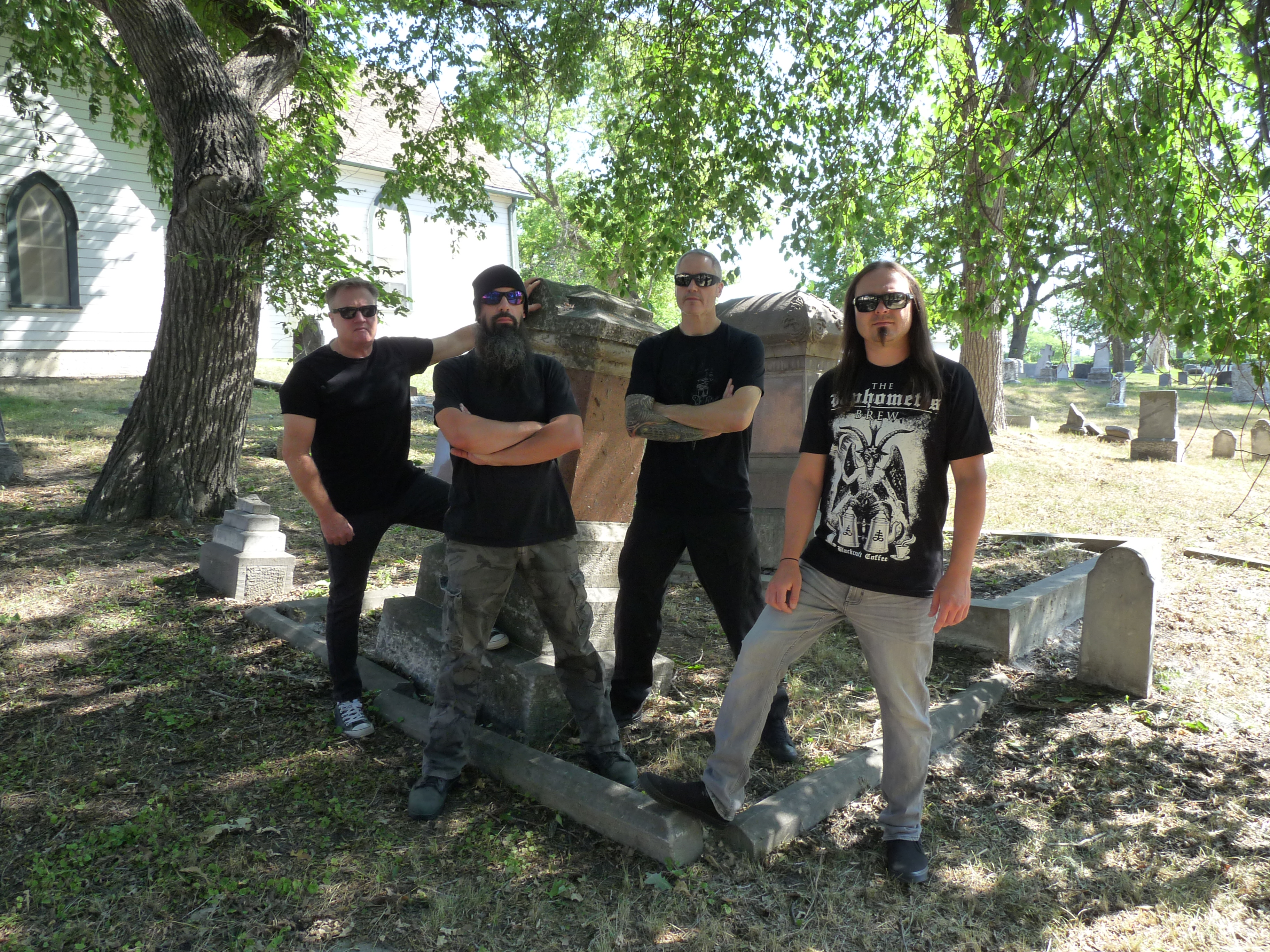 Follow the band at these links:
https://www.facebook.com/ImmortalP666
https://www.youtube.com/channel/UC5kTsr3nZnDd0cMGYKl-f_Q
https://cdnrecords.com/shop/immortal-possession-the-resurrectionist/