Malo De Dentro - Follow Me - Reviewed By Metal Digest ! Check it out here at this link: https://metal-digest.com/2023/01/17/malo-de-dentro-follow-me/
    In the modern era of heavy metal, it isn't always easy to stuff a band neatly into a pigeonhole. There are so many subgenres of metal, different sights, smells and sounds which come together in a melting pot that at times it is difficult to categorise what specific sound a band plays. This rule can be applied to Malo de Dentro (MdD) and although 2020 briefly saw the end of the band, the Phoenix band (how apt) are back with latest album 'Follow Me'.
                With 'Follow Me', MtD show that they have been fired up. The pandemic may have nearly killed them, but this is the sound of a band in a second wind. Taking an undercurrent of old-school thrash metal and combining it with those big, anthemic qualities of modern heavy metal 'Follow Me' isn't afraid to go out on a limb as it dances through a modicum of different sounds to get its point across. This is an album which takes thrash, groove, hardcore, and metalcore under its belt as it melds thrashing rhythms with clean vocals and soaring vocals. Therefore, tracks such as 'Chokehold', 'Shed My Skin' and 'The Awful Truth' have the appeal of not only Anthrax and Pantera, but any fan of the likes of Bullet for My Valentine, Trivium and Avenged Sevenfold will find something to bang their head to.
                However, at 12 tracks at just over 50 minutes, 'Follow Me' can be a little forgettable at times as it struggles to find an identity and some tracks such as 'GFY' are quite childlike and are better skipped. Yet, there is a raw, DIY feel to 'Follow Me' and this can be rather endearing from MdD and if you take it at face value, you are guaranteed to have a good time. Metal Digest

Release Date: January 13th, 2023
FFO: Anthrax, Alter Bridge, Avenged Sevenfold
Location: Phoenix, Arizona, USA
Since its founding in 2005 by drummer Malo Sixkiller, this talented group of musicians has been thrashing through song after song with the same heightened intensity, palpable excitement, and expert showmanship that has made them a staple in the local Phoenix music scene over the past 17 years. In that time, the band has seen a variety of members and styles, but has always stayed true to their heavy metal roots. At no time has that been truer than now, with the release of their highly anticipated full length 2023 album Follow Me, which includes the singles Chokehold and GFY. The current material combines groove metal and thrash, with clean, melodic vocals and soaring harmonies, while rattling the bones of their fans and keeping their heads banging.
The pandemic of 2020 almost saw the end of Malo De Dentro, but 2023 sees them back with a vengeance and tremendous new music! With the thundering rhythms of Malo Sixkiller, the rumbling low end of Cris Ridenour, and the heavy guitars and powerful vocals of Stone Martin, Malo De Dentro continues to tear up the southwest United States and beyond!
Check out this video!
Follow them on Spotify!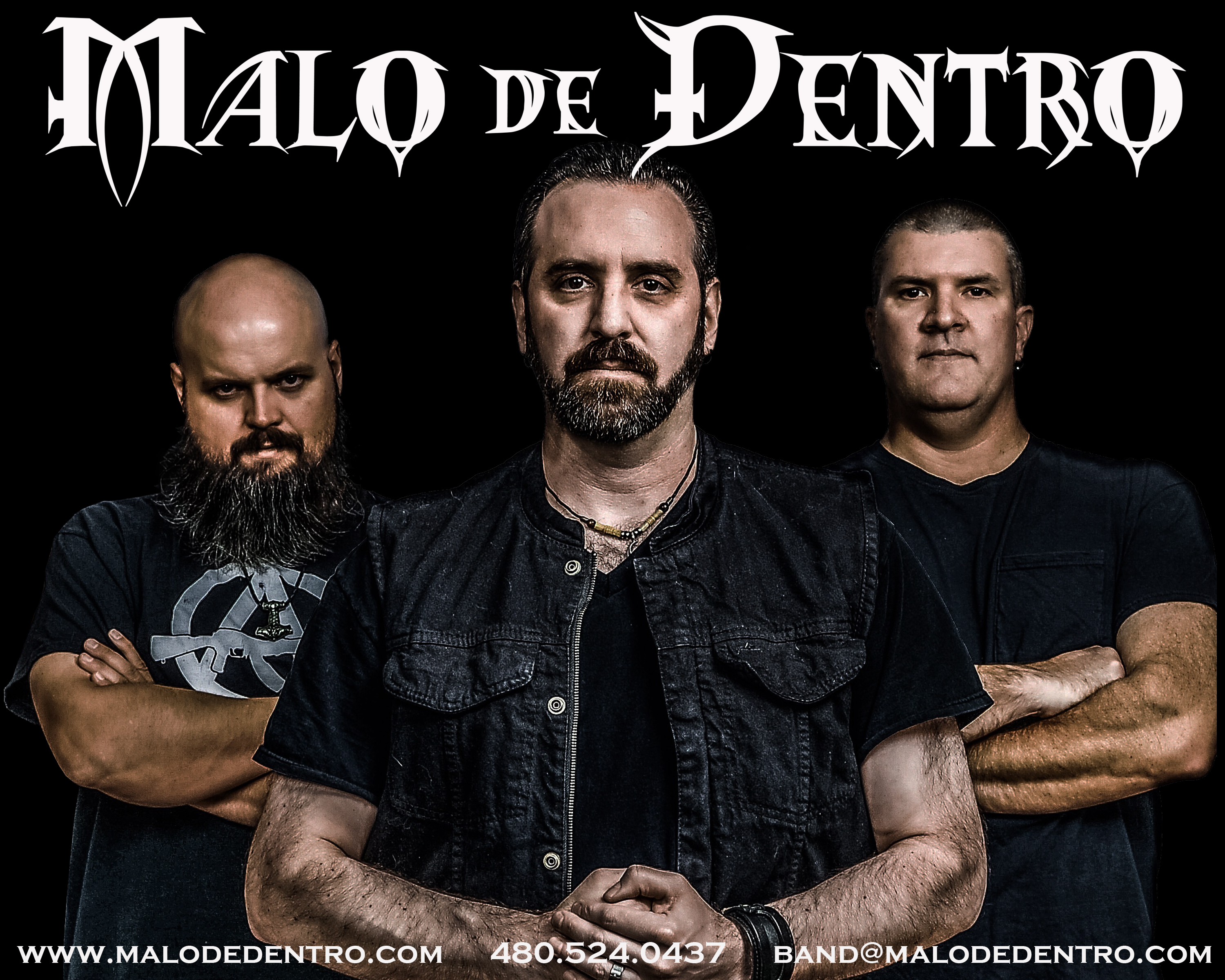 Follow the band at these links:
www.malodedentro.com
https://facebook.com/malodedentro
https://instagram.com/malodedentro
https://twitter.com/malodedentro
https://www.youtube.com/channel/UCm3e3MCMKToFbko19AIT3KA
https://open.spotify.com/artist/0JXOVnk3kmMuvsa3zNCN2g
https://www.pandora.com/malo-de-dentro
https://malodedentro.bandcamp.com/
https://itunes.apple.com/us/artist/326660709
https://music.amazon.com/artists/B002HRWD3G/malo-de-dentro