Midwest Metal Promotions is excited to announce the full details for Midwest DeathFest 2023! Our line up is heavier than ever before and we have even partnered with Zymurgy Brewing Company to do a pre-party in Menominee, WI, the day before! 
Our main Event will be held on Saturday, June 24th at The Minnesota Music Cafe in Saint Paul at 5pm. More details to come!
More info here! https://www.facebook.com/events/628670529020143/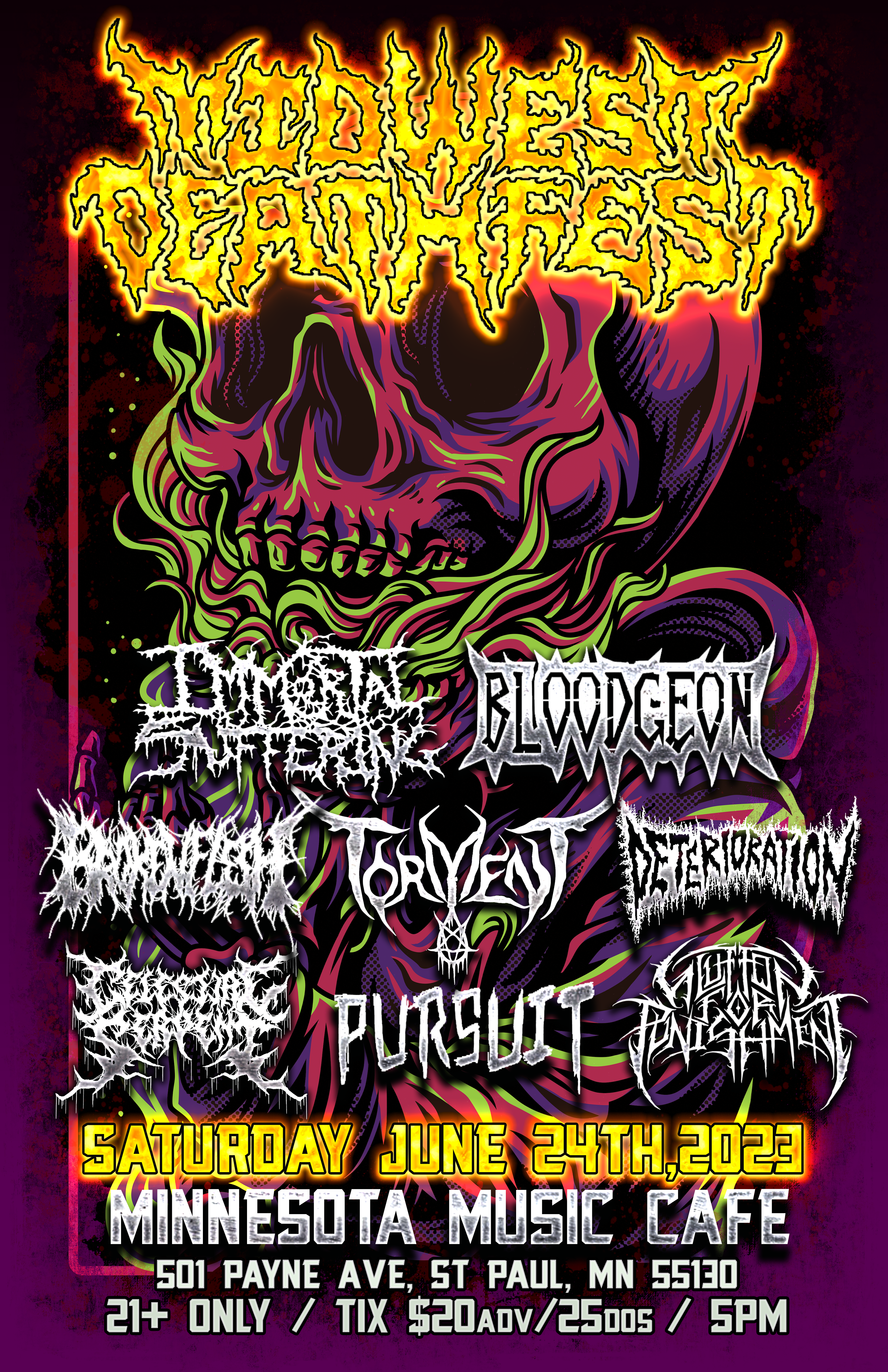 Our line up includes acts from across the United States, meshing together everything from death metal, grind, thrash, and slam! 
Midwest DeathFest 2023 Line Up
Celestial Serpent - Chicago, IL
www.facebook.com/Celestialserpentband
Pursuit - Fargo, ND
https://www.facebook.com/Pursuitfargo
Glutton for Punishment - Minneapolis, MN
www.facebook.com/gforpunishment
Broken Flesh - Oklahoma City, OK
https://www.facebook.com/brokenflesh
Torment - Duluth, MN
www.facebook.com/tormentMNband
Deterioration - Minneapolis, MN
www.facebook.com/deterioration
Bloodgeon - Minneapolis, MN
https://linktr.ee/bloodgeon
Immortal Suffering - New York City, NY
www.facebook.com/immortalsufferingofficial
Here are the details on the pre-fest bash!
"Zymurgy Brewing Company is partnering with Midwest Metal Promotions to bring the first ever, 'Road to Midwest Deathfest' event on June 23rd.  Featuring five killer Midwest metal bands, some playing both events.  Headlined by thrashers, Bleed the Victim from Kansas, whom promoter Dustyn Dubuque had seen at Full Terror Assault and immediately decided he must book them for a future show. Joining Bleed the Victim will be Midwest Deathfest bands Pursuit, Deterioration and Bloodgeon along with Wisconsin's own groove/thrash band, Bray Road. Along with the great music comes great beer and a good time at the brewery, Zymurgy is all about having fun and listening to metal!  
Zymurgy Brewing is ecstatic to be working with such a great crew at Midwest Deathfest and are excited to play a part in helping grow this spectacular event for the Minnesota area."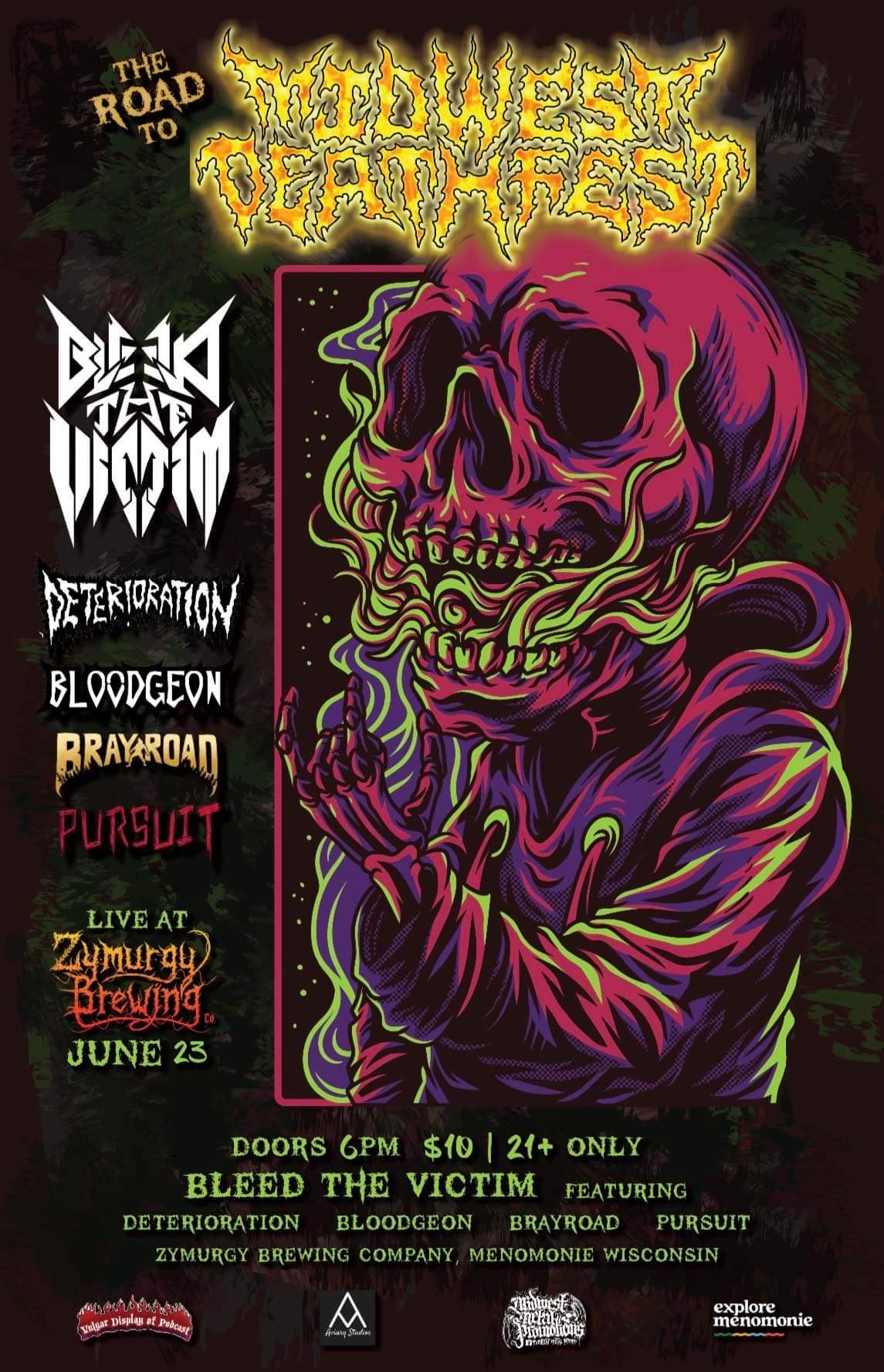 Road to DeathFest band links:
Bleed The Victim
www.facebook.com/BleedTheVictim
Bray Road
www.facebook.com/brayroadband
Support the local scene,

and stay metal! Stay tuned for the event page and early bird tickets. Both are coming soon!!
Midwest Metal Promotions: www.facebook.com/MidwestMetalPromo
Zymurgy Brewing: 
www.facebook.com/zymurgybrewing