Release Date: November 5th, 2022
FFO: Ozzy, Godsmack, Soundgarden
Location: Frederick, MD
Hard Rock / Groove Metal band Tubefreeks is back with their 4th studio album Unhinged. The driving, riff-oriented songs feature raging drums, melodic yet aggressive vocals, and whaling guitar solos. The music is hyped, heavy, and relentlessly comes at you. Singer / bassist Paul van Valkenburgh fronts the band and brings a one-of-a-kind vocal approach. Throw in the wicked guitar licks of Rob Portillo, and the phenomenal drumming of Chris Badolato, and you're in for an all-original sonic treat.
Unhinged clearly shows Tubefreeks' passion for writing and recording. Engineered by drummer Chris Badolato, and in mix-consultation with Gene "Machine" Freeman, the production is first class. All 12 songs bring their own uniqueness, and the album dishes out cutting edge creativity and heavy jams for the masses.
The band delivers a smokin' live show, has toured nationally, and has played major festivals and clubs large and small. Having shared stages along-side nationals including Godsmack, Lamb of God, Stone Temple Pilots, Saliva, Fuel, Puddle of Mudd and more, the group consistently brings high-energy and solid performances to the stage.
Three singles from Unhinged have been released along with amazing YouTube Videos. Release the Crow, Preacher Dog, and The Casualty, have been just enough to get your appetite wet for the rest of the album. Unhinged comes on the heels of Tubefreeks' 2017 The Dry Tide and 2011 Complex Disorders. Look for high profile regional shows and major festivals on the schedule in 2023.
Band founder van Valkenburgh talked about Unhinged, "We're so stoked about our new album. We think it is going to be a great collection of material. We're really proud that the effort is a full collaboration between Chris, Rob and myself and that we continue to evolve as a band. We think the existing fans will love the new songs, but should appeal to lots of new fans as well. The sounds are definitely moving in a heavier direction ... more of a blend of hard rock and metal."
Be prepared for the unexpected as melody meets madness. Give Tubefreeks a listen, and your journey will begin.
Check out this video!
Follow the band on Spotify and add them to your playlists!
Also available on Apple!
Support them on Bandcamp and add them to your collection!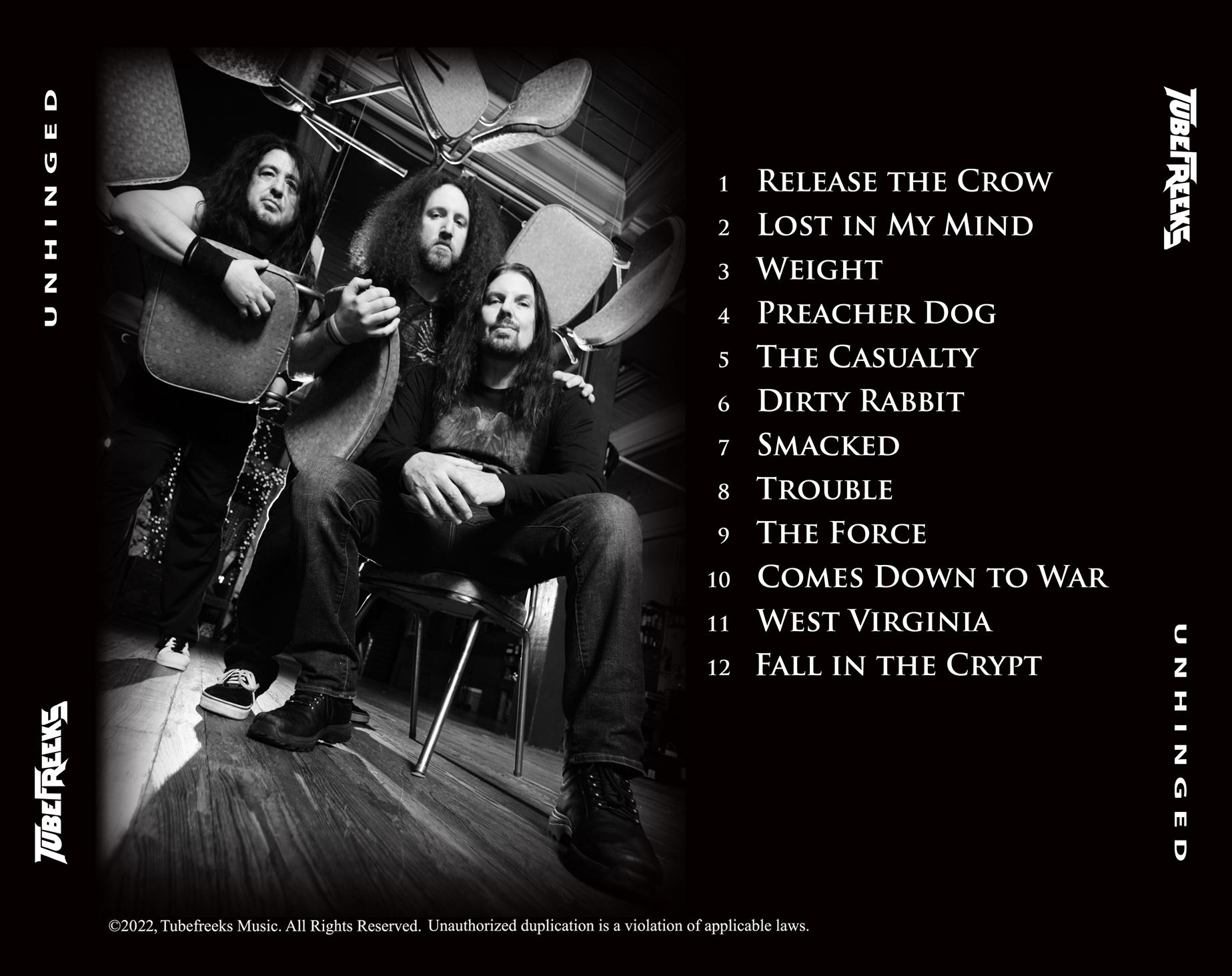 Follow the band at these links:
http://tubefreeks.com
http://tubefreeks.com/Tour.aspx
https://www.facebook.com/tubefreeks/
https://www.instagram.com/tubefreeksrocks/
https://twitter.com/Tubefreeks_Rock
https://www.youtube.com/playlist?list=PLZ6ianyc32iaS9XzWq0EXmxtrtrQmHoJP
https://tubefreeks.bandcamp.com/