Black Reuss (Liechtenstein) - Journey - Reviewed By theheadbangingmoose ! Check it out here at this link: https://theheadbangingmoose.com/2022/07/29/album-review-black-reuss-journey-2022/
Formed in 2018 in Triesen, the third largest municipality of the Principality of Liechtenstein, Gothic/Doom Metal one-man army Black Reuss has just released the second part of his four-album concept, entitled Journey, the follow-up to his 2021 album Metamorphosis and a preparation for the upcoming albums Arrival and Death. The man behind Black Reuss, vocalist and multi-instrumentalist Maurizio Dottores, is at home in doomy Heavy Metal with a touch of melancholy and a certain heaviness that has accompanied him in some chapters of his life, with Journey being about surrendering to inner preferences and being less and less controlled by material or negative things, being therefore highly recommended for admirers of the doomed music by Paradise Lost, Type O Negative, Katatonia and Black Sabbath, among others.
Eerie, futuristic sounds ignite the atmospheric Exodus, with Maurizio wasting no time by distilling his trademark fusion of Gothic Rock and Metal while firing sharp riffs from start to finish, and switching gears to a more sinister vibe thanks to his tribal beats and minimalist guitar lines we're treated to Dejection, living up to the legacy of classic Doom Metal. Moreover, Maurizio's deep vocals add a touch of anguish to the overall result, whereas experimenting with more unconventional sound and elements it's time for the somber Egression, where Maurizio does a great job with both his riffs and bass lines; followed by the bold, atmospheric and pensive Hole, where its sonority will embrace you in the name of Gothic and Doom Metal and with Maurizio's riffage and beats bringing forward sheer heaviness. Slowing things down a bit we have the Gothic Rock feast Fail, where once again Maurizio is on fire armed with his rumbling bass, adding endless groove to the music, while a beyond sinister and atmospheric start evolves into a Gothic Metal extravaganza in Deep-Seated, with Maurizio's introspective, deep vocals and low-tuned bass lines beautifully darkening the skies, also presenting hints of Southern Rock and Metal for our total delight.
Drinking from the same obscure fountain as renowned acts the likes of Moonspell, My Dying Bride and Paradise Lost, Maurizio brings forth sheer doom in Regression, another first-class composition showcasing sluggish beats and riffs enfolded by an ethereal ambience, and it's then time for a headbanging tune entitled Dependence, where Maurizio slashes his guitar in great fashion while his beats bring an extra kick to the song, being clearly inspired by the 80's Gothic Rock scene (and a recommended addition to your road trip playlist, by the way). Integrity keeps the album at a high level of energy and doom, with Maurizio adding a phantasmagorical vibe to it with his keys while his guitar work sounds very melodic and sharp as usual; and the last two songs of the album are also the longest ones, starting with Affection, a slow, reverberating composition that exhales pure Doom Metal with his guitar solos being a thing of beauty, flowing into the pensive and grim Redemption, an atmospheric nine-minute aria where Maurizio declaims the song's lyrics with tons of anguish while its instrumental pieces are simply spot-on, consequently putting a delicate but impactful ending to the album.
While we wait for the third and fourth chapters in the musical adventure crafted by Maurizio Dottores and his Black Reuss, we can definitely have a very good time enjoying Metamorphosis and of course Journey, which is by the way available in its entirety on Spotify, and you can also show your utmost support to this interesting one-man band from Liechtenstein by following him on Facebook and on Instagram, by subscribing to his YouTube channel, and obviously by clicking HERE and purchasing your favorite version of Journey. What's next for Black Reuss? How will Arrival and Death sound in comparison to Metamorphosis and Journey? The wait for those questions to be answered is one of the most compelling parts in the music by Maurizio Dottores, a man that's definitely placing Liechtenstein in the map of heavy music with his unique creations. - theheadbangingmoose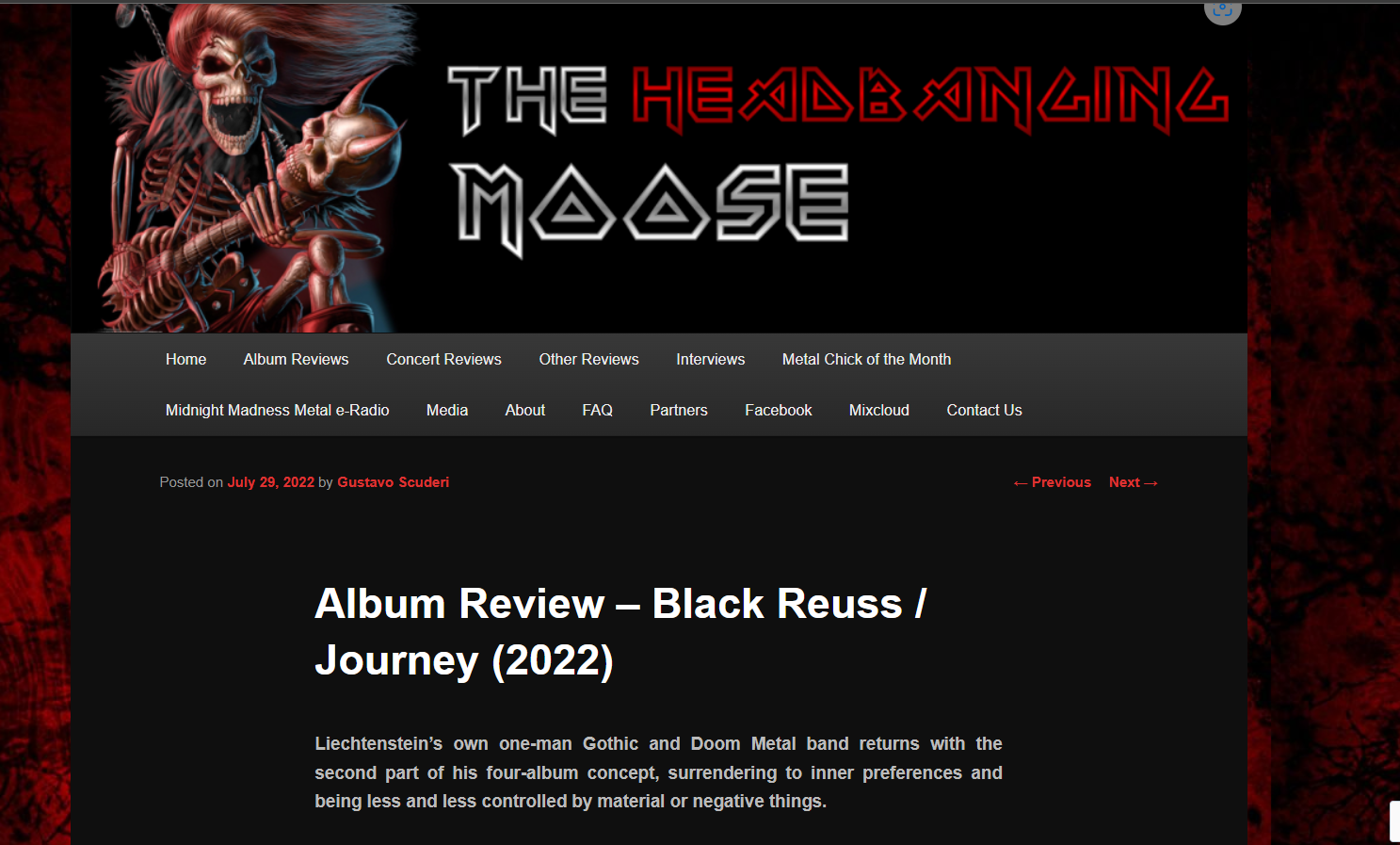 Release Date: May 6th, 2022
FFO: Paradise Lost, Type O Negative, Katatonia, Black Sabbath
Location: Principality of Liechtenstein
Black Reuss is at home in doomy heavy metal with a touch of melancholy and a certain heaviness, the heaviness that has accompanied Black Reuss in some chapters of his life.
After the metamorphosis, the second chapter journey begins. At this stage, Black Reuss realizes the need to think for himself and free himself from the grip of things that want to control his live. The courage to free from these bonds gives the momentum and the motivation to finally move on to the target, Arrival. "The only thing that is consistent, is that life constantly changes" Journey is about surrendering to inner preferences and being less and less controlled by material or negative things. Going through different stages, progresses as well as regresses. Sometimes Black Reuss experiences bliss, feelings, and inner peace. But he also realizes that there are always stumbling blocks on his journey...will he find his freedom and arrive? "Falling becomes easier and doesn't hurt the same"
Check out this video!
Check it out on Spotify and add to your playlists!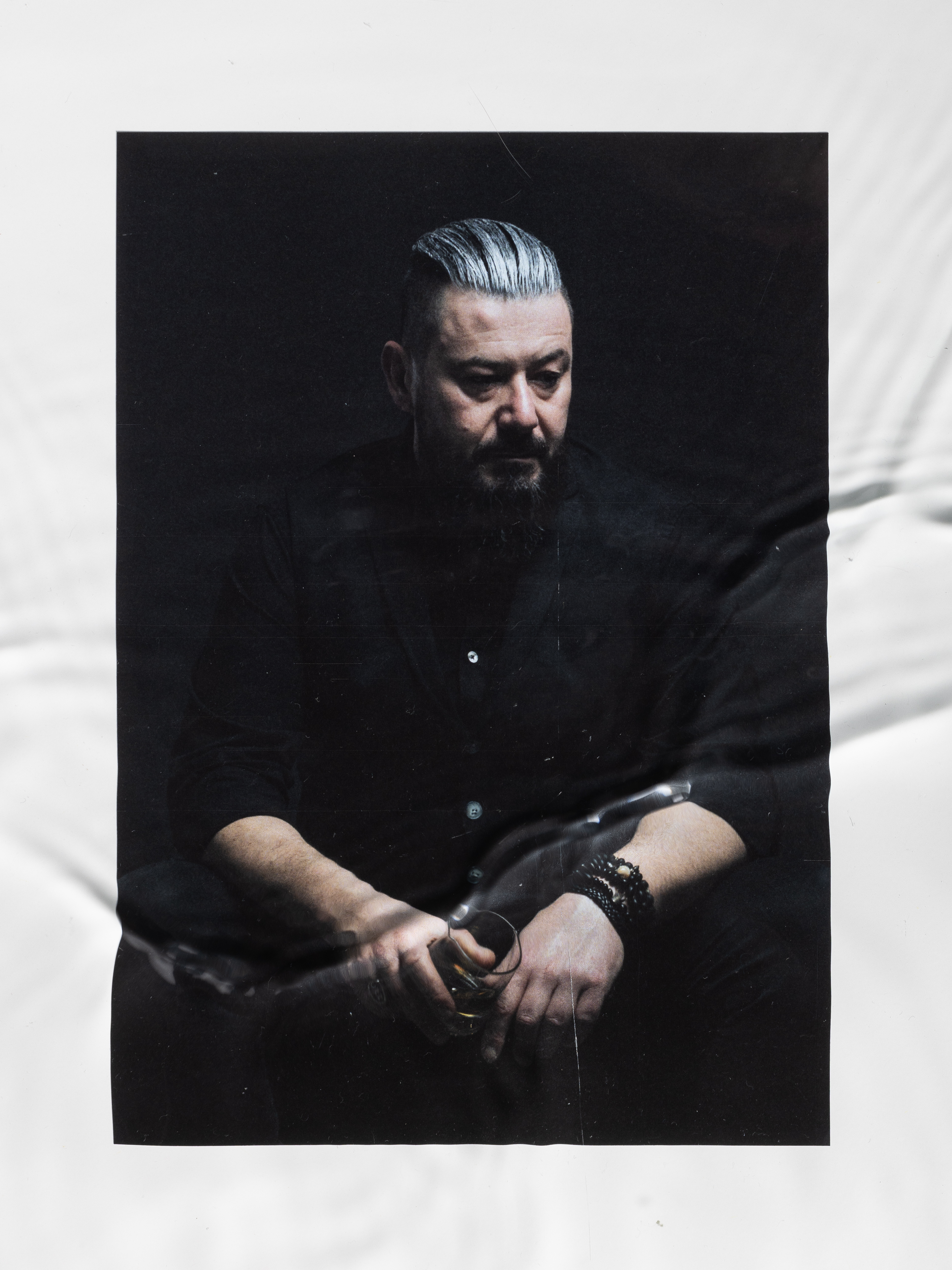 Follow the artist at these links:
Official Website: www.blackreuss.com
Facebook: www.facebook.com/blackreuss
Instagram: www.instagram.com/blackreussmusic/
Youtube Channel: www.youtube.com/channel/UC9UG6Rfa93ldqXiP3D6kVyA
TikTok: www.tiktok.com/@blackreuss
Artist Contact Email: contact@blackreuss.com